Artisan Sausages with Muscadine Wine Pan Sauce and Roasted Pan Vegetables
For the sausage:
2 tablespoons olive oil
8 links Tarheel Beef Co. sausage, any variety
For the sauce:
2 tablespoon butter
2 tablespoons Black River Organic Farm green garlic
2 teaspoons mustard
1-2 tablespoons Nature's Way honey
½ to ¾ cup Bannerman Vineyard and Winery muscadine wine, any vintage
1 tablespoon Shelton Herb Farm fresh herbs, chopped. Use whatever looks good at the market
For the vegetables:
2½ pounds root vegetables, trimmed, washed and cut into bite-size pieces. Use a blend of whatever is fresh at the market (carrots, radishes, beets, salad turnips, new potatoes)
2-3 tablespoons olive oil
Sea Love Sea Salt, whatever variety sounds good
Garnish:
Fresh herb leaves
Prepare root vegetables: Preheat oven to 400 degrees. Toss vegetables with olive oil. Spread vegetables in a single layer on a large sheet pan. Roast until browned and tender, 10-20 minutes depending on vegetables used. Remove from oven.
Prepare sausages: While vegetables are roasting, set a large, heavy skillet over medium heat. When pan is hot, add olive oil. Place sausages in pan and cook, turning every minute or two, for about 12-15 minutes, until brown and cooked through.
Remove sausages to platter and set aside.
Add butter to the pan. When butter is melted, add green garlic and sauté until translucent. Add mustard and honey to the pan, and stir to blend. Increase heat to medium high. Add wine to the pan, stirring to scrape up brown bits. Simmer 1-2 minutes. Return sausages to the pan, sprinkle with fresh herbs and simmer another minute or two.
Presentation: Sprinkle roasted vegetables with salt. Divide vegetables evenly among serving plates. Top each serving of vegetables with two sausages. Spoon a little of the pan sauce over each serving. Garnish with fresh herb leaves.
Serves 4.
Source: Culinary Adventures with Liz BiroThis is part a monthly series about the food of the N.C. coast. Our Coast's Food is about the culinary traditions and history of N.C. coast. The series covers the history of the region's food, profiles the people who grow it and cook it, offers cooking tips — how hot should the oil be to fry fish? — and passes along some of our favorite recipes. Send along any ideas for stories you would like us to do or regional recipes you'd like to share. If there's a story behind the recipe, we'd love to hear it.
This is part a monthly series about the food of the N.C. coast. Our Coast's Food is about the culinary traditions and history of N.C. coast. The series covers the history of the region's food, profiles the people who grow it and cook it, offers cooking tips — how hot should the oil be to fry fish? — and passes along some of our favorite recipes. Send along any ideas for stories you would like us to do or regional recipes you'd like to share. If there's a story behind the recipe, we'd love to hear it.
Onslow County native Clennie Davis told me a story back in 2007, when he was 95 years old, about how his family in the early 1900s took a mule cart down a dirt road now known as U.S. 17 enroute to Wilmington, where they sold homegrown produce at the downtown curb market.
Davis and I were talking about muscadine grapes at his son's vineyard in Jacksonville. I asked if anyone back then sold muscadines at the market. Not really, Davis answered, because most people grew their own grapes to eat and use for wine.
Some of them had wine houses, places where they prepared, stored and sometimes served homemade wine mostly to hardworking men who needed a break at the end of the day.
Muscadine winemaking was a simple affair, Davis said. The grapes were crushed, sometimes by hand, placed in a container or barrel with sugar and left to ferment for about a week, less during hot weather.
Occasionally, unstrained wine was served directly from the barrel.
His tales of wine-making and his family camping at Hampstead because they couldn't make the mule cart trip to Wilmington grew my appreciation for the ruddy, thick-skinned grapes named muscadine.
Oenophiles abhor the "musky," sugary wine the grapes yield. Wine shop clerks have hung up on me when I've called to ask if they carry muscadine wine.
To eat the grape is another chore. With your thumb and index finger you must squeeze the pulp from its thick skin. What comes out may remind you of allergy season, and hidden within are seeds as big as BBs.
But muscadines are worth the effort. They have a significant history beyond North Carolina, and it dates back much farther than U.S. 17.
The Muscadine Story
"The history of the muscadine is older than the state of North Carolina; it's older than the history of this country," Randy Drew said.
Like Davis and many other Eastern North Carolinians, Drew grew up with muscadine grapes. Raised in Duplin County, he picked wild grapes that still grow in coastal woodlands, watched his uncle make muscadine wine and often passed by vines growing at Rose Hill's Duplin Winery, billed the world's largest muscadine winery.
Drew, a Wilmington photographer and videographer, loves history. While researching the Civil War, he kept running into mentions and pictures of muscadine grapes. The more he saw, the more the grapes popped his cork. He ended up compiling a timeline tracking muscadines.
Drew has found reports of documents discovered in modern-day Morocco that mention 8th century boat trips from that country along what may have been the Gulf Steam to a place where travelers found grapes on the edge of waterways.
In 1524, explorer Giovanni de Verrazano wrote of wild vines along the Cape Fear Valley that would "without doubt" make good wine. A year later, explorer Ralph Lane reported to Sir Walter Raleigh that grapes along the Carolina shore were "of such greatness, yet wild, as France, Spain, nor Italy hath no greater."
The scuppernong, native only to North Carolina, became America's first cultivated grape. It was, of course, grown in North Carolina.
Drew's research has taken him to Manteo's legendary Mother Vine, a gigantic, centuries-old scuppernong vine that the N.C. Wine and Grape Council says is the nation's oldest known grapevine and that some people believe is the source of all cultivated scuppernong vines in America.
"There is a reverence that you feel when you are not looking at the mother vine but standing under it," Drew says. "It's almost like being in a natural cathedral."
By the early 1800s, Washington County had a successful grape-growing and wine-making operation. Scuppernong wine, Drew says, was among Thomas Jefferson's three favorite wines, the other two being European. In 1840, North Carolina was the new nation's top wine producer.
In a letter to a friend, Jefferson wrote that North Carolina's scuppernong wine "would be distinguished on the best tables in Europe, for its fine aroma, and chrystalline transparence."
And so it was. In 1900, North Carolina commercial winemaker Paul Garrett's scuppernong wine, made at Garrett and Co. near Weldon, won ribbons at the Paris Exposition. Four years later, his scuppernong champagne won the grand prize at the Louisiana Purchase Exhibition in St. Louis, despite international competition.
"The North Carolina wine industry is 100 years older than the California wine industry," Drew noted.
Rise and Fall
While scuppernongs are native to North Carolina, muscadine grapes grow throughout the South. The range aided the wine's advance. Even during Prohibition, Drew says, muscadine wine thrived among home winemakers, and Garrett sold wine-making supplies and kits.
Sweet wine was the preference of Americans, but as demand grew, muscadine wine quality declined. The wine was often blended or watered down, Drew said. Meantime, travel and overseas wars exposed Americans to European wines. As Americans become more affluent after World War II, they wanted dry, subtle French wines not the cheap jug wine that muscadine had become.
Muscadine wine may have fallen out of favor nationally, but local affection for the wine never wavered. It seems everyone has a muscadine story to tell.
When I told a friend in Warrenton that I was working on a muscadine article, he described an old recipe that calls for filling a glass wine jug two-thirds of the way up with whole grapes and then sugar to fill, he said. Cap the bottle, bury it under about a foot of dirt and leave it there for some months to ferment.
Even my Italian uncle took a stab at making muscadine wine. As we sipped his potent, syrupy brew after one of our regular, Sunday family pasta dinners, his sister-in-law, Dot Vanover, now in her 90s, told us how she and her siblings made wine when they were growing up on an Onslow County farm.
"We would take us a bucket of those grapes out to the woods and leave them there by a tree, and when we went back a week or two later we'd have us some wine," she said. "And if my daddy found that bucket in the woods, he sure would give us a whipping."
Comeback Trail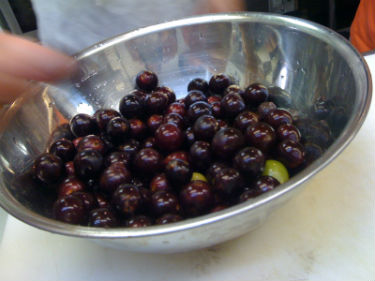 Muscadines made a comeback after studies found that they are high in an organic compound that lowers cholesterol.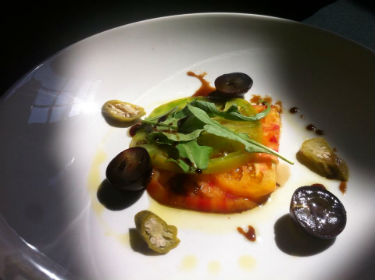 Prohibition, competition, taxes and changing tastes decimated North Carolina's thriving wine industry by 1968. A few years later, when state legislature cut winery licensing fees and the tax on native table wine, grape growers united and vineyards starting popping up in the now-famous Yadkin Valley. Viticulture and wine-making expanded again, albeit wines made from European grapes.
Muscadines eventually made a comeback, too, especially after researchers in the 1990s reported that red muscadine grapes contain a high concentration of an organic chemical compound named resveratrol. Studies show that resveratrol, found in the skin of red grapes and in red wine, helps lower cholesterol and may have anti-aging and anti-inflammatory effects.
The news gave layperson wine drinkers license to admit they preferred sweet wines, and muscadine vineyards started popping up along I-40 between Raleigh and Wilmington. The wines themselves became better too, ranging from super sweet to mid-sweet and semi-dry.
I told all of these facts and stories on food tours I used to lead in downtown Wilmington. Our final stop was always a cupcake shop, where I poured everyone a sample of muscadine wine. So many noses twisted. Some people couldn't stand the wine's distinctive aroma. But as I shared the drink's history, faces softened.
I suggested that because muscadine wine is often so sweet, that it might be considered a dessert wine or used in a wine cooler with sparkling water and a squeeze of lemon, served on the rocks.
Use sweet red muscadine wine to cook your holiday ham, I advised. For generations, North Carolinians have put muscadine grape hulls in jam and pie filling. I see top chefs tapping muscadines more often, too, whether in fancy sauces or sophisticated desserts.
This fall, at acclaimed The Chef and The Farmer restaurant in Kinston, celebrity chef Vivian Howard offers wood-roasted trout with muscadine vinaigrette on the dinner menu. On her Public Television show, "A Chef's Life," she devoted an entire episode to muscadines.
"Too many times, muscadine growers have apologized too much. We apologize for the bitterness, our grape has big seeds or tough skin," Drew said. "Don't apologize for the healthiest grape in the world."