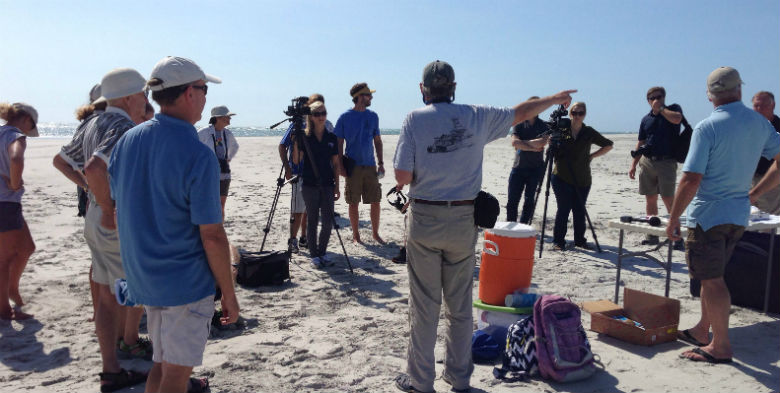 Members of the media gathered last week at the north end of Figure Eight Island to hear what a terminal groin might do to valuable bird habitat.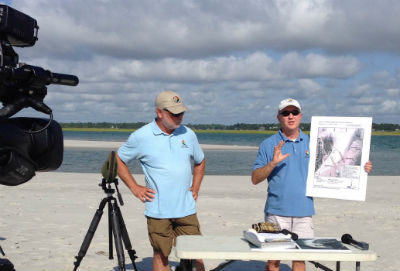 Todd Miller, left, and Mike Giles of the N.C. Coastal Federation face the cameras to talk about the terminal groin.
FIGURE EIGHT ISLAND –About 60 acres of unspoiled beach that is critical habitat to hundreds of shorebirds on land bordering one of North Carolina's few natural inlets will be swallowed by the Atlantic if a terminal groin is built there.
Projections by engineers hired by the Figure Eight Island Homeowners Association to design a terminal groin project show that the spit of white sand beach stretching from the developed north end of the island to Rich Inlet will eventually erode away if a groin is built.
"By their own modeling in five to six years all of this sand spit will be gone," said Mike Giles, a coastal advocate with the N.C. Coastal Federation's Wrightsville Beach office. "That's a huge concern. It should be a huge concern for everybody."
Giles and representatives with Audubon North Carolina, PenderWatch & Conservancy and the Southern Environmental Law Center met with media last week on the northern tip of the private barrier island to kick-start the "Save Rich Inlet" campaign.
Environmentalists aim to educate the private barrier island's property owners and surrounding communities about the possible environmental implications a terminal groin would have on the inlet, the island and other shorelines.
Rich Inlet sways between the north end of Figure Eight and Lea-Hutaff Island, one of the state's few remaining un-bridged, undeveloped barrier islands.
"When that inlet channel wags south, it creates this beautiful spit," Giles said.
The U.S. Fish & Wildlife Service designates the land created by the inlet's movement "critical nesting habitat" for threatened piping plovers. More than 800 pairs of least terns – the largest colony in North Carolina in more than 40 years – are nesting on this beach this year.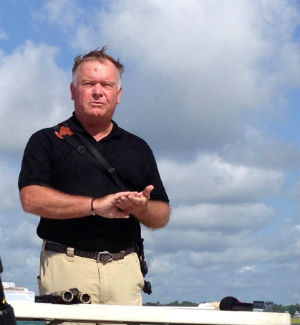 Derb Carter of the Southern Environmental Law Center in Chapel Hill says he's never seen a study as bad as the one done for the groin.
The inlet is a haven for these and other shorebirds, which rely on inlets to feed and rest along their migratory journeys.
Least tern need open sand on which to nest, explained Lindsay Addison, a biologist with Audubon North Carolina.
"Right now the birds here are fledgling their chicks," she said. "Rich Inlet provides several different types of habitat in one place. If the terminal groin were to be put in place all the critical habitat would be gone."
The island's homeowners association is in the process of possibly becoming the first of four beach communities in the state to obtain a federal permit to build a terminal groin.
The association has for years been looking at ways to manage the inlet to stop beach erosion at the northern end.
Stakeholders in 2007 initiated a project to relocate the inlet, but that concept was pushed aside when, in 2010, the N.C. General Assembly lifted a ban on new construction of terminal groins along coast. Terminal groins are long, low walls built perpendicular to shore at inlets to reduce shoreline erosion by trapping drifting sand.
The law allows for the construction of four groins that will essentially be test sites to determine how the structures affect inlets and shorelines.
Figure Eight was the first to seek a permit to build a terminal groin. Bald Head Island, Holden Beach and Ocean Isle Beach in Brunswick County are in various stages of the environmental review process required by federal law to obtain permits to build terminal groins.
David Kellam, administrator of Figure Eight Island, has said the experts with which the association has consulted agree that a terminal groin in conjunction with beach nourishment is the most preferred alternative environmentally and economically. He did not respond to a request for comment for this story.
Sand on the northern end has actually accreted, environmentalists say, solving the problem of beach erosion at that end of Figure Eight.
They agree that, if natural erosion occurs again, it can be corrected by relocating the channel within the inlet with "modest" dredging.
This has been a proven method at Bogue and Mason inlets and substantially cheaper than building and maintaining a terminal groin.
Figure Eight property owners have not been told what the proposed project might cost.
What's also unclear is whether the association will get the easements it will need to build the terminal groin across a series of about a dozen properties. Without all of the easements, the project cannot move forward.
Figure Eight Island is unincorporated, which means, unlike municipalities, it cannot enact eminent domain to seize property for public use.
A small handful homeowners continue to refuse granting easements to their land, according to those who've been following the proposed project closely and property owners who spoke on condition of anonymity.
"They couldn't build it today if they wanted to because they don't have the land," said Derb Carter, director of the Southern Environmental Law Center's Chapel Hill office. "I'm still astonished they've been able to get as far as they have without getting these easements."
The Army Corps of Engineers released in 2012 its draft environmental impact study of the proposed project.
Carter called it "one of the worst environmental documents our office has ever seen."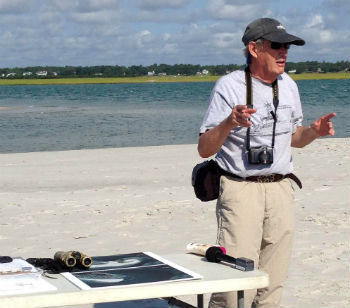 No one can predict what the terminal groin will do to Rich Inlet, noted Stan Riggs, a geologist at East Carolina University.
That study did not include the association's newest alternative, announced to property owners last spring, which lists the preferred spot for a terminal groin about 420 further north than the one included in the draft document. A final study is expected to be released in the coming months.
The proposed groin would be a rock wall 80 feet wide. It would span 1,500 feet, about 300 feet of which would cross coastal wetlands.
Building a wall would block Rich Inlet's natural function, said Stan Riggs, a coastal and marine geologist and distinguished research professor of geology at East Carolina University.
"Because we have this pile of sand it's like a natural dike out here," he said. "Inlets are living, breathing organisms. This inlet is the heart of that organism. It's the pump."
During a storm, such as a hurricane, an inlet's function is to act as a safety valve allowing water from the storm surge to flow into and out of rather than flow over a barrier island.
No one, Riggs said, knows just what the consequences might be if a terminal groin is built at the inlet.
"The other variable in this is, where's your sand?" he said. "There is precious little sand on the continental shelf. The best sand you've got is already on this beach. You start blocking this up with an engineered structure you're going to send sand somewhere else. We cannot afford to engineer our coast in the state of North Carolina. This is a world-class resource."