Portions of this story were taken from accounts that appeared in the Outer Banks Voice and the Island Free Press.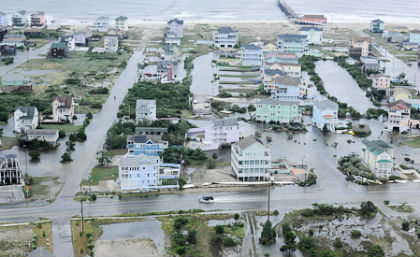 Hurricane Arthur caused flooding in Rodanthe on the Outer Banks. Photo: David Weydert, Petty Officer 3rd Class, Coast Guard
It shortened Fourth of July vacations from Calabash to Corolla. It postponed or cancelled firework celebrations all along the coast. It rattled windows in Beaufort when it came ashore to the east just shy of midnight on July 4. It downed trees and flooded some roads and houses on its fast-moving sprint up the coast. It was gone by the dawn's early light.
When the sun rose for the holiday weekend, the N.C. coast was a bit bruised, but Hurricane Arthur, the season's first named storm and the earliest hurricane to hit North Carolina, had been kind. It didn't kill or injure anyone directly, and property damage was limited. Bogue Banks in Carteret County reported little beach erosion or structural damage, and losses in Dare County amounted to a little less than $2 million. Even the notoriously fragile N.C. 12 on Hatteras Island escaped a little buckled but intact.
Less potent storms on potentially less destructive tracks have done far more damage than did Arthur, the first Category 2 hurricane to hit the state since Isabel in 2003. It came ashore at Cape Lookout and moved northeast along Pamlico Sound before crossing the Outer Banks near Oregon Inlet and heading out to sea again. Most of the Outer Banks were on the storm's more destructive east side.
Damage, though, was light. Even rainfall totals were far below hurricane standards. "I saw 2 to 4 inches, which for a hurricane is pretty wimpy," noted Greg "Rudi" Rudolph, the Shore Protection manager for Carteret County.
Arthur's race up the coast – moving as fast as 20 miles an hour early Friday – and its relatively small area of strong winds limited the damage, said David Glenn, a meteorologist at the National Weather Service in Newport.
"We knew the area where the winds are the strongest was only about 30 miles in diameter, so it was pretty small there right near the eye of the storm," he explained "So it wasn't a very large storm, it was a smaller storm. The winds were really confined in just a small area therefore the damage from the winds wasn't as bad."
Hurricane Irene by comparison was a Category 1 storm when it hit North Carolina in 2011 but was far more destructive than Arthur. "We had quite a bit of damage from hurricane Irene and that's because it was a slower moving storm and it was a much larger storm," Glenn said.
Sound-side flooding Friday morning on northern Hatteras Island, Roanoke Island and along portions of the mainland in Dare and Carteret counties was Arthur's worst blow, but even that was glancing. Speed and size were again the reasons. Arthur formed off south Florida just a few days before striking the N.C. coast, and it reached Category 2 strength just before making landfall, Rudolph noted. Irene, on the other hand, formed far in the Atlantic and reached Category 5 status – the highest on the scale – before weakening. It pushed water ahead of it for seven days before hitting North Carolina on Aug. 27.
"It's different when you have a Category 1 hurricane that was a Category 5 hurricane heading right at us compared to a Category 2 hurricane that sped through us between 7 p.m. and 11 p.m.," Rudolph said. "That's really the difference."
Arthur did push at least 4 feet of water onto Rodanthe, Waves and Salvo on Hatteras Island. Anywhere from 2 to 4 feet covered parts of Avon, also on Hatteras Island, and in Manteo on Roanoke Island and in Manns Harbor on the Dare County mainland. One to 3 feet of water covered parts of eastern Carteret County and 4 to 5 feet in the northern end of the county, Glenn said.
Greta Skeen, Dare County's damage assessment officer, put reported losses at $1,962,050.
"Most damage reported was due to soundside flooding; winds causing shingle, siding and roof damage; and downed trees," a Dare County statement said yesterday. "A total of 145 structures sustained minor damage; 16 had major damage; and none were destroyed.
At the height of the storm, more than 44,000 customers were in the dark in the state. By Sunday, power had been fully restored.
The worst damage to the electric grid was in Ocracoke, where 45 power poles had to be repaired or replaced. Power was restored Saturday night when the island was reopened to visitors. Ferries were running on normal schedules on Sunday, and businesses on the island, many of which were closed because they had no electricity, were open again.
Howard's Pub, a famous eatery in Ocracoke, had generator power throughout the storm. Owner Ann Warner was busy Saturday greeting customers. The restaurant opened for lunch on July 4, she said. "Visitors and residents are pleased to have respite from their living quarters," she said about the steady business.
The Pub was also a place where folks can charge their cell phones. "Every outlet—even in the kitchen–had something in it yesterday," she said Saturday, pointing out several in use.
Elizabeth Hanrahan, Ocracoke's island wildlife rehabilitation specialist, was busy tending stranded birds islanders had found — seven baby pelicans, five older pelicans, a cardinal, a blue jay and two ducks.
"We brought nine baby pelicans that had washed over from Beacon Island," said Ruth Fordon, an islander who helped ferry them to Hanrahan's after Serena Barry, co-owner of Lightkeeper's Guest House, found the babies. "Serena's the hero."
Hanrahan said she will care for them for about six weeks. Then she will teach them how to fish and dive before they are released.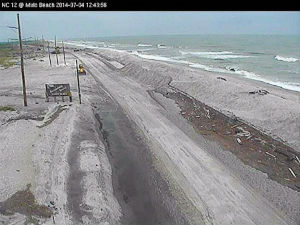 N.C. 12 at Mirlo Beach in south Rodanthe on July 4 was covered by sand . Photo: The Island Free Press
"They have to get their flight feathers in before they can be released," she said as she cradled a juvenile and clamped her hand over its beak.
Elsewhere on the island Saturday, the sound of generators was punctuated by the sounds of chain saws cutting up the many downed trees.
"There are lots of fallen trees all over the island," said Mia Huff, co-owner with her husband, Tim, of Island Property Care, as they cut up a tree along First Avenue.  Evidence of all the damaged trees can be seen along village roads where people were piling limbs and logs in anticipation of the chipper starting yesterday.
The Herbert C. Bonner Bridge and N.C. 12, the main lifelines to the Outer Banks, re-opened to all traffic in Dare County Saturday afternoon. Crews from the N.C. Department of Transportation worked Friday and Saturday to clear the road of sand. The road buckled near the temporary bridge that DOT built two years ago to span an inlet created by Hurricane Isabel. Traffic is routed into a single lane while the road is being repaired.
DOT's scour survey and analysis determined that the Bonner Bridge is safe. However, there was some loss of sand around the pilings at several locations that will require additional monitoring.
Winds approached 100 miles an hour on Ocracoke and Hatteras islands, as Arthur passed to the west. The peak wind gust was 101 mph at Cape Lookout. The highest winds, Glenn said, were mainly across eastern Carteret County then over to the southern Outer Banks.
Inland, impacts from Hurricane Arthur were minimal. Tornado warnings were issued in several counties north of the Albemarle Sound just prior to the storm making landfall.
One home was damaged in Hertford County northwest of Ahoskie, possibly by a short-lived tornado. No other damage was reported to the National Weather Service.