NAGS HEAD — North Carolina was lauded in 2003 for helping save historic Jennette's Pier from developers. Now with a provision in the state House budget, some lawmakers seem to want to sell the pier.
As it is now, the proposed state House budget, which includes a provision to investigate sale of the completely rebuilt state attraction, would require that the three-year-old pier be sold at fair market value, with the proceeds going to the state Clean Water Management Trust Fund.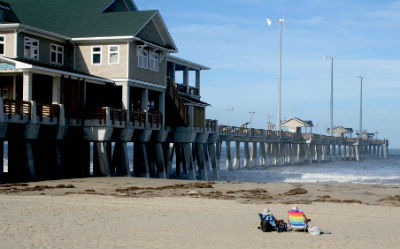 The massive Jennette's Pier cost more than $26 million to renovate after Hurricane Isabel in 2003 nearly demolished the old wooden pier built in 1939. Photo: Jennette's Pier
The Jennette's provision was absent from the governor's and Senate's versions of the budget. Meetings to reconcile the different spending plans passed by the House and Senate started last week.
The latest twist in Jennette's long history of close calls, destruction and revival was a complete surprise to nearly everyone. The partisan politics feeding the proposal, however, date back to at least 2010.
"The first time anyone heard of it was when the House budget came out," state Rep. Paul Tine, a Kitty Hawk Democrat, said last week. "I was disappointed to see it in there, because it's a public beach access right now. Which in private hands, it might not be."
Tine had the original provision amended to include the market value restriction and a requirement that any sale would have to cover the state's full investment of $25 million and Dare County's and Nags Head's shares of $700,000 and $300,000 respectively along with peripheral costs.
Tine said it that the genesis of the House provision is unclear, and he declined to speculate.
Rep. Tom Murry, R-Wake, co-chairman of the House Appropriations Subcommittee on Natural and Economic Resources, said last week that the House was interested in finding sources to boost funding to the Clean Water Management Trust Fund, according to WRAL-TV in Raleigh.
It was a trust fund grant that helped fund the pier. That grant, the pier itself and its biggest champion, former state Sen. Marc Basnight, a Manteo Democrat, have been targets of criticism from state Republicans for years.
More than 10 years ago, with the pier at risk of being demolished and replaced by a hotel or luxury homes, the N.C. Aquarium Society, the nonprofit support arm of the state's three aquariums, helped by Basnight's considerable political muscle, bought the pier, the attached pier house and 5.12 acres of mostly oceanfront property for $4.2 million, tapping a $4.6 million grant from the trust fund.  The plan, which included a later stormwater project, was to rehabilitate the site to use as an extension of the state aquarium on Roanoke Island and later transfer it to the state. By summer, the pier house was renovated and reopened with exhibits.
But the pier's luck didn't hold. Within six months of the purchase, Hurricane Isabel tore off 500 feet of the 1939 wooden pier, leaving an akimbo stub on the end of the pier house. The state regrouped and decided to build a new hurricane-resistant pier focused on educational opportunities, green energy and public access. Jennette's was transferred to the state aquariums in 2007.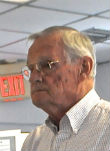 Bob Edwards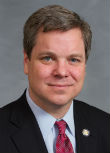 Rep. Paul Tine
Initially, the project – a 1,000-foot concrete pier, a pier house with a 200-seat multi-purpose room and a bathhouse with showers — was estimated to cost $14 million. It also included three wind turbines, cisterns, solar panels and other green features. But when construction bids in early 2009 came in nearly double that amount, the plan was scaled back. That year, the project secured $25 million in funds that were originally available for state Department of Transportation stormwater projects in Dare County.
It wasn't long before Republican unhappiness with Jennette's bubbled to the surface.
"Is owning a pier a core function of government or is that better left to the free market?" Becki Gray, vice president for outreach with the John Locke Foundation, a conservative policy group in Raleigh, wrote in the Oct. 29, 2010, edition of the foundation's Carolina Journal Online. "Could those funds be spent better on education or public safety, or, better yet, returned to taxpayers? . . .  The state shouldn't be in the pier business."
In the 2010 N.C. Senate campaign, Basnight, then the incumbent and the longtime Senate president, had a rare reelection fight on his hands when the state Republican Party launched a mail campaign with flyers that attacked his funding of Jennette's Pier and falsely linked the project to teacher layoffs.
The opposition also accused Basnight of benefiting from the project because Basnight Construction, a family-owned business run by his cousin, had been one of the minor subcontractors.
Hood Richardson, Basnight's Republican opponent, did not generate the flyers. But he understood some of the criticism.  "I think what bothers people about Jennette's Pier is it brings people by his restaurant," Richardson said in an Oct. 2010 article in The Virginian-Pilot, referring to Basnight's Lone Cedar Café, located a short distance from the pier. "Whether he did anything or not, there's an appearance of evil."
Basnight had responded to the critics that month in a double-sided letter to constituents, saying that the pier had been authorized in a unanimous vote by the N.C. General Assembly, which at that time included the current Senate leader Phil Berger, an Eden Republican.
"They want to move power from the coast to the Piedmont," Basnight said in the letter, "and, as these flyers have shown, are perfectly willing to lie to achieve their goals."
Shortly after winning reelection, Basnight resigned because of health issues. He has since maintained a quiet private life and avoids interviews.
Cliff Ogburn, Nags Head town manager, said that as a public investment, the pier project owes its success to a multitude of donors – for example, the hundreds of people who paid to sponsor fish-shaped planks, benches, picnic tables and even telescopes that are on the pier — and cooperative efforts from numerous private and public entities.
"I think to make the state and the people who put money into the pier whole would be more than the fair market value," he said.
Ogburn learned of Jennette's potential sale when a television reporter called him after the House budget was released. "I said, 'WHAT?" he recounted.
The town had not only invested time and money, he said, it entered a mutually-beneficial partnership with the state.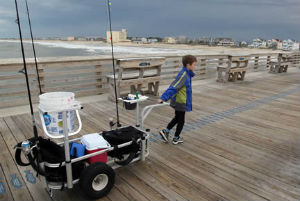 This young fisherman hauls fishing rods and coolers down Jennette's Pier. More than 80,000 people have paid to fish off the pier. Photo: Jennette's Pier
"We never dreamed that it would be such a short-term agreement," Ogburn said.
In a June 12 letter to Tine, Nags Head Mayor Bob Edwards stressed the town board's opposition to the proposed sale, and said that in its agreement with the state, it was assured that the pier would be used for education, public beach access, stormwater management, environmental conservation and other public functions.
"Selling the pier to a private entity would commercialize this important public property and betray its intended use," Edwards wrote.
Even David Griffin, director of the N.C. Aquariums, had no head's up about the Jennette's proposal. "We've been a little baffled," he said about the genesis of the provision.
Jennette's, with an operating budget of $1.16 million, is close to being self-sustaining, he said, with most of its costs covered by admission fees, Aquarium Society support and revenue from programs, fishing and pier entrance fees.
"That was part of goal when we set out – not to need tax dollars to run it," he said.
Griffin said that Jennette's has achieved what the aquariums intended: to provide public beach access, maintain a year-round public fishing pier with competitive fees, incorporate sustainable environmental practices and provide educational programs for the public and research opportunities for coastal scientists.
"I think we have been successful," Griffin said.
A visit to Jennette's Pier on a sunny late spring day is all the evidence a defender of the state attraction should need.  The parking lot was bustling with cheerful people loading and unloading beach chairs and umbrellas and boogie boards. On either side of the pier, children and adults of all ages frolicked in the surf under the watchful eye of a lifeguard; others just relaxed in the sun or under their umbrellas, dozing or people-watching.
On the pier, people lined the rails with their fishing rods or enjoyed a stroll. Some sat on one of the many benches provided along the wooden deck of the fishing pier and took in the ocean view.
Laura Eakman, visiting from Fenelton, Pa. with her daughter, was perturbed to hear that Jennette's faced the prospect of being sold. "Oh, no! It would probably be to some oil company from overseas," she said, while fishing off the end of the pier. "That would be a shame. This is something that the public should be able to enjoy. It's beautiful – so peaceful and calm. Why would they even think of doing it?"
But Chandler Olsen, a Manteo resident, looked at the proposal pragmatically. "If it's not making money, who's going to buy it?" he said. "If they tried to sell it, I don't know who would buy it."
Pier manager Mike Remige said that since opening in 2011, the pier has held 860 fishing programs, teaching 14,400 people not only to fish, but to fish ethically. From opening day, more than 80,000 people have paid to fish off the pier.
Last year, almost 302,000 people visited the pier, Remige said.  So far, pier visitation through May is 240,328, but about 900,000 people have been estimated to have visited the overall site, which would include accessing the beach at Whalebone Junction.
All summer long the pier also offers popular educational day camps for visitors and week-long camps for residents, he said.  During the school year, the pier hosts visiting school children: a total of 10,500 so far.
Significant revenue also comes from renting the facility for about 75 weddings and 20 conferences or meetings a year.
Garry Oliver, the owner of nearby Outer Banks Fishing Pier, said he initially saw Jennette's as direct competition, and it did siphon off about half of his fishing business. But Oliver adapted by building an outdoor bar, expanding his food operation and providing entertainment, all of which have been very popular.
If this new version of Jennette's went into private hands, he said, it would create a substantial competitive disadvantage for local businesses.
"It's become an important part of the town now," Oliver said. "It's invigorated Whalebone Junction. If it goes into private hands, that means they will do what we do…  That thing was never meant to be anything other than a state-owned facility."
But if the state is hell-bent to sell Jennette's, he said, it should give first shot to the county or the town.  "It's an asset to the community," Oliver said.