President's Council
Dick Bierly,Morehead City, Chair
Philip Blumenthal, Charlotte
Hugh Cullman, Beaufort
Dick Daugherty, Raleigh
Jim Goodmon, Raleigh
Olivia Britton Holding, Raleigh
Tom Looney,  Cary
Carmen Hooker Odom, Manteo
David Paynter, Wilmington
John Preyer, Raleigh
Simon Rich III, Edenton
Bill Ross, Chapel Hill
Billy Sewell, Jacksonville
Bland Simpson,  Chapel Hill
Alice Stanback, Salisbury
Fred Stanback, Salisbury
Smedes York, Raleigh
OCEAN — For its entire 35-year history, the state's largest coastal environmental group has grazed for support mostly in its natural habitat — the productive, marshy grassroots of conservation.
The N.C. Coastal Federation founder and executive director, Todd Miller, himself a product of the Bogue Sound shoreline in Carteret County, has enlisted an army of passionate and committed volunteers and members more comfortable in flip-flops and T-shirts and floppy hats than in suits and ties.
But not too long ago, the federation's president, Dick Bierly, a Morehead City resident who came to the federation after retiring from IBM, decided it might be good for the organization to extend its reach into the tall trees, not only along the coast but also in the state's urban centers.
Bierly encouraged Miller to create an advisory panel that could do just that, and together they forged the President's Council. On the 18-member council are business people, educational leaders and philanthropists.
Using the personnel skills he'd honed in the corporate world – and his natural friendliness, too, of course – Bierly set out to persuade others from that buttoned-down, globe-trotting world to come aboard, to contribute connections, time and the skills that got them were they are.
"I just thought we could benefit, and our mission could benefit, by bringing in some people other than those who live and work on the coast," Bierly said recently. "There are plenty of people in important positions who don't live on the coast but share the values of our members and treasure the coast. These are also people who will give us even more credibility and more support."
Bierly also envisions this group's work to broaden the base of financial support for the federation. There's nothing altogether new about the federation obtaining money from those who have more of it than his coastal conservation army of members; also, grants from major foundations have long been a part of the federation's lifeblood.
But the people Bierly envisioned on the president's council could give the organization a more direct line to their world. As it turned out, there were quite a few folks on the federation members' list who lived with one foot in the urban jungle and the other in or near the marsh.
"Some of them, we knew, had second homes on the coast and had already been active," Bierly said. "We thought this was a way to get them to not only continue to help, but to more publicly declare their support, which would attract others."
One of the first on the list was Tom Looney, a federation member and Cary resident who is vice president and general manager for Lenovo North America, a Chinese multinational computer technology corporation with headquarters in Beijing and Morrisville, N.C. The company designs, develops, manufactures and sells personal computers; and in 2013, Lenovo was the world's largest personal computer vendor by unit sales. Before joining Lenovo, Looney was vice president of sales for IBM, where he worked for 31 years. IBM sold its personal computer business to Lenovo in 2005.
"We moved to North Carolina about 15 years ago," said Looney, who is originally from Long Island, N.Y. "I grew up around the water, fishing and swimming and I have always loved it. After we moved to North Carolina, we got a boat and fished on the coast. Then we bought the house in Wrightsville and began to spend a lot of time there."
The coastal N.C. environment grew important to Looney and to his family, he said. He began noticing the presence of the federation more and more in and around Wrightsville and Wilmington. He started volunteering and found that he loved the people involved. He also noticed that the federation is deeply committed to education, which has always been important to him. He's on the board of trustees for the N.C. School of Science and Math and for Wake Technical Community College in Raleigh.
"Much of the work NCCF does is educational," he said. "A lot of work is done with students in early grades, teaching them about taking care of the environment, and that's important."
He also noticed that while Miller and the federation preached environmental protection and conservation, neither the director nor the organization were anti-development or anti-jobs. Rather, they were all about good, reasonable development and sustainable jobs that will fit with and aid the coastal environment.
That was a key to Looney, too. In July 2013, he was appointed to the N.C. Economic Development Board, which is tasked with providing advice on economic and community development planning for the state.
"I call myself a 'Green Republican,'" Looney said. "I support a clean, healthy environment and believe that it creates jobs. Economic development and a healthy coastal environment are not exclusive of each other."
North Carolina's coastline is the second-longest on the East Coast, after Florida. It's a tremendously valuable asset that must be protected, Looney said, not just because of its economic value, but also because of its culture, heritage and aesthetics. He believes there are many in the state's corporate offices who believe those things, too, and said he was glad to join the president's council and publicly commit to help spread the word about the federation and its mission.
John Preyer, who lives in Chapel Hill, was also an obvious choice for the president's council. He's been involved with the federation for years, working to help secure the property for the organization's signature project, the transformation of North River Farms in Carteret County into the state's largest restored wetlands and natural area.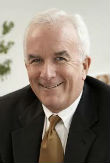 Tom Looney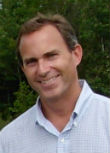 John Preyer
Preyer is co-founder, president and chief operating officer of Restoration Systems Inc. He oversees critical company operations, including land acquisition, site design and construction and financial management of the firm. John Skavarla was the company's CEO before becoming secretary of the N.C. Department of Environment and Natural Resources.
Preyer's environmental policy work goes back to 1992, when he served as legislative director for Sen. Lauch Faircloth, a Republican from North Carolina.  Preyer was responsible for all of the senator's committee assignments, Environment and Public Works. In this capacity, he regularly dealt with numerous federal regulatory agencies including the Army Corps of Engineers, the U.S. Environmental Protection Agency, the U.S. Fish and Wildlife Service as well as all corresponding state agencies.
In 1998 he joined with former Senate colleague George Howard in founding Restoration Systems. The company quickly grew to a staff of a dozen professionals with strong skill sets and expertise in environmental restoration and compensatory mitigation. It was working with wetlands mitigation that Preyer got involved with Miller and the federation.
In addition to serving on the federation's board, Preyer serves on the board of the N.C. Wildlife Habitat Foundation, which is dedicated to preserving wildlife habitat through acquisition, protection and management of land that provides wildlife benefit.
"I'm a big admirer of the Coastal Federation in general and Todd in particular," he said, "because he and the group have always placed projects and tangible work results ahead of glory and credit. It's all about getting things done, not about who gets the credit for getting them done."
Miller and the association's other key people, Preyer said, are not unemotional; in fact they are passionate about what they do. But when presenting projects or speaking at public meetings in support of or against projects or regulation, Miller and the staff refrain from purely emotional arguments and hysteria. It's a style that earns acclaim and makes lots of friends and allies, and few out-and-out enemies.
"It's a fact-based approach, not jumping up and down with hyperbole and emotion," he said. "It's an approach that gets things done. I've worked with a lot of groups, and the federation is pretty unique in that respect."
"I was happy to sign up to do this, to be on the council," Preyer said. "I hope to be able to help generate more financial support but also support of other kinds. Todd and the federation understand the need for balance and for people to work together to keep intact the valuable resources of the coast. It's a great group and I am honored to have been asked to be on this council."
While Preyer's interest has been mainly along the central coast and Looney's along the southeast coast, another member of the council, Carmen Hooker Odom, came to the federation through the northeastern region of coastal North Carolina.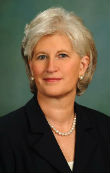 Carmen Hooker Odom
A Manteo resident, she most recently served as advisor to the president of the Milbank Memorial Fund, a New York-based foundation that conducts nonpartisan analysis, study and research on significant issues in health policy. She formerly served as president of the fund.
Before joining the fund in 2007, she was appointed the secretary of the N.C. Department of Health and Human Services by Gov. Mike Easley; and before moving to North Carolina with her late husband, Michael, who was chancellor of the University of North Carolina Chapel Hill, she was in the Massachusetts House of Representatives for 11 years.
While in the Massachusetts House, Odom was the primary author of both the 1991 Massachusetts comprehensive health reform legislation and the Children's Medical Security Plan, which targeted young children not covered by medical insurance. She co-chaired the N.C. Health Care Reform Commission and is a member of the N.C. Institute of Medicine. Her background helps tie the federation more closely to state government and policy-making, as well as to the university system. She is married to former state Sen. Fountain Odom.
"Compared to some of the others, I haven't been involved with the federation for very long, but I have been very impressed," she said.
"When they asked me to be on this council, I was honored," Odom said. "There is such passion in the organization, such a desire to do things and do them the right way. There's a strong commitment to education and to partnership."
The latter, Odom said, is a key.
"You hear a lot of people now say that government can't do this, can't do it all, and that's really true," she said. "But there is a lot that can be done by not-for-profit organizations. The Coastal Federation is really a fairly small not-for-profit, and it's remarkable how much it is able to do."
The federation, she said, is well-positioned to move to a new and even higher level of effectiveness by tapping into the rich vein of committed people away from the coast. While Raleigh and Chapel Hill have long been prime grounds for the federation's involvement inland, the coast is also important to people farther away, in Charlotte and Asheville.
Not only do plenty of those people come to the coast, Odom said, there are also plenty of people there who recognize the coast's importance to the state's economy and its heritage. She is optimistic that education efforts by the federation and other groups like it are paying off. Recently, she said, she was tremendously impressed by the environmental and ecological knowledge her grandchildren displayed during a family gathering at the coast.
"This generation is really keyed in," she said. "They realize that protecting our environmental is very important not just for now, but for future generations, and that's important. We could squander what we have if we aren't smart.
"What the federation does is having a big impact, but even more support is needed. I'm happy to help."