Last of two parts.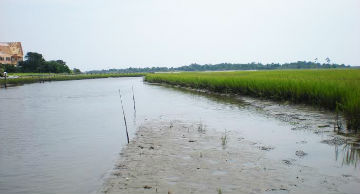 A site in Hewlett's Creek where researchers from UNCW collected sediment and oysters to study the concentrations of heavy metals and organic contaminants. Photo: Ralph Mead, UNCW
WILMINGTON — Arsenic levels in the oysters of Brunswick and New Hanover counties are among the highest in the country, and some of these oyster live in waters open to harvest, according to a recent study by researchers at the University of North Carolina Wilmington.
Two professors and four undergraduate students at UNCW are taking a closer look at what is accumulating in oyster tissues as they filter our estuaries. The research is the first of its kind to establish a baseline of two organic contaminants and 10 heavy metals in sediment and oyster tissues in Brunswick and New Hanover counties.
While the National Oceanic and Atmospheric Administration's Mussel Watch Program has done similar studies around the country and in the Carolinas, none had monitoring sites in these counties.
Despite the high spikes of certain heavy metals, the data suggests that none came close to the federal action level – the threshold for health risks. How the organic contaminants may be affecting the environment or human health remains unclear. The study does not address if the concentrations of metals or contaminants are harmful.
The researchers were surprised to find an antimicrobial compound, called triclosan, at all sites studied so far. Triclosan is banned in Europe for health and environmental reasons but widely used in this country in a variety of consumer products. Yesterday's story goes more in depth into this organic contaminant.
The students and Ralph Mead, a professor of biochemistry and chemistry at UNCW, also looked for polycyclic aromatic hydrocarbons, or PAHs. Like triclosan, "They are a pretty prevalent contaminant," Mead said.
PAHs come from either the combustion of manmade products, like motor oil and cigarettes, or the combustion of natural sources, like wood.
"From a human health standpoint, some of them are carcinogenic, so it's kind of good to know what levels are in the oysters," said Stephen Skrabal, a professor from the same department and the associate director for education at the Center for Marine Science who helped lead the research on heavy metals.
Many PAHs are toxic and pose health concerns. However, Mead found that oysters better absorbed the more common PAHs with smaller molecular structures. Those tend to be the less toxic forms of PAHs.
"Basically the more rings you add, the more toxic they get," explained Amy Ringwood, an associate professor at the University of North Carolina Charlotte who researches environmental toxicology in marine invertebrates.
A smaller subset of 12 sampling sites were analyzed for PAHs in the oysters and the sediment. The sediment data found only a few "hot spots:" two on Bald Head Island and one by the Bradley Creek Bridge near a marina. According to the Environmental Protection Agency, "hot spots" of contaminants in sediments show a need for more testing to determine if the site is causing harm to the ecosystem. It's like the FDA's action level only it's for superfund sites, the most polluted environments in the country.
The hot spots had levels of certain PAHs that were two to eight times greater than the EPA level. One was as much as 24 times greater.
Mead and Skrabal did not seem alarmed by the data. "We have no idea whether they're harmful levels. We didn't do any sort of toxicology. So we just don't know the answer to that," said Skrabal. "I sure wouldn't say that there's a PAH contamination problem in Bald Head."
According to Ringwood, "It looks like there's some regions of concern because there are some high spikes here, especially in sediment levels, but again that's probably not too surprising where you've got boating, jet skiing traffic, that's releasing combustion PAHs."
A sampling site in an undeveloped area on Bald Head Island, however, had concentrations as high as the one near a busy road and marina where polluted stormwater runoff is abundant and expected.
Mead could determine the sources of the PAHs from studying their molecular structures. He found that the types in the sediment at the Bald Head Island sites were from wood combustion. "There can be atmospheric transfer of PAHs in the form of soot and things like that so it's not surprising that there is a baseline or a concentration there," said Mead.
David Evans, a research chemist with NOAA, agrees. "My overall view is that there does not appear to be broad ranging or intense contamination," said Evans. "EPA considers such criteria as only screening level guidance and not necessarily evidence of a problem."
He said his response to the observations would be to identify the source – creosote on wood pilings, he suggested – and if found, removal or remediation might be appropriate.
The nearby water treatment plant could also be a source of the contamination. "It could be that (PAHs are) not removed from the treated water and it's kind of getting concentrated in a relatively small area," said Skrabal.
The other thing, Skrabal said, is that the Bald Head sites had finer, muddier sediment – the kind you can sink up to your knees in ­– which can accumulate more contaminants than sandier soil.
In fact, Ringwood suspects that some of high spikes in the oyster tissue data could be from the sediment, which typically has higher levels of contaminants and metals than the oyster tissue. "One of the problems that you have with processing oysters is making sure that you're actually processing just the tissues and not extraneous sediment contaminants," she said.
Ringwood, who encourages diligent rinsing of oysters and an overnight cleanse before analyzing oyster tissues, expressed the same caution for the data on the heavy metals. Skrabal and the students analyzed 10 individual oysters at all 19 sites for 10 heavy metals: arsenic, mercury, lead, copper, zinc, chromium, cobalt, nickel, cadmium and vanadium.
"Zinc, there are some that seem to be actually quite high, but that was where I wondered again about extraneous sediments," Ringwood said. "On the other hand, maybe there's some reason for some concern; but it might require a little more evaluation analysis to make sure that we're not over-estimating potential risks."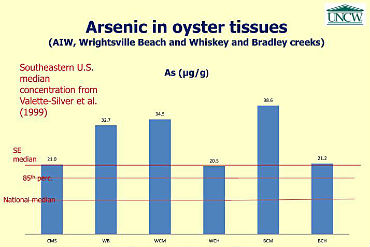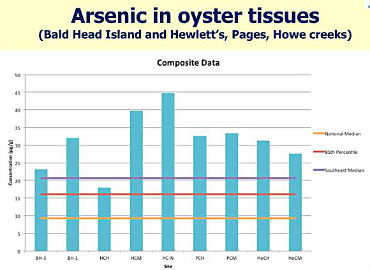 These bar graphs represent the levels of arsenic found in oyster tissues in Brunswick and New Hanover counties. They are compared to the median for the Southeast (top line), the 85 percentile (middle line) and the national median (bottom line) compiled in a 1999 study. Source: Stephen Skrabal, UNCW
Compared to an established study, some of the samples had concentrations of copper and zinc that were higher than the national median and ranked among the highest levels in the country, mostly in the closed watersheds and near marinas due to antifouling boat paints.
"It's pretty well established that copper and zinc are often high in marinas around the world. (Boat paints) have a very, very high percentage of copper and zinc in them. I think our results support that," said Skrabal.
Cadmium and cobalt were below the national median and mercury averaged close to the median, about the same amount per weight as lobster or cod.
The only heavy metal that raised a brow was arsenic, which trumped the averages for the Southeast region. As it is, all bivalves in the Southeast already have significantly higher concentrations of arsenic compared to the rest of the country, according to the NOAA Mussel Watch Program study.
This stark contamination in the Southeast has "geologic origin," suggests another study. It could be that the historical use of arsenic in agricultural pesticides and wood preservatives in the region has been embedded in the bedrock.
"One of the interesting things that we found was that back in the '60s and '70s there were really large amounts of arsenic-containing agricultural chemicals that were used in the Cape Fear rivershed," said Skrabal.
High concentrations of arsenic can be toxic to fish, birds and plants, and prolonged chronic exposure can be linked to cancer in humans. However, arsenic comes in many forms, said Ringwood, and the less harmful forms tend to predominate in seafood.
"The form that arsenic is in in the tissues is really critical in terms of whether it's actually toxic to the oysters or to predators, even humans," said Ringwood. "These studies are valuable in providing some aspect of overall arsenic levels. Somebody could say, 'Now here are some real hot spots; now let's go back in here and do some of the more detailed studies to actually determine what form the arsenic might be in.'"
Guiding future restoration efforts with this baseline knowledge was part of the goal. "Aside from providing undergraduate students with scientific training, the data will become public on an interactive web site aimed to help others in choosing sites for oyster restoration projects," Skrabal said.
The state's Coastal Recreational Fishing License program provided about $89,000 for this research.
Oyster are not only an important economic resource, but they play an important role in the environment. One oyster can clean up to 50 gallons of water a day by filtering particles in the water, and oyster reefs prevent shoreline erosion by buffering crashing waves.
Perhaps the study will also help people living near the coast become more conscious consumers. "I think the easiest thing to grasp is that some of these everyday products that we use end up in our waterways," said Skrabal. "So maybe it helps them (the public) to think about whatever we use."