BEAUFORT — The new research building on the shores of Pivers Island at the Duke Marine Lab commands a stunning view of water. I stood on the second-floor deck eating grilled chicken on a stick and flaky pastry puffs filled with figs and was surrounded by water. There was Beaufort harbor to the left, the ship channel leading to the port in Morehead City on the right, Beaufort Inlet dead ahead and the Atlantic Ocean shimmering on the horizon.
Funny, I thought, as I finished off the third or fourth pastry puff. They named this place with the killer view that's a stone's throw from the water after a guy who has devoted his life to studying the world's coasts and preaching retreat from them.
"If you can see the ocean," he liked to say, "it can also see you."
That guy was down in the lobby surrounded by a hundred or more colleagues, former students and other well-wishers who came to this island near Beaufort Sunday for the dedication of the Dr. Orrin H. Pilkey Research Laboratory.
"Hey, pal," said the honoree, taking a break from shaking hands and having his picture made with someone's smiling wife, daughter or grandchild. "Have you eaten? I'm hungry."
The trays on the buffet tables were by then pretty picked over. The one with the pastry puffs was bare.
"You shoulda had those fig things," I said. "They were tasty."
"Damn," Pilkey replied. "Late for supper again."
I suggested he try the tables on the second floor. The old Bully of the Beach nodded and trudged up the stairs in search of a meal.
He's almost 80 now, but back in his day Orrin H. Pilkey Jr. was a man to reckon with if you had notions about building high rises along a N.C. beach or were contemplating putting up a seawall to protect a row of beachfront houses. And heaven help you if you happened to work for the Army Corps of Engineers. You were then incompetent or worse.
Soon after joining the faculty in 1965 as Duke University's first marine geologist, Pilkey began publicly preaching about threading lightly along the strand of sand bordering the ocean, which he warned behaves unpredictably and at times destructively. He delighted in blowing into some beach town to attend a public meeting about some kind of oceanfront development and to kick sand in the faces of developers and mayors with his warning of what happens to buildings perched precariously on stilts and with his advice of caution and retreat.
To reporters who covered such meetings, Pilkey was their go-to guy — always accessible, always willing to patiently explain some obtuse facet of geology or oceanography and, most importantly, always quotable.
For decades, he led the charge for sane beachfront policies in North Carolina. He successfully fought twin jetties at Oregon Inlet on the Outer Banks. His haranguing finally persuaded regulators to ban seawalls and jetties on the beach and he argued persuasively that the threatened lighthouse at Cape Hatteras should be moved to higher ground rather than merely encircled with a steel wall.
He did all this with a smile and a laugh. Pilkey isn't an imposing man with a thunderous voice and a wicked cackle, as you might expect of a Prophet of Doom. He is, instead, short and round and soft spoken. His full beard, which is standard issue for geologists, is now mostly gray and reinforces the image of a kindly munchkin rather than an ominous Darth Vader.
Along the way and over the years, Pilkey became a national advocate for retreating from the oceanfront, noted his colleague Joe Ramus, and he educated untold millions through dozens of books and hundreds of op-ed columns. Thousands of newspaper and magazine articles, including such heavyweights as National Geographic, Esquire and New York Times Magazine, have featured Pilkey and his teachings about the natural forces that constantly remake beaches.
"Orrin was a pioneer in the application of science in public policy," said Ramus, a professor emeritus at the marine lab and one of its former directors. "Plus he was no shy wallflower. And he was persistent as hell. Decade after decade, he stayed on message. That message wasn't what coastal property owners wanted to hear. As a result many hated him."
Why he became the man so many loved to hate is still somewhat of a mystery to Pilkey. "I had that burning desire to save to the world, I guess," he said with a shrug.
Well-wishers fill the lobby of the new research lab during its dedication. Photo: Frank Tursi
We were sitting on the back deck of his house off U.S. 70 in Hillsborough some weeks before the dedication. There was not a puddle of water in sight. We were surrounded instead by acres of majestic oaks just budding green. The air was filled with pollen and the melodious chirping of songbirds. Buddy, the family dog, did what Jack Russell terriers do, incessantly retrieving a thrown plastic bone during the entire two-hour interview.
"He'll get a heart attack before he stops," Pilkey said, after it became apparent that Buddy had no intention of heeding his master's repeated entreaties to go find something else to do.
Pilkey noted that he first arrived at the marine lab 50 years ago this year for his job interview. He was working on Sapelo Island off the Georgia coast as a young researcher for the University of Georgia's Marine Institute. The school didn't require that he teach and provided a house for him and his wife, Sharlene.
"What a perfect job," Pilkey said. "I didn't realize until years later what a good deal that was, but it was too isolated for me."
Born in New York City in 1934, Pilkey did most of his growing up in Richland, Washington, where his father, an engineer, worked at the Hanford Labs. The top-secret lab was created in 1943 as part of the Manhattan Project and produced the plutonium that was used in the atomic bomb dropped on Nagasaki. For the workers and their families, cancer was a byproduct of helping to end World War II. Pilkey and his brother survived childhood bouts of thyroid cancer.
Moving to the West, with its jumbled, scarred terrain sparked an interest in geology. Pilkey has always been a collector of things – stamps, arrowheads, seashells, rocks, mortars and pestles and even air sickness bags – and as a youngster he was drawn to the orderliness of sediment layers and fossils. He went on to get undergraduate and graduate degrees in geology and a Ph.D. in 1962 from Florida State University.
Pilkey spent the summers during college jumping out of airplanes and otherwise fighting fires for the U.S. Forest Service in Montana. "I used to be very proud of that because I thought we were saving the forest," he said with a laugh. "Now, of course, I know better."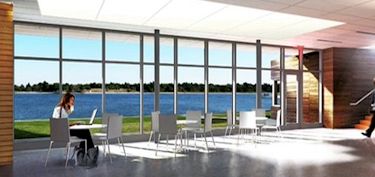 The Dr. Orrin H. Pilkey Research Laboratory has a killer waterfront view. Photo: Duke University
He was studying the sediments of the continental shelf off Sapelo Island when the marine lab called. The National Science Foundation was prepared to give the lab its first research vessel, the Eastward, but Duke had to hire geological and chemical oceanographers to work on the ship. "I was the geological oceanographer," Pilkey said.
During that first visit to the lab, Pilkey went out on the Eastward for a short cruise and promptly got sick. "How embarrassing is that?" he said. "A marine geologist gets sick on his first cruise."
But Duke hired him anyway.
He didn't intend to arrive in Durham and step into the spotlight by taking on beach developers. One of his first research trips on the Eastward, however, started to open his eyes. "It was a dull cruise," he remembered. "It was one of those cruises where you have 10 people but really only need two."
Pilkey spent most of the time playing the card game hearts with a scientist from the Smithsonian Institution, who explained the effects of seawalls on beaches. Such structures over time tend to destroy the beach, he told Pilkey. Worst of all, he said, the federal government pays for the walls.
"I was outraged by it. It was all right in front of my eyes," Pilkey said. "That guy died recently, by the way, but then almost everyone I once talked to has died."
On the bright side, there's no evidence that Pilkey got sick on that cruise.
That public money is spent on practices that harm or destroy beaches is what fuels Pilkey's passion, Ramus said. "He's not ideological," he said. "He just doesn't like public money used to encourage recklessness."
Hurricane Camille, which roared ashore in August 1969 as one of the strongest hurricanes to hit the United States, altered the landscape of the Gulf Coast and Pilkey's career forever. His parents by then lived on the Mississippi coast, and Pilkey helped them shovel mud out of their living room and salvage what little remained.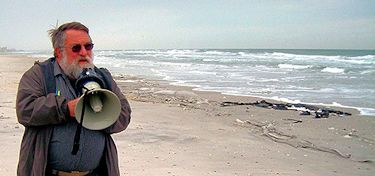 Bullhorn in hand, Orrin Pilkey often led tours for the media to highlight some assault on the state's beaches. Photo: Western Carolina University.
"It was awesome, just awesome. Houses were blown off their stilts and flung sometimes a quarter mile," Pilkey said. "Seeing the force of the sea was new to me, and it was very impressive."
The experience led to How to Live With an Island. Published in 1975 with Pilkey's father as coauthor, the book was the first of many on coastal development. In it, Pilkey set out on the philosophical course that guides him still. Barrier islands, such as those along the N.C. coast, are ever changing, he wrote. The thin ribbons of sand are sculpted and shaped by wind and waves and moved inexorably westward on journeys that take thousands of years. Building permanent structures on such island, Pilkey has said time and time again, is folly. Man's only logical response is retreat.
"I thought the book was rinky dink," he said. "I had done it just to work with my father. But we got calls from people wanting to quote something I had written. Imagine that? I became an instant expert."
The idea that barrier islands are dynamic and changeable was rather new back in 1975. Few geologists were espousing it then, none publicly. The same was true of the destructive effects of seawalls, noted Todd Miller, the founder and executive director of the N.C. Coastal Federation. He's been involved in just about every fight over coastal policy in the last 30 years.
"Orrin was a voice in the wilderness back in the 1960s when he raised the alarm that seawalls on the oceanfront would kill our beautiful beaches in N.C," he said. "Today, just about everyone agrees that seawalls should never be allowed along the ocean, and there is a state law that prohibits them. "
The state's strict setback for buildings along the oceanfront can also be traced to Pilkey.
"I think I've accomplished a lot as far as public awareness," he said, as Buddy took a short break to catch his breathe. "Back in the early days to say we should move houses or let them fall in was unthinkable and radical. It's not that way anymore. I think I've had a major role in making that thinkable."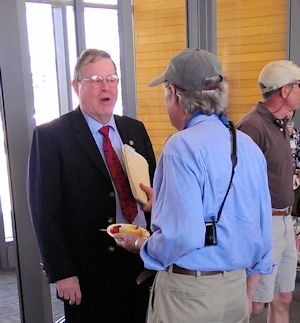 Philip Froelich, left, speaks to Stan Riggs, a geologist at East Carolina University, at the dedication. Photo: Frank Tursi
He's grateful for having worked at Duke, especially when his ideas were considered radical. "There is no way I could have been as forceful as I was if I had worked for a public university," Pilkey said. "As someone pointed out to me, I would have had a broom closet for an office."
He knows professors at public universities who have had their research projects audited, their hard drive confiscated and their emails subpoenaed after advocating positions that powerful people disliked.
Pilkey never had to worry about anything like that. As a private university, Duke doesn't get its money from the state. Chancellor Terry Sanford, a former governor and a future U.S. Senator and presidential candidate, once approached Pilkey at a cocktail party, smiling. "Orrin," he said, "I got three calls about you this month."
He turned away and nothing more was ever said.
"I'm very proud of Duke," said Pilkey, who retired in 1999 and now has the title of "emeritus" before his name. "It says a lot about the university that no one ever told me to shut up."
That he changed lives says a lot about Orrin Pilkey, noted Philip "Flip" Froelich. "He certainly saved mine," he said.
Froelich was a junior majoring in chemistry when he dropped out of Duke in 1967, just before his parents pulled him out or the dean threw him out because of flunking grades. He went home to Winston-Salem to work in the shop of his father's Cadillac dealership. "I didn't want to spend the rest of my life under cars," Froelich said.
Someone suggested he go see Pilkey. "I walked into Orrin's office that first time. He was sitting at his desk behind stacks of papers and books. It was like looking at him through a tunnel," Froelich remembered. "He had that full beard. It was like talking to Santa Claus."
The mess that was Pilkey's office was legendary among his students. One in the mid-1980s had taped this note on a file cabinet: "One blue-cloth, three-ring binder has been lost in this office for… (the numbers one through eight had been crossed out)… years. Can you find it?"
Pilkey suggested that Froelich re-enter Duke and finish his senior year at the marine lab, where Pilkey would watch over him. Froelich went back to school and joined a winter research cruise on the Eastward to the Gulf Stream. "He got on that ship," Pilkey said. "And once he found the sea, he found himself."
Froelich got his chemistry degree, much to the astonishment of many, and went on to earn his doctorate in oceanography from Florida State, Pilkey's alma mater. He recently retired as one of the most distinguished oceanographers in the world.
"I ended up having a successful career and it was all because of Orrin. He picked me up and set me straight," Froelich said. "There are basically three dozen stories like mine from kids all over North Carolina."
To show his gratitude, Froelich and his wife, Kathy,donated all of his inheritance, some $2 million, towards the construction of the new building. "It was a no-brainer to name it after Orrin," he said.