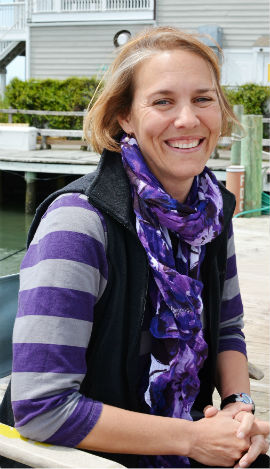 Lauren Hermley takes a seat by Beaufort's waterfront after lunch at Beaufort Grocery Co. She is the assistant manager of Beaufort and the vice president of the N.C. Coastal Federation's board of directors. Photo: Tess Malijenovsky
BEAUFORT – She's traveled the world, dived with hammerhead sharks and loves grilled green onions so much that she'll fly to Spain to celebrate them. If you live in Beaufort, you likely know Lauren Hermley. If you don't, you might like to get to know the vice president of the N.C. Coastal Federation's board.
Stepping outside of town hall in Beaufort's historic waterfront district, Hermley, the assistant town manager, said, "Let's go to Beau Gro."
Her familial reference to Beaufort Grocery Co., a restaurant in town, made me at ease. Whew, she's no stiff.
Hermley, 40, enjoys the therapeutic silence of diving in an underwater cave, but on land she is a people-person. "I like to be in the mix," she said. Doing so allows her to stay engaged in the community and see what needs are out there. It also means she gets to socialize with hundreds of people.
"I really enjoy people and working with people around a common goal. I enjoy the group dynamic," said Hermley, who holds a bachelor's degree in organizational psychology.
She has lived in Beaufort for 12 years with her husband, Shawn, who is a Harrier pilot and a lieutenant colonel in the Marine Corps. They have moved around the country for Shawn's job but have been fortunate to stay in Beaufort for quite some time now.
"Eastern North Carolina is an interesting place," Hermley said sitting by the large front window inside the bustling restaurant. She doesn't miss the snowy climate up north, but of Beaufort she said, "It took a little while to warm up to it."
Hailing from Syracuse, New York, and having traveled around the world diving shipwrecks and underwater caverns, the South was an adjustment in a few ways. "I grew up in upstate New York and my school was really diverse and my parents couldn't have been more socially liberal," Hermley said.
"My mother would have been fine if I had brought home anybody — black, white, red, purple, lesbian — she would have had no problem with it whatsoever," she said. "But I brought home a marine."
Adapting to the transitory lifestyle of the marine's wife — looking for new work in a new town and finding ways to occupy her time while Shawn was deployed — took a while. For the longest time, she said, she didn't have a quick answer to the so-what-do-you-do question.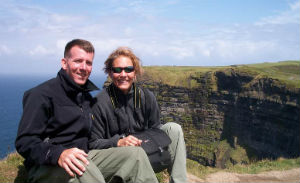 Lauren and her husband, Shawn, like to travel together, like here at the cliffs of Moher in Ireland. Photo: Courtesy of Lauren Hermley
Yet, connecting groups of people to achieve a common goal has been an constant thread throughout her life; whether she was managing a community foundation in Arizona, leading scuba diving trips in Micronesia or organizing a pirate invasion festival in a southern coastal town.
"It's really rewarding for me to work on a team that's working towards something and have that come together," Hermley said. This is especially true when she can help the "teams" she works with collaborate together, like Beaufort and the federation.
In fact, starting a dialogue about the work of the federation within local-level politics has been one of her more fulfilling collaborations: "I live and work and breathe in Beaufort. And so to be able to speak to our elected officials and be in a position to have conversations about these really critical issues is one of my more rewarding experiences."
When the state lost funding for its oyster shell recycling program, the federation didn't have the means to collect oyster shells even though there was a receptacle to house them. Hermley helped connect the nonprofit organization with the resources of the Beaufort municipality, which has a public works department with employees that do collection for a living. Beaufort began collecting oyster shells in town and taking them to the N.C. Division of Marine Fisheries in Morehead City.
Then, familiar with the federation's efforts to reduce stormwater runoff pollution, Hermley saw an opportunity for Beaufort to convert a swath of impervious surface on public works property into a public park.
"It's going to alter and improve the stormwater situation in this very critical part of town," she said, as her soup and salad arrived.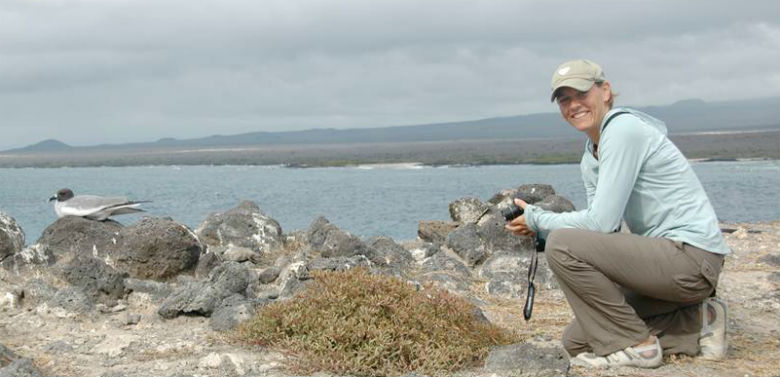 Lauren Hermley, pictured here in the Galapagos, traveled to exotic destinations around the world leading small-group scuba diving travel for her business When in Roam. Photo: Courtesy of Lauren Hermley
When she's not working or serving on the federation's board of directors, Hermley is volunteering as president of Beaufort Ole Towne Rotary Club. She began participating with the international nonprofit organization when she lived in Yuma, Arizona.
"That allows me to maintain a foot in helping out on a global scale," Hermley said.
She may work, live and play in small town Beaufort but Hermley has empathy for people from around the world, in part because she has traveled to many foreign countries.
The next destination for Hermley, she hopes, is Catalonia, Spain, where she can experience a festival dedicated to one of her favorite delicacies: grilled green onions. Charred, tender and sizzling right off a barbeque, the green onions are served with Spanish dipping sauces.
"I want in. I want to go. I want to do that," said Hermley.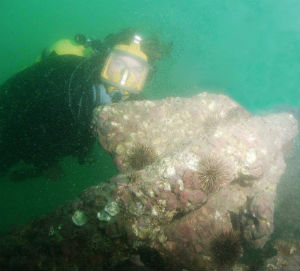 Lauren Hermley dives by the north anchor of the Queen Anne's Revenge shipwreck. Photo: Courtesy of Lauren Hermley
Scuba diving, however, is what brought Hermley to some of the world's most exotic places. She once owned a business in Beaufort, called When in Roam, that led small-group scuba diving travel around the globe, from Egypt to the Galapagos to Palau.
"Palau might be the most beautiful place on Earth," she said, reminiscing about the island's pristine natural beauty and its famous underwater shipwrecks.
While she was running her diving business in Beaufort, Hermley was also working with the state's Department of Cultural Resources to save a pirate's shipwreck. She helped found Friends of Queen Anne's Revenge, a nonprofit organization established to support the archaeology and conservation of Blackbeard's flagship, Queen Anne's Revenge. The notorious pirate overtook the French slave ship off the coast of Martinique before running aground the Beaufort Inlet in 1718. Hermley also developed an educational program for certified divers as part of the project's public outreach.
With her foot in the door via the project, Hermley started working directly for the cultural resources department developing heritage tourism and outreach throughout eastern North Carolina. When an opportunity surfaced to work for the town as assistant manager, she jumped on board.
Hermley brings diverse skill sets to her teams, whether it's the town or the federation, including working knowledge of marketing, communications, citizen engagement and finance. The president of the federation's board of directors, Dick Bierly, said she's a good board member because she is versatile, thoughtful, has high energy and doesn't run from a problem.
"And because she's a local official she introduces people whom we may not have access to," said Bierly. Such as with the oyster shell collection that, thanks to Hermley's communication, continues in Beaufort today.
Hermley is fond of the federation's mission, but it's the personality of the organization that she loves. "They listen to all different types of people," she said. "They listen to the environment. They're not so interested in preaching, they're not so interested in judging. They're interested in doing and really creating synergies."
Hermley is interested in listening to all people and creating synergies too. "We have a lot of serious problems facing our planet, facing our society, and the only way that we're going to pull this off is to work together. That necessitates communication and dialogue and civility," Hermley said.