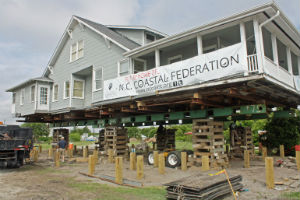 The relocated Palmgren-O'Quinn house standing on stacks at its new home in the Historic Square of Wrigtsville Beach last year.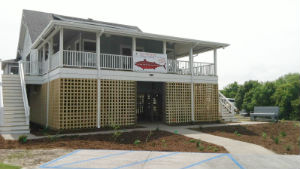 WRIGHTSVILLE BEACH — There are several reasons why you should consider attending this Saturday's grand opening of the N.C. Coastal Federation's new digs in the Historic Square here. You'll learn about the federation and its staff, plans and projects. Plus, you'll have some fun.
Everyone is invited to come to the federation's new Environmental Education Center and Southeast Office. It all starts at 2 p.m. when the regional staff will acknowledge the previous owners of the Palmgren-O'Quinn house, Mark and Debbie Mitchell. They donated it to the non-profit group. There will be the official ribbon cutting, of course, and then people will be able to tour the new headquarters, which floated down on a barge from Harbor Island a little less than a year ago.
"What we've been noticing," said Mike Giles, a coastal advocate for the federation, "is that people are walking into this house who have a personal connection to it. This house was a center, a hub of activity on Harbor Island. A lot of people grew up with the O'Quinn house."
According to Giles, among the many things people may learn by attending Saturday's festivities is a sense of the home's history. That history and the Historic Square location have opened doors to partnerships with the adjacent Wrightsville Beach Museum and with the town's Recreation Department.
"We'll be able to utilize facilities and coordinate with each other to achieve common goals," said Giles.
Along with informal tours of the building, people will be able to see a series of permanent displays on environmental topics and inspect the federation's innovative approaches to controlling stormwater at the site like the pervious pavement, rain gardens and cisterns.
Visitors will also see the first of many rotating art displays, like photographic artwork by Melissa Wilgis. The University of North Carolina Wilmington's Bonnie Monteleone will be on hand with her "What Goes Around, Comes Around" display of plastic art, highlighting the on-going damage being done to our oceans by discarded plastics.
"There'll be activities for kids, and light refreshments, as well," said Tracy Skrabal, manager of this new office and education center. "There'll be a videographer on hand, too, who will be recording the thoughts of people who've spent time in this house, along with the thoughts and memories people have of the federation itself."
A photographic slide show will show the house's move on barge and truck and its yearlong renovation.
In addition to objects that can be seen, heard, touched, felt and tasted, the grand opening will offer attendants a few things to think about as well. "People will be able to find out about the new programs that we will be initiating in our education center," said Skrabal, noting plans for a speaker series, set to start on May 14, with a visit from the N.C. Audubon Society's Walker Golder.
People will also learn of a planned series of Coastal Adventures, which will take folks out from the center and into the community, to understand and witness the federation's work. Included in these Adventures are plans for a series of Coastal Culinary Adventures with Liz Biro, who writes a food column for the federation's daily news service, Coastal Review Online, and will conduct excursions to farmers' markets and visit with local chefs.
"This Grand Opening, and our plans for the future, will offer people a chance to connect more intimately with the work that the federation does," said Giles. "We'll be demonstrating the opportunities that people will have to engage more in our volunteer programs."
It should be noted that none of this would have happened, were it not for the successful completion of the capital campaign to raise $600,000 to move and restore the old beach cottage. As of April 17, when the federation announced the results of the successful campaign, $643,715 had been raised.
So head out on to Wrightsville Beach on Saturday and see for yourself what sort of fruits a collaborative community effort can yield and the benefits they'll bring to the entire southeast region of North Carolina.