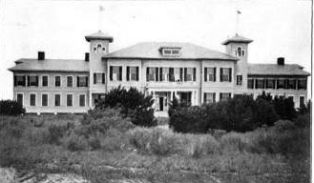 The lab soon after it opened on Pivers Island in 1902.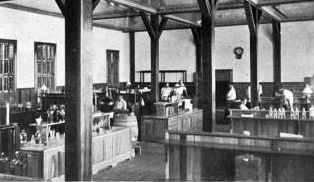 Inside the ground floor of the lab in 1902. Photos: U.S. Fish Commission.
BEAUFORT – The second-oldest federal fisheries laboratory in the country will have to close its doors on Pivers Island near this Carteret County port town if Congress passes President Obama's 2015 federal budget.
Funding for the National Oceanic and Atmospheric Administration lab isn't included in the president's $3.9 trillion budget proposal, which was released 10 days ago. The lab opened in 1899 in a house on Front Street in Beaufort, moving to its current location on an island outside town three years later. The NOAA lab in Woods Hole, Mass., which opened in 1882, is the only federally funded fisheries research lab that is older.
The decision to close such a venerable institution wasn't easy, said Ciaran Clayton, NOAA's director of communications. "NOAA's Beaufort Laboratory has conducted valuable fisheries and coastal science for more than 100 years," she wrote in an email. "However, this aging facility requires infrastructure repairs and improvements exceeding agency budget resources now and for the foreseeable future. The president's FY2015 budget request addresses this challenge by proposing closure of the lab."
NOAA would get $5.5 billion under Obama's budget, a 3.2 percent increase over this year. The budget aims to enhance public safety, economic opportunity and community resiliency, while also making smart investments to better position NOAA for the future, Kathy Sullivan said in a statement yesterday. She was confirmed last week by the U.S. Senate as NOAA administrator.
"It continues efforts to strengthen our oceanic and coastal programs, our internal and extramural programs and our long-range and short-term research investments," she said of the NOAA budget.
But in its budget request to Obama, NOAA recommended that the lab on Pivers Island be closed and another lab downsized as cost-saving measures.
If the lab closes, it's expected that the 45 employees would be offered positions at other NOAA labs. Its projects and programs would also move to other labs. Formerly known at the Center for Coastal Fisheries and Habitat Research, the lab does a wide range of research on how changes in coastal habitats affect marine creatures. Its research also support federal assessments of fish stocks.

The lab seen from the water. Photo: U.S. Fish Commission
Congress rarely passes budgets proposed by presidents. The "PresBud," as it's called on Capitol Hill, is really just a president's suggestions for funding priorities and levels. House and Senate budget committees can use it as a framework when fashioning their budgets, but Congress can totally ignore a president's wishes when passing a federal budget. In fact, the last two Obama budget proposals that came for a vote in the House or Senate were roundly defeated.
So Gene Huntsman isn't too worried at the moment that the lab where he spent almost 30 years will shutter its doors. He got excited emails all day yesterday from worried former co-workers. "Some of us older heads are saying 'Oh, again?'" said Huntsmen, who retired in 1995. "These stories about the lab closing have happened over the years. Sometimes, they're just hype and sometimes they're just bologna. But they never come to pass."
But the story gave him an opportunity to talk about the importance of the lab to Carteret County. Scientists started spending summers in Beaufort in the 1870s to do fisheries research. They came from Johns Hopkins University, then the University of North Carolina and Duke. The lab, first under the U.S. Fish Commission and then the U.S. Bureau of Fisheries, became their base of operations. The ties between Duke and the lab became so close that lab in 1935 sold land on Pivers Island to the university for its own marine lab. UNC and N.C. State University now also have marine research centers in the county.
"The NOAA lab is the grandfather of all the other labs," Huntsmen said. "They wouldn't be here if the lab wasn't here."