OCRACOKE — Old-timers here believed that when an Ocracoker was going to die, the island's roosters would crow repeatedly in mournful tones. On Sunday morning, March 9, the roosters along O'Neal Drive crowed non-stop, even as the news arrived that Wayne Teeter, a man who was "as Ocracoke as you could get,"  had just passed.
Teeter, 69, died in Carteret General Hospital in Morehead City. His funeral was Friday at the Assembly of God in Ocracoke.
Teeter was, according to his friend Jerry Midgett, "a true Ocracoker, who didn't put on airs. What you saw was what you got."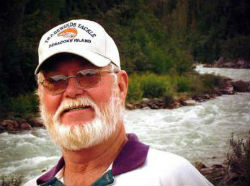 Wayne Teeter ran the Pony Island Restaurant and Tradewinds Bait and Tackle Shop and owned Ocracoke Crab Co. Photo: Ada Teeter
Involved in all aspects of Ocracoke life, Teeter was a commercial fisherman, a hunting guide and ran at various times the Pony Island Restaurant and the Tradewinds Bait and Tackle Shop, He also owned the Ocracoke Crab Co and served as a Hyde County commissioner. For those who didn't know him in any other capacity, Teeter could be recognized as the owner of Blackbeard's Ice Chest, which sits on the edge of his yard and dispenses ice for fishermen and beachgoers.
The son of Frank and Iona Teeter, Teeter was born in 1945 and grew up with his brother Carl, nicknamed Toad, in a house near Ocracoke's British Cemetery.
Phillip Howard, owner of the Village Craftsmen, recalls playing with Teeter when they were young. "Running around, exploring Springer's Point, swimming in the creek and gigging for flounder in Pamlico Sound," Howard remembers.
Teeter had a Banker pony named Beauty, and during the 1950s he was a member of the Ocracoke's mounted Boy Scout troop.
He attended Ocracoke School but did not finish his formal education. He often told people that "one of the biggest regrets of my life was that I dropped out of school in ninth grade.  I should have quit in the seventh."
Teeter served in the Coast Guard for 10 years and greatly valued his service. Fishing and the Coast Guard were, according to his widow, Ada, his great loves.
While in the Coast Guard Wayne married Belinda Styron, an Ocracoke girl with a beautiful voice, and they lived in Morehead City until his discharge. They were together until her death in 2002.
Teeter eventually began spending time with Ada Fulcher, an island girl whom he had known all his life, and they were married nearly 10 years ago. "One day we took a walk," she recalls, "and we never stopped walking."
Returning to Ocracoke after the Coast Guard, Teeter ran several businesses as well as resuming the fishing career he loved. Rudy Austin recalls that they began pound netting and fishing for striped bass, called rockfish locally, together in the late 1970s. Wayne also fished off the beach, using dories to net speckled trout, drum and rockfish. He also was a clammer and crabber.
While running the Tradewinds, Teeter took duck and goose hunting parties to Portsmouth Island in his boat. He was the first fisherman, remembers Midgett, to plant and maintain clam beds behind the island.
Austin looks back with pleasure on a trip he and Teeter took, along with Peter Stone and Sambo Drake, in the late 1970s.  They delivered Stone's 20-foot Sea Ox from Ocracoke to Florida, following the Intracoastal Waterway. "That was a good time," Austin recalls.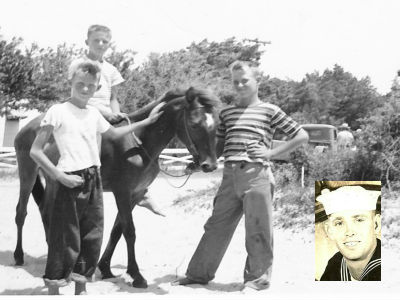 Young friends: That's Phillip Howard on the pony, Wayne Teeter in the striped shirt and Earl Gaskins. Insert: Wayne Teeter in the Coast Guard. Photos: Phillip Howard and Ada Teeter
Ben O'Neal, one of the pallbearers at Teeter funeral, drove the fish truck at Teeter's Ocracoke Crab Co. for 10 years. He remembers that "Wayne always liked to give. He wanted to make money at the fish house, but he'd rather have one of the fishermen make money than himself."
Danny Wynne, who sold his fish at Teeter's fish house, said that Teeter had time for everybody, even the small fishermen who only had 50 or so pounds of fish. "He helped out a lot of fishermen," according to Danny.
Along with their home on Ocracoke, Teeter and Ada built a small house, "Teeter's Camp," on land Ada owned down Core Sound at the Straits in Carteret County. They also bought a pickup truck camper and began traveling around the United States.
Their yard always sported an impressive raised garden, with collards, onions, potatoes and other vegetables, as well as a few fruit trees. Teeter loved their garden, Ada, says, even though he never worked in it. She did the gardening, but she did it mostly for him.  He also loved to cook, says Midgett — "fish, ducks, geese, you name it," and added his wife, he loved to eat.
Teeter also loved children and always took time with them, according to his friends. He had two step-daughters and two step-grandchildren, along with a niece and nephew and great nephews and nieces.
Always trying new activities, Teeter in the last few years had a crab shedding business in his garage, selling soft-shell crabs. He had just been out to his pound nets, floundering, says Ada, before his death, and he was getting ready to start shedding crabs again.
"He was one of a kind," said old friend Earl Gaskins. "He always looked at the bright side of things."