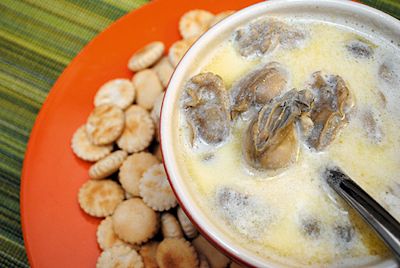 This is part a monthly series about the food of the N.C. coast. Our Coast's Food is about the culinary traditions and history of N.C. coast. The series covers the history of the region's food, profiles the people who grow it and cook it, offers cooking tips — how hot should the oil be to fry fish? — and passes along some of our favorite recipes. Send along any ideas for stories you would like us to do or regional recipes you'd like to share. If there's a story behind the recipe, we'd love to hear it.
When the late Southern food historian John Egerton asked the oldest resident of Georgia's Sapelo Island about the fishing village's seafood traditions, Annie Walker put her love for oyster stew in plain terms.
"I like bass, croaker, trout, yellowtail. And stewed oysters, now that's a good dish," she said, "a little bacon, a little flour, then your oysters, maybe some water, then season it with salt and pepper."
The recipe Walker related for Edgerton's book Southern Food: At Home, on the Road, in History (Alfred A. Knopf, 1987) doesn't sound exactly like the buttery, milky, loaded-with-oysters soup most often presented as oyster stew in North Carolina – unless you consider the simplicity of Walker's directions.
Coastal N.C. natives will put up with jalapenos in their pimento cheese and bourbon in their pecan pie, but when it comes to steaming bowls of oyster stew, only a few ingredients will do.
Since the Irish introduced oyster stew to America around 175 years ago, tradition has dictated its endurance.
Oyster stew evolved from soup made with a dry-preserved Atlantic fish named ling, present off Ireland. The Irish ate milk-based ling stew as a Christmas Eve, religious fast-day meal.
When the mid-1800s Great Potato Famine drove thousands of Irish immigrants to the United States, many of them settled along the East Coast. Their new home had no ling, but oysters were huge, plentiful and delicious. The Irish adapted, and since then oyster stew has pretty much remained the same: a blend of oysters, fat and liquid.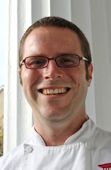 Matt Beckelhimer
Other coastal cooks stewing seafood along the shore likely added pork fat and water, as Annie Walker suggested.
"It is important to note that until recently (last half of the 20th century forwards), oysters were commonly consumed, especially by people living close to ocean shores," according to The Food Timeline history research service. "They were plentiful and cheap. Not the expensive delicacy we think of today. Oysters were indeed expensive for inland folks, due to shipping costs."
Today, North Carolinians often judge good oyster stews by the yellow patches of melted butter floating on a thin, nearly pure white soup loaded with fresh shucked oysters – no potatoes please. As oysters became luxury food, so did this basic soup.
Certainly, more than a few bowls of oyster stew landed on tables at downtown Wilmington's historic de Rosset House. Dr. Armand John de Rosset III built the mansion in 1841 with the family's penchant for entertaining in mind. The custom continues at the home, now the private City Club at de Rosset. There, chef Matt Beckelhimer combines his love of old-fashioned oyster stew with a few adjustments.
Reared in Richlands, a little Onslow County town, Beckelhimer hails from a family of fishers and farmers. He grew up eating salty Topsail Island oysters in his granddad's oyster stew. Grandpa had a little secret Sapelo Island's Annie Walker would have appreciated: Ocean water lent his stew extra sea-fresh flavor.
Beckelhimer respects that stew but has a few ideas of his own, too. Sometimes, he adds fresh fennel, chives, scallions or basil to the basic recipe. He described his fennel- and saffron-scented tomato-based oyster stew as "a cross between a paella and an oyster stew."  Oyster corn chowder and a curry-seasoned stew made with coconut milk are his other ideas.
One thing is never negotiable: the oysters.
"I do like the Topsail selects," Beckelhimer said. "I love those salty briny oysters,"
Traditional Oyster Stew
This recipe calls for paprika and fresh parsley, both of which would be considered optional, if not sacrilege, by lovers of traditional oyster stew. Some cooks would remove the oysters after the initial cooking, then return them to the pot just before serving to ensure the shellfish do not overcook.
4 tablespoons butter
1 pint standard oysters, undrained
1 quart milk
1 1/2 teaspoons salt
1/8 teaspoon freshly ground white pepper
1/16 teaspoon paprika
4 tablespoons finely chopped fresh parsley
In medium saucepan, melt the butter over medium heat. Add oysters and cook just until edges begin to curl, about 5 minutes. Add milk, salt, pepper and paprika. Cook over medium heat until thoroughly heated and oysters are done, about 8 to 10 minutes. Do not boil. Pour into serving bowls and sprinkle with parsley. Serve with oyster crackers. Serves 4 to 6.
Source: Mariner's Menu: 30 Years of Fresh Seafood Ideas (N.C. Sea Grant, 2003).
Carolina Oyster Stew
Spanish flavors and N. C. seafood soup cookery meld in Beckelhimer's recipe. He hard poaches eggs in the soup, a favorite addition to fish stews made on the N.C. coast. Getting the eggs just right takes a little practice. Make sure the soup is not bubbling when placing the eggs in the pot.
1 tablespoon olive oil
1 large onion, finely diced
1 fennel bulb, finely diced
3 large garlic cloves, minced
1 16-ounce can San Marzano tomatoes
Pinch of saffron
18 ounces vegetable stock
2 large Russet potatoes, scrubbed, peeled and cut into small dice
2 pints shucked oysters with their liquid
4 or 5 whole eggs
Chili flakes, to taste
1 tablespoon fennel pollen (optional)
Garnish: Chopped flat-leaf parsley
Crusty bread
Heat oil in a large, heavy saucepan over medium-high heat. Add onion, fennel and garlic to pan. Sauté vegetables until softened, 3 to 4 minutes. Add tomatoes, saffron, stock and diced potatoes. Increase heat, bring mixture to a boil, reduce heat and simmer 20 to 25 minutes, until potatoes are tender.
Reduce heat so that the stew nearly but doesn't quite simmer. Add oysters with their liquid, stirring gently to distribute shellfish.
Bring soup back up to heat. Crack eggs one a time into a small bowl, and gently place each egg into the soup, slipping them in near the sides of the pot. The eggs should poach in the soup without breaking the yolk or spreading the white.
Continue cooking the stew 6 to 7 minutes, until eggs are cooked through and oysters are slightly curled around the edges. Season soup with chili flakes and fennel pollen. Ladle soup into bowls and garnish with flat-leaf parsley. Serve with crusty bread.
Makes 6 to 8 servings.
Source: Chef Matt Beckelhimer