NAGS HEAD — To the surprise of apparently no one, the state Coastal Resources Commission yesterday sided with its science panel and agreed to a rule change that will lift development restrictions from Mad Inlet at Sunset Beach.
"I attended the science panel meetings," said Frank Gorham, chairman of the commission. "There's some smart, smart people on that panel . . . So what we have before us is an integrity problem. We either respect the process, or we don't."
The panel voted 10-1 to approve the rule change, with member Suzanne Dorsey from Wilmington voting no.
Dorsey said she was concerned that, as a matter of fairness to affected communities, the scientific criteria should apply to more than one inlet.
The matter will now go to the Rules Review Commission, which reviews agency rules to ensure that they are unambiguous and meet the intent of appropriate laws. Division spokeswoman Michele Walker expects the Mad Inlet change to be effective by May 1.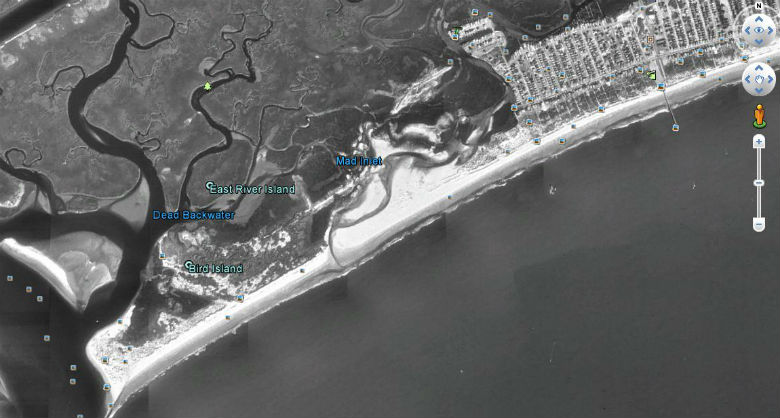 This image from 1993 shows Mad Inlet as a narrow cut between Sunset Beach, right, and Bird Island. Photo: Google Earth
Ed Gore, whose family has owned 35 acres near the inlet site since 1955, said that the rule change will free him to build a two-lane wooden bridge, about 500 feet long, to his property, which is zoned for no more than one house an acre. He said he has hired an engineer to secure a permit.
Since he is using private funds, Gore said, he does not expect to be affected much by federal coastal laws that could discourage development.
"We're going to plan and evaluate what is best and what is most feasible," he said after the meeting. "But I want to use my land to generate profits for scholarships."
Gore, who served many years on the Sunset Beach town council, said he has been a long-time donor to Campbell University, N.C. State University and Brunswick Community College.
"People think I'm an evil man," he said. "They don't know me."
The CRC's 11-member Science Panel on Coastal Hazards on Feb. 4 reaffirmed a 2010 study finding that the Mad Inlet had closed and it no longer fit the definition of an inlet hazard area and recommended removal of the designation.
Until about 18 years ago, Mad Inlet flowed between the Brunswick County community and Bird Island.
"The panel agreed the area of former Mad Inlet is subject to being overwashed or breached," Mike Lopazanski , chief of the division's Policy and Planning Section, said in his report to the panel, "however, the estuary behind this location has filled in to the extent that conditions have been diminished, or no longer exist that could support the long-term reopening of Mad Inlet."
Lopazanski said that removing the hazard designation would also remove size and density restrictions that were in place.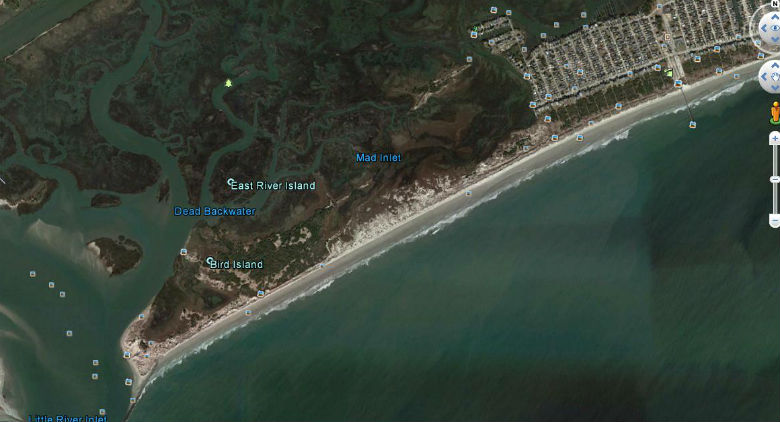 This current photo shows the inlet closed and Sunset Beach and Bird Island as one. Photo: Google Earth
Along with Sunset Beach, the N.C. Coastal Federation had been opposed to removing the hazard designation.
Todd Miller, the federation's executive director, said after the meeting that the science panel acknowledged that Mad Inlet, closed now or not, is a hazardous area. By lifting the designation, development restrictions are also lifted.
"If it does open up," he said about Mad Inlet, "it will take two or three years to put it back."
Considering the unknowns related to sea-level rise and climate change, Miller said, it would have been prudent for the state to seek a comprehensive, rather than piecemeal, approach to inlet management.
"If anyone has a crystal ball, and can predict the future," he said, "more power to them."
The town wanted the CRC to hold off making a determination until the commission's statewide inlet study was completed.
At a public hearing held at Sunset Beach in November, nearly every speaker objected to removing the designation, citing fears about the ramifications of development near an unstable area.
"You need to understand that there is a strong, deep tidal creek parallel to the dunes from 40th Street to Bird Island," said resident Richard Hilderman during the November hearing. "It is my opinion that all that it will take is one great big storm or several storms and then the dunes are going to disappear and Mad Inlet will reopen."
Sounding resigned, Sunset Beach Mayor Ron Watts said after the meeting that he had expected the CRC to support the science panel and lift the hazard designation.
Watts said that the town will be reviewing its zoning regulations and trying to open discussions with Gore, the property owner.
"My hope is to get everybody together and talk," he said. "I think we need to see what he has in mind."
Spencer Rogers, a coastal scientist with North Carolina Sea Grant and a member of the science panel, said that the panel was directed to decide whether or not Mad Inlet still fit the inlet hazard criteria, and the group said it did not.
"We just do the science," he said. "We don't do the policy."
Rogers said that Sunset Beach has accreted more than many other shorelines in the state. For at least a decade, it was building up as much as 40 feet a year – although it also went through a period when it was eroding about 25 feet a year.
Mad Inlet could breach or reopen briefly during a hurricane, he said, but overall he believes Sunset Beach is in a better position compared with some coastal regions.
"Because the erosion rate is so low in that area," Rogers said, "the long-term risk is much lower than other places that are allowed to develop."