Reprinted from the Outer Banks Voice
Gov. Pat McCrory welcomed a new federal environmental review that sets broad standards for companies to use seismic testing and other methods to look for oil and natural gas under the ocean floor.
The study by the Bureau of Ocean Energy Management encompassing coastal waters from Delaware to Florida was released last week.
A N.C. State University study estimates that energy exploration off the coast would produce 1,122 jobs and $181 million annually for the state during its first seven years, a statement from McCrory's office said.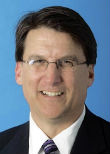 Gov. Pat McCrory
But one environmental group warns that damage to marine life from seismic air guns probing for pockets of oil and gas would mean bigger losses for commercial and recreational fisheries, tourism and coastal recreation.
"Seismic air gun testing isn't simply a method of surveying a coastal area for its energy potential," Oceana said in a statement after the review was issued. "The blasts from seismic air guns are 100,000 times more intense than a jet plane engine and are emitted every 10 seconds, 24 hours a day, for weeks and months at a time.
"It's disruptive, destructive, and directly threatens the survival of marine creatures like dolphins, whales, and turtles."
The Sierra Club also criticized the review, and the town council in Carolina Beach in Brunswick County unanimously passed a resolution Friday in opposition to seismic testing. The Kure Beach council, after listening to hours of public comments, had earlier last month split on the topic and didn't pass a resolution. Mayor Dean Lambeth came under severe criticism for writing a letter endorsing the testing off the N.C. coast.
But McCrory, chairman of the Outer Continental Shelf Governors Coalition, noted that the study, called a Programmatic Environmental Impact Statement, included extensive safeguards for marine life.
A summary by the bureau said: "Mitigation efforts include requirements to avoid vessel strikes, special closure areas to protect the main migratory route for the endangered North Atlantic Right Whale, geographic separation of simultaneous seismic air gun surveys and Passive Acoustic Monitoring (PAM) to supplement visual observers and improve detection of marine mammals prior to and during seismic air gun surveys."
The summary went on to say that the environmental statement does not authorize seismic surveys. Instead, it sets up a framework for "additional mandatory environmental reviews for site-specific actions" and measures to govern the surveys.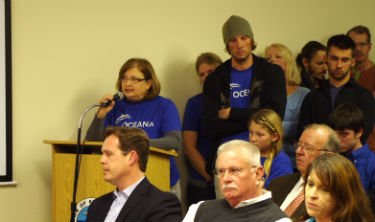 People packed the town council chambers in Kure Beach to tell the council members what they thought of offshore seismic testing. 
"We have the technology and the environmental expertise to responsibly explore the oil, gas and wind resources off our coast," McCrory said. "It's time the states be allowed to get off the sidelines and start producing jobs and energy for our economy."
The review was ordered by Congress in 2010 to update old data and examine the environmental consequences of offshore testing. The Bureau of Ocean Energy Management is part of the Department of the Interior.
"Analysis of this scale is a significant undertaking that has involved extensive public input and coordination among several federal agencies and state governments," BOEM Director Tommy P. Beaudreau said in a statement.
"The Department and BOEM have been steadfast in our commitment to balancing the need for understanding offshore energy resources with the protection of the human and marine environment using the best available science as the basis of this environmental review."
Included in the review, the bureau reported, are analyses of "deep-penetration and high-resolution seismic surveys, electromagnetic surveys, magnetic surveys, gravity surveys, remote-sensing surveys and geological and geochemical sampling."