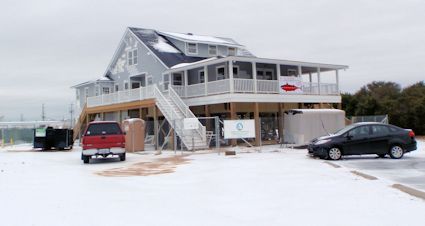 Work on the N.C.Coastal Federation's new regional office continued even in the snow. The staff should start moving in on March 10.
WRIGHTSVILLE BEACH — The renovation and restoration work on the N.C. Coastal Federation's new Southeast regional office is rounding the final turn and headed for home, much like the structure itself did, when the barge carrying it cleared the Wrightsville Beach drawbridge and turned up into Lee's Cut last June.
The federation saved the Palmgren-O'Quinn house, built out on Harbor Island in 1946, from demolition at its 115 South Channel Dr. location, loaded it onto a barge and transported it two miles around the island to its new location on West Salisbury Street in Wrightsville Beach's Historic Square. Expected to receive its town occupancy permit on March 1, federation staff will be moving into the building about 10 days later. The nonprofit plans to have an open house and grand opening on May 3.
The federation will be moving from its 800-square-foot office on Causeway Drive, where boxes were being stacked on boxes and staff was almost sitting in each other's laps, to a 3,000-square-foot, two-level building that will contain the group's regional administrative offices and a coastal education center.
The Palmgren-O'Quinn home, owned by former Wrightsville Beach mayor, Robert O'Quinn, and his wife, Catherine, for over 40 years, was sold to Mark and Debbie Mitchell in 2012. Their desire to build a new home on the lot could have meant the demolition of the original structure, but Catherine O'Quinn put the Mitchells in touch with the federation, which had been looking for just such a building to move. The Mitchells donated the home to the federation, which assumed responsibility for moving it and renovating it for its new home.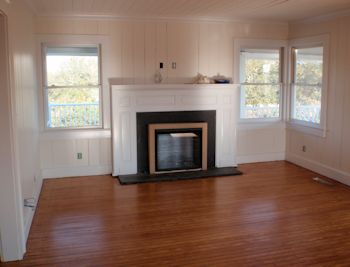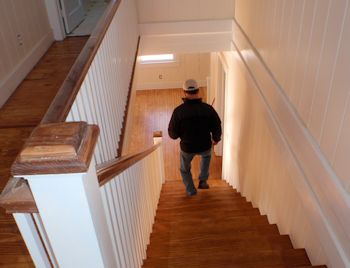 The regional staff will be leaving cramped rented office space and into a spacious building that will allow it to offer varied programs.
"We contracted with the folks who'd actually moved the Cape Hatteras Lighthouse (Expert House Movers)," said Coastal Advocate Mike Giles. "We deconstructed the ground floor, that use to have living space, in order to jack the house up. It was first put on wheels, then transferred onto a barge (for its two-mile, Intracoastal Waterway trip to Historic Square)."
Flood plain regulations required that the house be elevated, and in the absence of the recently-deconstructed ground floor, it was placed on pilings. The federation offices and classroom spaces will occupy what use to be the second and third floor of the house, while the open space below will be used for outdoor programs.
"It was quite an operation," said Giles, adding that while they had hoped to be moving into the facility in February, a variety of unexpected issues — including recent winter storms — delayed that move until March.
"We're pretty much on schedule, but when you start moving an old home, and deconstructing it, you find things you have to address," Giles continued. "There was (for example) asbestos in the cement block covering on the ground floor that had to be (dealt with). It's a 1946 home, and you never know what you're going to find when you start taking things off and repairing things. There were a few larger steps than we had anticipated, but it all went smoothly."
The work was under the supervision of lead contractor Ralph Konrady, a long-time Wrightsville resident, along with project partners Atlantic Marine & Diving Contractors Inc., A Structural Guy Structural Engineer, Coastal Stormwater Services, Keller's Fire Protection and Security Specialist, Old School Rebuilders, Szostak Design and the town of Wrightsville Beach.
"To begin with, we had to have approval of the town's preservation board, and town council," said Giles. "The town was very supportive and helped us out quite a bit."
There were any number of adjectives that Konrady might have employed to describe the scope, size and progress of the various tasks that he and his crew have accomplished over the last eight months. His first choice was a surprise.
"It was a fun project," he said. "Challenging, too. The logistics of it have been pretty daunting, but we've had great people to work with, and it's coming together well."
The federation is about $14,000 shy of its $600,000 fundraising goal to move the house and to renovate and furnish it.
Volunteers showed up on Fridays, sometimes in driving sleet, to paint and plants bushes. The next scheduled volunteer day is set for Friday from 10 a.m. to 3 p.m. Volunteers, who work for a couple of hours, or all day, are provided with paint and project materials, as well as food and beverages.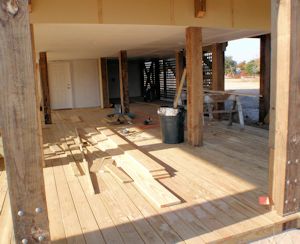 The federation will use space under the building for outdoor programs.
The federation wants the center to be a showcase for rain gardens and other types of low-impact development techniques to control stormwater.
"We utilize stormwater and rain water off of the roof and the property to infiltrate it back into the ground to irrigate the plants," Giles explained. "We're developing a rain garden that accepts the storm water and runoff from the roof. That way, it doesn't run into our coastal marshes and pollute them."
It is, for the federation staff, more than just a move to more spacious offices. The move will enhance the Federation mission in a variety of ways.
"We're going to be able to expand our outreach and educational programs," said Giles, "to include special events and speaker series at the house; to talk about what's important about our coast – clean clams and oysters, eating, fishing, shellfish. We're going to be doing a lot.
"We're not only going to continue to reach out to folks," he added, "we're going to have a place for them to come now. We're putting our money where our mouth is; demonstrating how people can live in harmony with the coast."