They're the alternative energy source accused of being bad for tourism and sure to deflate property values.
The stigma attached to wind turbines was preached in heated debates in Carteret County, where a Texas-based energy company recently pulled the plug on a proposed wind and solar facility just outside of Newport.
During the months leading up to Torch Renewable Energy's decision, opponents of the proposed 40-turbine farm voiced their fears, calling to question potential negative impacts a wind farm might have on the local economy, their health and nearby military operations.
The wind farm's opponents will likely re-use the arguments to convince the county commissioners to pass stringent zoning restrictions against future wind projects. The commissioners in January passed a 60-day moratorium on such projects while they considered changes to their ordinance on tall structures.
Recent, reputable studies and real-life cases suggest that at least some of the arguments presented in Carteret County may be more hype than fact.
Property Values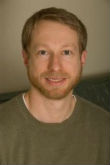 Corey Lang
The latest published analysis of wind turbines and their affect on property values determined that turbines operating in Rhode Island have not lowered land and home values.
Corey Lang, a University of Rhode Island assistant professor of natural resource economics, compared over a 15-year period homes near the state's wind turbines to those further away. There are 12 wind turbines at 10 sites in the state.
Lang examined sale prices of 48,000 homes in Rhode Island.
"We found no statistically significant negative impacts," Lang said in an interview. "The point estimates were negative, but very, very small. What we can do is, with the confidence in our interval, rule out some very large negative impacts."
Lang's government-sponsored study, released last December, examined property values before and after a wind turbine's construction was announced and also following a turbine's operation.
He found that turbines may cause a 0.4 percent decline in property values among homes within a half mile of a turbine.
His findings disprove theories that wind turbines deflate property values 10 to 20 percent. But Lang admits there are variances in his study and similar research conducted in other areas of the country.
"This study in Rhode Island was really single turbines," Lang said. "It's a very different setting than wind farms with 40 turbines. In terms of what other people have found there have been differences."
One study conducted in upstate New York revealed there has been a negative impact on property values near wind turbines. According to research conducted by staff at New York's Clarkson University, property values declined following the development of wind facilities in two of three Northern New York counties.
The research looked at 11,331 property transactions over nine years and determined that property values in one of the counties may have possibly increased.
On average, according to the 2011 study, homes in Franklin and Clinton counties within a half mile of a wind turbine had a loss of property value of anywhere from $10,793 to $19,046, according to the study. The impact was less significant on properties three miles from turbines, where values decreased anywhere from $2,500 to $9,800.
Lang points out that upstate New York is more rural, unlike Rhode Island, which has a dense population. A similar study in Massachusetts, which also has a more dense population, is expected to be released later this year
Tourism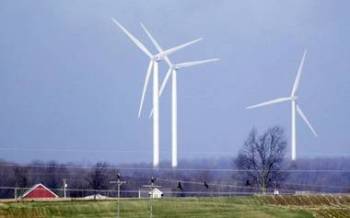 Rather than scaring tourists away, the Lake Winds Energy Park in Mason County, Michigan. has become a tourist attraction. Photo: Lake Winds Energy Park
Opponents of the now-defunct proposed Mill Pond project near Newport argued that Carteret County's biggest economic resource would suffer if the wind turbine farm was built.
That's hardly been the case in Ludington, Michigan, where hundreds of visitors tour a land-based wind farm near the Lake Michigan shore.
"It really has not negatively impacted our tourism economy at all," said Brandy Henderson, executive director of the Ludington Area Convention & Visitors Bureau. "Certainly those who have their homes out near the facility and proposed construction sites, that's where the most controversy came from. But, the community embraced it overall. We really embrace green energy."
Lake Winds Energy Park, a 56-turbine facility, is open for public tours throughout the summer, drawing hundreds of visitors to Mason County in western Michigan.
The park's turbines are 476 feet tall, a sight that drew curious onlookers as soon as constructed on the turbines began, Henderson said.
In 2012, the year the park was completed, free tours offered three days a week during the summer drew 685 people, according to figures provided by Ludington's Chamber of Commerce. In 2013, 682 visitors toured the park.
"Outside of that schedule a local tour guide provided additional tours that were, I think, $7," Henderson said. "He also had great success with the tours. All of the tours have been full and very popular. Over the past two years hotels stays have increased."
Madison County has a population of about 28,000 residents. Its location on a portion of Lake Michigan's shore makes it a popular place for vacation homes and condos.
Turbines near a different shore, this one just outside Atlantic City, N.J., draw an average of 15,000 visitors each year. The five turbines were the first to be built in that state. They tower above Atlantic City's sewer plant and are visible to more than 30 million visitors to the city each year.
Wind turbines are also an attraction on the west coast, where, in North Palm Springs, California, tourists pay to visit the oldest wind farm in the United States. Visitors pay upwards of $35 to tour San Gorgonio Wind Park, a sprawling wind farm with about 2,700 turbines.
Health Effects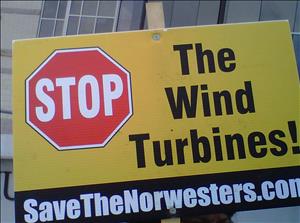 Noise and and other possible health effects have sparked protests against wind farms across the country.
Concerns that wind turbines may have health impacts related to noise, infrasound, vibrations and shadow flickering have been raised world-wide in the turbine debate.
Numerous studies have been published on the possible health effects caused by wind turbines and critiques of those studies both here and abroad. Still, the verdict is out.
The Massachusetts Department of Environmental Protection (DEP) and that state's Department of Public Health in January 2012 released a report of scientific findings on potential health impacts of risks that may be associated with exposure to wind turbines.
An independent panel of experts from various academic institutions combed through scientific literature, reports, popular media and public comments received by the Massachusetts DEP. The review was conducted in a state where the goal is to increase its use of wind energy from 40 megawatts to 2,000 megawatts by 2020.
The panel concluded that, overall, existing research shows there is no direct link between wind turbines and health impacts. However, the panel also agreed that more research must be conducted, calling some existing studies inadequate.