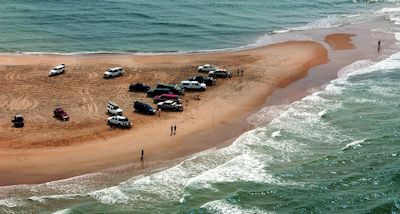 Fall is prime fishing season at The Point at Cape Hatteras National Seashore. Photo: Sun Realty 
DAVIS — As news came yesterday that the U.S. House had no intention of blocking the Senate plan to end the government shutdown, business owners who heavily depend on the busy fall fishing season at North Carolina's national seashores breathed a sigh of relief.
"It's good news, but it's still bad news," said Lanier Mitchum, owner of Davis Shore Ferry Service in Carteret County. "It's pretty well devastated us as far as the financial end of it. We're in pretty sad shape down here."
The private, family-owned business in Davis lost more than an estimated $50,000 in revenue as a result of the 16-day shutdown, which forced the closure of the National Park Service, including all of North Carolina's nine national parks. The ferry service takes vehicles to Cape Lookout National Seashore.
"This is our big season," said Annette Mitchum, the ferry service's office manager. "This is our money month. We work all year to try to get here."
October marks the height of fall fishing season off the sands of the Cape Hatteras and Cape Lookout national seashores. This is the time of year when anglers come from all over the country on trips they booked months in advance in the hopes of hooking red drum, sea mullets, bluefish, gray trout and speckled trout to name a few.
Their plans and thus businesses dependent on their patronage were abruptly halted with the Oct. 1 partial federal government shutdown.
Just how much of an economic impact the national seashore closures have had on the surrounding areas is unclear.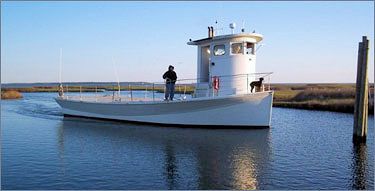 The Green Grass is one of the boats that Morris Marina Kabin Kamps uses to ferry cars to Portsmouth Island. Photo: Morris Marina Kabin Kamps 
The National Park Service web site was not being maintained as a result of the shutdown.
The N.C. Department of Commerce provides some figures, but it does not break the numbers down by region.
The department estimates that, during the first 10 days of the shutdown, the state lost more than $32 million, including an estimated $22.6 million in visitor spending and $8.8 million in lost wages.
Last year, 17.5 million people visited North Carolina's national parks. About 10 percent of them visited parks in October.
This month is typically when Davis Shore Ferry Service uses both of its small, private ferries and adds runs to its daily trips from Davis to South Core Banks on Cape Lookout to get anglers to their fishing destination.
October profits are typically stashed to cover maintenance and inspections costs on the ferries.
"Right now we're unemployed," Annette Mitchum said two days before the shutdown ended. "We can't work. Because the park is closed, even though we're private, we can't take people over. People have had these reservations on the books since January and February. It's disrupted everybody's lives. The government has furloughed people but they're paying law enforcement over there to make sure nobody puts a toe over there on that beach. This is just foolishness."
In a piecemeal effort of sorts states scrambled to front the money to reopen at least some of the national parks. Early yesterday, Tennessee and North Carolina entered into an agreement with the National Park Service to re-open the Great Smoky Mountains National Park for five days during the peak fall tourism season.  North Carolina was prepared to spend $75,000 to reopen its portion of the park.
The shutdown prompted a nationwide backlash, spurring protests, including one in Buxton on the Outer Banks. More than 100 people who live and work near Cape Hatteras National Seashore held a peaceful protest Oct. 5 when they walked along N.C. 12 holding signs, one of which read, "A walk on the beach is no a crime."
The government initially forced Avon Pier and Oregon Inlet Fishing Center to close because, though both are privately owned, they are located in the national seashore.
Both businesses were allowed to resume operating Oct. 13.

Frank Folb
That was good news for Frank Folb, owner of Frank and Fran's Tackle Shop in Avon.
"I'm down $15,000 from last year, but I would say two-thirds of that is due to the weather," he said. "A portion of it was the beach closures though. I've got three tournaments coming up."
When reached by telephone yesterday afternoon, Folb said he was happy to hear the shutdown was coming to an end.
"It depends on how long it is going to take to get the shore open," he said. "We've got a tournament next week and hopefully we'll be able to get on the beach."
Frank and Fran's Red Drum tournament, a three-day event, is set to start Oct. 24. If that event and a November tournament were to be canceled, Folb said, his business would take a huge financial loss.
The whole ordeal is a travesty as far as Rick Martin), owner of Morris Marina Kabin Kamps & Ferry Service Inc. in Atlantic is concerned.
"Fishing had just picked up the week before the shutdown," Martin said. "A lot of people told me it was the best they'd seen in 20 years. Yes, this shutdown is killing us. This is when we make our money here. It's all about fall fishing. It's not about summer. You make enough in the summer to break even. You've got to make your money in the fall to get you through the winter. Every year, these ferry boats have to be pulled and inspected by the Coast Guard and that costs a lot of money."
The marina is on the banks of the Core Sound, where it operates two ferries to Portsmouth Island. The business is the official concessioner of the Cape Lookout National Seashore and the National Park Service.
Martin's ferries were fully booked two days after the Oct. 1 shutdown. Six runs with no empty slots.
Martin would not venture to guess about how much he's lost in revenue. Frustrated, he's been doing yard work and other chores to avoid the constant telephone calls he's receiving from customers anxious to get to the island.
"We don't know what to tell people," he said. "Watch the news. You'll know the same time we know. We can't run until this government cranks back up."