Reprinted From the Outer Banks Voice
KILL DEVIL HILLS — What the federal government refused to fund, towns on the Outer Banks have committed to tackling, and more — pumping sand onto beaches in Duck and from Kitty Hawk to South Nags Head.
With the help of money from the Dare County Shoreline Management Fund, Nags Head was first two years ago with a 10-mile, $36 million beach nourishment project.
Now, three more towns have signed an agreement to share county funds and to foot part of the bill for their own projects.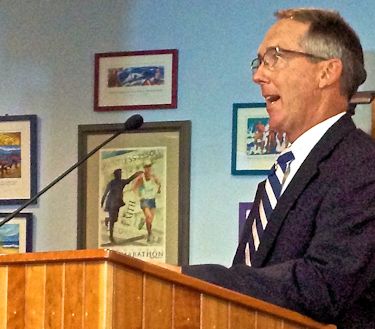 Dare County Manager Bobby Outten presented the plan to the Kill Devil Hills commissioners Monday. Photo: Outer Banks Voice
Monday night, Kill Devil Hills added its name to an interlocal agreement accepting $6 million from the shoreline fund and making a commitment to borrow $5.475 million to cover the balance of the $11.475 million estimated total cost.
Commissioner Bill Pitt said the town originally wanted to pump 100 cubic yards of sand per linear foot onto the beach, but that was when Kill Devil Hills was planning to do the work on its own.
The new funding plan, outlined Monday by County Manager Bobby Outten, limits that to 75 cubic yards, based on the average in Nags Head. But it also ensures that the towns will receive money to do the work simultaneously, lowering costs and adding longer stretches of shoreline.
Engineers have said that chances of success increase with the length of beach widened. Sand on the Outer Banks also tends to migrate southward.
"This proposal does, essentially, the entire oceanfront of Kitty Hawk," he said. "And that is going to be a super boon to the town of Kill Devil Hills."
The $10.9 million plan in Kill Devill Hills will depend on raising property taxes 5.78 cents per $100 of value. That is a little less than the 7.82 cents other towns will need because Kill Devil Hills has a larger population and a smaller project.
Oceanfront taxpayers in two special service districts will pay more, while the rest of the town will pay less — no more than 10 percent of the cost. Paying back the loan at 3.5 percent interest will cost a little over $1 million annually for five years.
Earlier this month, Duck and Kitty Hawk OK'd the interlocal agreement, which calls for the projects to start in 2016.
In Kitty Hawk, the total cost is estimated at $16.5 million. The county fund will provide $10.3 million up front and another $3 million to help pay off a six-year bond. The beach nourishment fund is made up of a portion of occupancy taxes paid by visiting renters.
Kitty Hawk's share of debt service would be $3.9 million, to be financed by an average property tax increase of 7.82 cents per $100 of value. Kitty Hawk's payments after the first year would be $765,977 annually.
Critics, including former Mayor Bill Harris, are skeptical that adding 40 feet of width to Kitty Hawk's severely eroded beach will do much good. Last week, Harris urged the town to give the project more consideration. But the council voted unanimously to move ahead, saying doing nothing was not an option.
Flooding between the highways in Kitty Hawk has worsened in recent years, and the town is already building a pumping system at Hawks Street to get rid of overwash and rainwater after storms.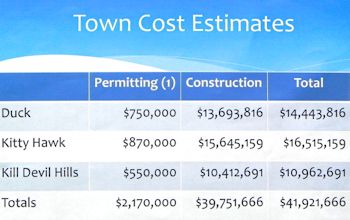 Chart: Outer Banks Voice
Duck's project comes to $14.4 million. The county fund will supply $7.7 million up front and cover about $1.1 million annually for five years to help the town pay back debt for the balance.
Dare County embarked on studies in conjunction with the Army Corps of Engineers in the early 1990s to determine if it qualified for federal nourishment projects.
In 1998, Congress approved a 50-year project for Dare County, but it was never funded. Unlike the latest local plan, the project included only a sliver of Kitty Hawk because the value of property that would be protected did not reach a required threshold.
Duck was not included. Back then, it wasn't even an incorporated town.
Outten told Kill Devil Hills commissioners that the county's plan would provide equitable funding and save 17 percent of the total cost of projects. Separately, he said, the total for the three remaining towns would come to $50.8 million. Working together, the total is $42.6 million.
The funding plan, he said, would leave enough money in the fund to help cover maintenance and future re-nourishment. Figures in the current plan vary slightly depending on whether interest rates are included. It could also be adjusted slightly as the projects come together, he said.
Dare County also wants to add sand to beaches in Rodanthe and Buxton. The cost will be around $25 million with the county drawing money from the nourishment fund for debt service but none up front.
The Dare County Board of Commissioners and the state Local Government Commission, which oversees town and county financing, must also approve the plan.
"We divided among the towns not as an edict from the county but in collaboration with all the towns to try to come up with a fair way," Outten said. "The consensus of those that have been in the discussion is that this model works."