BOLIVIA — When restoring water quality boils down to the actions each property owner takes, imagine what a community with over 1,100 properties can accomplish for their local watershed working together.
This is why Winding River Plantation Property Owners Association won a Pelican Award from the N.C. Coastal Federation for developing model community landscaping guidelines that promote environmentally friendly yards.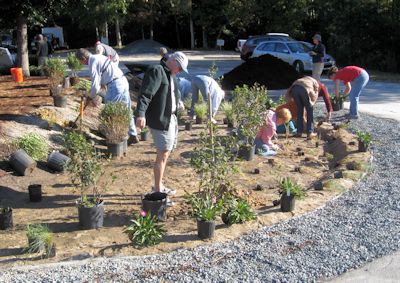 Residents of Winding River Plantation build one of the rain gardens in the community.
The federation's annual Pelican Award recognizes exemplary actions to protect or restores the coastal environment.
Winding River Plantation in Brunswick County got its name from the Lockwood Folly River which winds through the planned golf course community like the letter "S." Retirees and families charmed by the water views, wetlands, natural preserves and river accesses come here to live and play. With the territory comes residents who get caught up in the idea that they have to preserve the resources that they enjoy living on.
One morning reading the newspaper resident Pam Duncan came across an article inviting the public to help the Coastal Federation build rain gardens at the government center and decided to volunteer. Building rain gardens is a low-impact development, or LID, technique that mimics nature by slowing, pooling and filtering stormwater runoff. At the event she met another Winding River neighbor, Rich Peruggi, who joined the federation after attending a public meeting about the Lockwood Folly River.
"We knew that all development in our community, as well as others, has an effect on what winds up in the river," said Peruggi. "You start looking for ways—without making it difficult for people to enjoy living—that can still help the environment. This whole approach with the low-impact development seemed like such a natural thing. We started looking for ways to make it real, to make it happen."
Duncan and Peruggi took the first step by forming a rain garden committee, pitching the idea for building rain gardens in Winding River Plantation to the board of directors.
"Everybody got together down here in the middle of the street talking about rain gardens," Duncan said.
They received $12,000 in state grants to share with their neighbors in the River Run Plantation community.
Volunteers came out to help build the two rain gardens near the boathouse and marina in the fall of 2010. "I've got to tell you, putting those rain gardens in took us six months of paperwork and three days to put in, and their were times when I was ready to throw in the towel," said Peruggi. "Either of us alone, this wouldn't have happened; the two of us together, we got it done."
The finished rain gardens collect and absorb stormwater and are attractive landscaping features.
Duncan and Peruggi gave presentations on rain gardens to the alliance group that represents all nearby subdivisions so that the LID efforts could catch on in the other Lockwood Folly communities. However, to make LID a staple in the future maintenance and development of Winding River Plantation, Duncan headed an effort to revise the homeowners association's design and planning documents to include LID designs. These guidelines provide property owners and builders with a detailed set of standards for new construction and modifications to existing residences. Since only 50 percent of Winding River Plantation is developed, all future construction will adhere to the new, greener guidelines.
"My philosophy is don't sit on the sidelines and bark at people: get involved. And, if it was important to me to have the low-impact development piece in here than I needed to get involved in doing it," Duncan said.
Keeping up with Winding River's 1,000 acres calls for a robust homeowners association with all its different review boards and committees, rules and guidelines. As an example, residents must submit formal landscape plans to the appropriate committee for approval before removing a tree or starting a garden.
"There's a fine line between landscaping and going natural, and it's a vibrant community so we have to landscape," said Lee Burton, chair of the Landscaping Committee, who introduced curbside lawn debris recycling and helped two vacant lots transform into a butterfly park, among other things.
"We take all of this very seriously because we have a lot of water, not only the Lockwood Folly, but we have about 16 ponds and a lot of natural swales. Whether you sit next to the water or not, you feed to the water here," said Duncan.
The landscaping section of the guidelines especially encourages taking a proactive role in preserving and protecting the coastal environment with simple and specific examples like choosing native plants, which save money on irrigation, fertilizers and pesticides because they are adapted to thriving in the local environment. The federation has been sharing Winding River Plantations landscaping guidelines in workshops and with Brunswick Forest.
"Our vision 2015 has been used for a model in a number of plantations around here because most people don't have a plan like this," said Duncan.