MOREHEAD CITY — The N.C. Division of Marine Fisheries' 10-year-old program to recycle oyster shells into oyster reefs ended earlier this summer after the N.C. General Assembly deleted the program's money from the state budget.
The state program, initiated in 2003, used shells to create and restore oyster habitats in North Carolina's coastal waters.
Restaurants and individuals have contributed tens of thousands of shells in the past decade, keeping them out of landfills and making oyster reef restoration efforts more affordable for the state and conservation groups.
Legislators decided to no longer fund the program, which ended July 31, but there are efforts to keep some semblance of the program.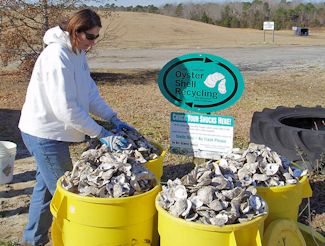 When the program ended, there were more than 100 collection sites peppered throughout eastern North Carolina from Brunswick to Dare counties and as far west as Durham. Photo: NCDMF 
"The program itself has been eliminated," said Patricia Smith, a division spokeswoman. "Some of the aspects of the program we are still going to try to pick up. We are still going to continue to try to pick up the large-bulk ones. At the landfills, those sites will stay and we will still be able to pick those up. Some of the smaller places might not be there."
When the program ended, there were more than 100 collection sites peppered throughout eastern North Carolina. Drop-off locations – landfills, restaurants and seafood markets – spanned from Brunswick County north to Dare County and as far west as Durham.
Since 2003, more than 187,000 bushels of oyster shells have been donated to the state Division of Marine Fisheries.
In its first year, the program generated a little more than 700 bushels of shells collected at festivals and restaurants. By 2012 the amount of collected shells exceeded 27,000 bushels.
Those shells were collected from drop-off sites and trucked to stock-pile sites along the coast, where they sat for a period of time to ensure any possible diseases on the shells died out before being used in restoration projects.
The division and environmental groups have for years been rehabilitating oyster habitats along the N.C. coast, which became a popular source for the shellfish during the late 1880s.
In 1902 alone, 5.6 million pounds of oyster meat were harvested from North Carolina waters, drastically depleting this important estuary inhabitant.
With 2.2 million acres of sounds, tributaries, marshes and wetlands, North Carolina is home to the second-largest estuarine system in the U.S. on Atlantic coast.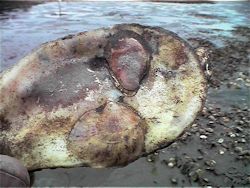 Baby oysters, or spat, attach to an old oyster shell.
Oysters and the reefs that they form provide vital functions in these estuaries. They filter water, removing pollutants, sediment and excess algae; help control shoreline erosion; and are a critical link in the estuarine food chain, supporting the production of crabs and fish.
"We have been using oyster shells for enhancement projects such as our cultch planting," Smith said. "We've been doing cultch planting since the 1950s. Oyster larval like to attach to the shells. They can attach to other things, but they like shells. They almost immediately start colonizing."
Oysters colonize with organisms that feed fish, in turn creating good fishing sites for commercial and recreational fishermen.
The state began funding the oyster shell recycling program in 2006. The program operated on an annual state budget of $35,000 from that year through fiscal 2010-11, according to Sabrina Varnam, the former oyster shell recycling coordinator.
The following fiscal year, the state drastically cut funds to the program to just more than $10,500 from the shellfish rehabilitation program. State funds further diminished in Fiscal 2012 to $1,500. That year the program primarily operated under N.C. Coastal Recreational Fishing License funds.
A total of $32,000 in fishing license money funds has been allocated to recycling efforts this fiscal year and $15,000 has been requested in fiscal 2014, Varnam said.
Without the program, the Division of Marine Fisheries has to purchase oyster shells. Over the years, Smith said, shells have become more expensive.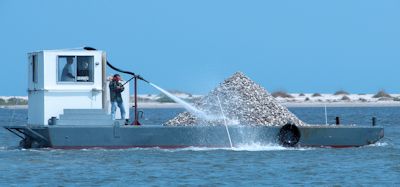 A state barge distributes oyster shells to build a reef in Stump Sound in Onslow County.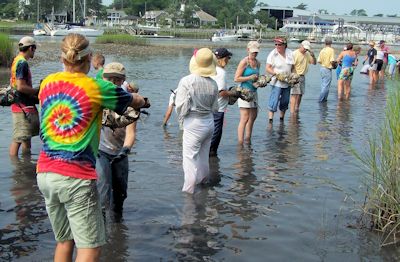 Volunteers form a human chain to move bags of oyster shells for a new reef in New Hanover County.
The current market value of shells, including delivery costs, is about $2.50 to $3 a bushel.
"The benefit in getting recycled shells has been helping with the expense," Smith said.
It also helps environmental groups that participate in restoration efforts, including the N.C. Coastal Federation, which uses recycled shells to create oyster reefs and sills.
"We've done projects all over the coast," said Todd Miller, the federation's executive director.
The federation is evaluating whether it can operate an oyster shell recycling program.
"We've been well aware of what has happened and have been asking ourselves how we might fit into it going forward," Miller said. "We're pleased that the state is still going to be able to maintain the skeleton program. Coming up with something that we can sustain, we're still trying to figure it out. Clearly there are resources involved and it's got to be a cost effective program."
One of the advantages non-governmental organizations like the federation have is the ability to recruit volunteers to help with such a program, he said. Grants may be available to provide seed money to get a shell recycling program up and running.
"If we could collect shells and use them within that cost structure the recycling program makes sense to us," Miller said.
The federation is going to take the next year or so to try and devise a plan to pick up where the state has left off.