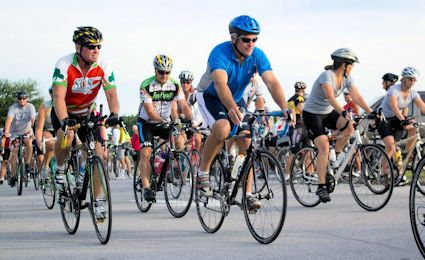 More than 200 cyclists are expected at this year's event. Photo: Christy Sutton Rouse
OCEAN — Sarah Phillips and April Clark each have a single favorite moment of the the N.C. Coastal Federation's Cycling for the Coast event.
For Phillips – a federation educator and ride organizer – it is the moment her day gets easier. For Clark – a major sponsor and race participant – it is the moment her day gets harder.
It is the start of the race.
The two women's favorite moments always intersect one another. They will do so for the third time on Saturday, Sept. 21, when the federation hosts its annual cycling event.
The bike ride benefits the federation's education programming and begins and ends at Fort Macon State Park in Atlantic Beach.
It is here that Phillips said she takes a sigh of relief as the parking lot full of bikes and riders empties. Peddling away, Clark said her nerves start to jitter – in a good way – as she takes off with 200 others.
Clark, the owner of Second Wind Eco Tours and Yoga Studio in Swansboro, has been involved in the event alongside Phillips since its inception.
At its humble beginning, she recalls Cycling for the Coast's struggling double-digit entries. Many of the event's first participants were friends and family members, such as Phillips' own parents. Other riders were loyal, staple volunteers and members.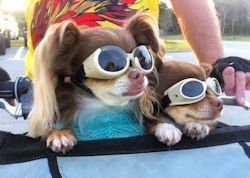 Dogs are allowed as long as they fit in a basket and wear goggles.
Clark's father and his girlfriend will bike beside her this year. Her daughter, just 14, will volunteer. "It is still a family effort," Clark said.
Now, the local community, sponsors and cyclists throughout the state will join these federation families in embracing the event.
At check-in time, riders will receive free coffee from Starbucks and mechanical support from The Bicycle Gallery. Backstreet Pub in Beaufort will donate water and Gatorade. Together, Public Radio East in New Bern and Swansboro's Tideland News have tackled publicity.
Such efforts by sponsors will enable event dollars to be driven back into the organization, Phillips said. A host of other businesses like Emerald Isle Realty and Wells Fargo have also joined an expanding list of supporters.
Because the course will wind its way down public streets and through busy intersections in the direction of Emerald Isle, local police will stand guard for the safety of cyclists. Atlantic Beach will post caution signs, letting drivers know of a ride in progress.
Along the route, a small army of volunteers will provide water, snacks and first-aid. Later, registrants will enjoy free beer at the event's after-party, courtesy of Natty Greene's Brewing Co. of Raleigh.
Phillips said she hopes to see more than 200 riders in this year's event, estimating that nearly half of Cycling for the Coast's ridership will arrive from out-of-town. From places like Raleigh, Wilmington or Greenville.
"Riders will travel here to see the beautiful coastline, to spend a weekend at the beach and to do something for a good cause," Phillips said.

Cyclists line up to await the start of the 2012 event, This is a true ride, not a competition. Photo: Christy Sutton Rouse
It is for these very reasons that the event has been able to maintain its low-key, leisurely spirit. Both Phillips and Clark agree that Cycling for the Coast is a true ride, not a race. Only a handful of those biking even 50 miles take the tour so seriously.
"There is no sense of competition. No one is timed," Clark said.
Clark described the atmosphere as all-inclusive, fun and festive. Flags, bells and baskets adorn bikes of every variety. Much like the ride's pool, bikes of the event range from the traditional to the ten-speed.
"Some bikes you will see and think they must be worth $2,500," Clark said. "Others will look like they were saved from the salvage yard."
As the event has grown in scope and size, so has the federation's learning curve.
In the ride's inaugural year, Phillips said she quickly figured out the difficulty of doing everything alone. She learned to start asking.
In planning for the third Cycling for the Coast, Phillips wanted to host an after-party at a venue where riders could celebrate their accomplishments and compare experiences. But, she knew the federation could not afford to provide meals for everyone.
"So, I just called McCurdy's and explained the event and my needs."
The restaurant, on the Atlantic Beach Causeway, agreed to help. As a result, an after-party will be held there from 11 a.m. to 2 p.m., and lunch will be provided for every race registrant.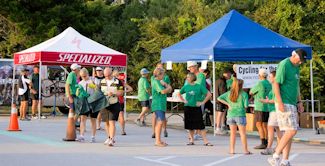 A small army of volunteers will serve water and snacks and provide first aid.
The party will mark the close of Cycling for the Coast, another favorite moment for both Phillips and Clark.
According to Clark, the whole day captures the purpose and mission of the federation by partnering outreach with the outdoors.
"Riders become a part of the environment the federation protects," she said. "There isn't a prettier place to ride along than this coastline."
Clark believes the relationship between the federation and cyclists is a symbiotic one, a sentiment echoed by Phillips – a cyclist herself.
"Cyclists depend on us to maintain and restore bike paths and pristine waterways," Phillips said. "So, they might make the most of their endeavors.
"As a cyclist, I wish that I could ride in the event."
Go here for more information or to register for the 2013 Cycling for the Coast or email Phillips or call her at 252-393-8185.