WILMINGTON — Cliff Cash just won a Pelican Award from the N.C. Coastal Federation for his extraordinary commitment to stop a cement plant from opening in nearby Castle Hayne. But, he doesn't think he deserves the recognition.
Even after five years of fighting Titan Cement, fundraisers, scrap metal drives and comedy shows, the N.C. native still thinks he could do more.
After attending the University of North Carolina at Asheville, Cash ventured into sales and real estate investing for six years. When the housing market crashed, he wanted to do something he could feel good about. Something that would make a difference.
"I used the last bit of my money to start Green Coast Recycling," Cash said. "And I've been broke ever since."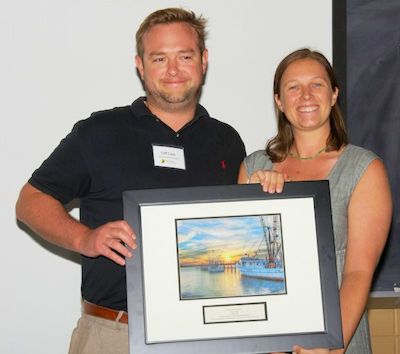 Cliff Cash receives his Pelican Award from Sarah Gilliam, the Stop Titan coordinator.
Six months after launching the Wilmington recycling company, rumors of Titan America's plans to expand in the region ran rampant. With a handful of others, Cash started Friends of the Lower Cape Fear, a small collection of neighbors who would create StopTitan.org.
In the spring of 2008, Green Coast Recycling sponsored the group's first fundraiser. Money from the event went to initial shipments of bumper stickers and the now-famous Stop Titan yard signs.
Cash and Green Coast Recycling have continued to support the federation's efforts to prevent the Titan plant. He hosts several fundraisers each year. One of his recycling trucks features a large ad. Today, Green Coast will sponsor a scrap-metal drive encouraging Wilmington residents to recycle the rusty remains of mowers, washing machines and other appliances. All proceeds from the event will go to Stop Titan.
Altogether, Cash estimates that he has generated about $10,000 for the fight.
By day, Cash manages Green Coast Recycling. By night, he stands on stages sharing jokes with large crowds in the Southeast. Until recently, his two worlds rarely, if ever, collided.
At the rally in May marking the five-year anniversary of the Titan showdown, Cash arrived dressed as a cement executive. Donning a Titan America hat and business attire, Cash answered mock questions from the audience. His satire poked fun at some of Titan's claims, such as the company's boasts about building beside the Appalachian Trail and its claims of environmental consciousness.
Sometimes, he feels as though his comedy is a bigger success than his recycling company.
While his own perception of his success is underestimated, basing his livelihood on counting on people to care about the environment hasn't been easy for him.
Because when Cash thinks about his business, he is often discouraged. He grows frustrated by futile efforts to talk others into recycling. He is reminded daily of the challenges of managing a small business, with little community support, trucks that break down and employees who call in sick.
"When I started Green Coast, I thought I could change the climate," he said. "I thought I could really get the message to people."
He talked of the Azalea Festival, a huge outdoor event that welcomes more than 250,000 visitors to Wilmington each spring and generates million of dollars for the local economy. According to Cash, there is never a single recycling container available at the festival. Despite his efforts in reaching out to city leadership, Wilmington has made no move to recycle the waste of a quarter of a million people.
"That's what I'm up against," he said.
Consistent struggle has defined his role in the Titan fight and community. If Wilmington had an efficient recycling program, Cash admits that he would not have started Green Coast. If the city opposed Titan, he admits that would not have become an advocate.
"I'm not sure what I would be doing or what I would be involved in. To some degree, that's some kind of twisted, weird, dysfunctional blessing," he said.
"But, I'd rather Wilmington get it together."
Cash went on to say he would like to see change before he gives up completely, sells the business or commits to stand-up comedy full-time.
"I don't want to walk away from it until I feel like I've made more of a change," he said. "All jokes aside, I could do more everyday."