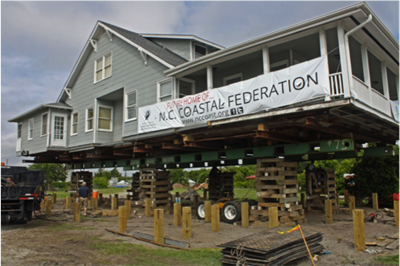 The old Palmgren-O'Quinn house is being placed at its final home in Wrightsville Beach. It will become the federation's regional office and education center.
WRIGHTSVILLE BEACH – Just eight weeks ago, residents and visitors lined the shoreline here to get a peek at a big, blue house floating down the Intracoastal Waterway.
The house, known as the Palmgren-O'Quinn home, was loaded onto a barge and pushed by tugboat. It took less than an hour to move it from Motts Harbor to its landing near the Wrightsville Beach Historic Square.
"It went a lot faster than I thought," stated one on-looker.
If all goes according to plan, the historic home will become the N.C. Coastal Federation's Education Center and Southern Regional Office by early 2014.
Today, the house sits in its permanent plot near the Wrightsville Beach History Museum and the town's visitor center. The two-story house sits on pilings, surrounded by a construction fence, and swarming with workers in hard-hats.
The workers will take a break Thursday afternoon when the federation announces a $600,000 campaign to fund the soon-to-be regional office and education center.  Details of the campaign, including leadership gifts, and a preview of center plans will be revealed at a Campaign Kick-off Thursday at 4:30 p.m. at the Wrightsville Beach Historic Square at 303 West Salisbury St.  Federation members and the public are invited.
"After several years of searching for the perfect building and location, we're pleased to partner with the Town of Wrightsville Beach to establish a Coastal Education Center in their historic square," said Todd Miller, the federation's executive director.  "The opening of the center will signal the completion of our long-range plan to reach the entire coast of North Carolina with permanent offices and parallel programs. "
The Wrightsville Beach center and office is the last of the federation's three planned offices and will allow the federation to cover the state's 20 coastal counties. Federation headquarters and its Central Regional Office are in Ocean in Carteret County.  The Northeast Regional Office was purchased and renovated in Manteo in 2008.  Each of the three regional offices has a full-time staff, including outreach specialists and educators, restoration specialists and coastal advocates.
Olivia Holding
No one is more excited to see the search for a regional office come to an end than Tracy Skrabal, a federation scientist and manager of its Southeast Regional Office, which currently rents space in Wrightsville Beach. "Over the past 16 years, we've had to move our rented office three times for one reason or another," she said. "During this time, we had no room for a meeting with more than six people, much less hold a class, workshop or volunteer training. But it was worth the wait. We are eager to settle in and get our programs underway. Of course, we have to pay for it first."
The campaign began quietly in January with Olivia Holding, the federation's vice-president, at the helm as campaign's chairwoman. Her first task was to invite the federation's 30-member board and 23-member staff to be the first to give.
"The board and staff were quick to donate and we are thrilled that 100 percent of the board and staff gave so enthusiastically," she said. "This makes a tremendous statement that our leadership and staff are totally committed to the campaign and the opening of the Coastal Education Center."
With the full support of the board, a Campaign Committee of community and statewide leaders was created. Committee members are Sue Bullock, Richard Cecelski, Mary Hunter Martin, Mac Montgomery, Bob O'Quinn, David Paynter, Lori Rosbrugh and Bland Simpson. Federation staff members Todd Miller, Mike Giles, Sarah King and Sally Steele round out the campaign team.
"Our goal was to secure enough funds early on to move the house, and then raise the remainder for renovations, furnishings and equipment, landscaping and two years of expanded programming," explained Giles, a federation coastal advocate and a staff liaison to the campaign. "With our current tight quarters, programming has been limited to staff going offsite to conduct programs. We see the center as a hub of activity for Wrightsville Beach and the southeast coastal region, as well as a draw for tourists seeking a unique coastal experience,"
Hundreds of students will be served by the center each year. It will be registered as an official education center with the N.C. Department of Environment and Natural Resources' Office of Environmental Education. The location is ideal for the ambitious education program that is planned. The nearby saltmarsh and tidal creek will provide living classrooms for students to learn about coastal habitats. Several nearby stormwater projects conducted by the federation will be incorporated into walking field trips.
Center classrooms will be equipped with laboratory space and aquariums, and an outdoor covered area will be furnished. About 800 square feet underneath the house will serve as an open air classroom and a location for special events. Additional outside project areas will allow groups to help with oyster shell bagging events and nursery and plant work.

Mike Giles
Tracy Skrabal
Property owners will be able to visit center grounds to learn how to improve their own coastal landscapes. Low-impact development practices with educational signs will provide examples of ways to reduce stormwater. Rain barrels, cisterns, rain chains, a rain garden and pervious pavement and pavers are options. Native plant areas and a wetland nursery will showcase how native plants can be used to reduce stormwater, provide habitat and restore coastal buffers.
But for now, the attention is on transforming the family home into a functioning office and education center and on paying for the renovations, furnishings and new programs. Porches and steps that had to be removed for the move will be rebuilt; an elevator will be installed to carry visitors to the upper floors; handicapped-accessible restrooms, doors and heating and cooling systems will be installed. Electrical and plumbing systems will be upgraded to handle the anticipated heavy use. About 3,000 square feet of interior space will get an update with new flooring and a fresh coat of paint.
When all is finished, the generosity of donors will be attractively displayed. A local artist has been commissioned to create copper fish sculptures for the donor recognition categories. The fish will bear the names of donors and placed either in the sponsored room or in a central recognition area. Donors at the $5,000 level and up will receive permanent recognition in the center.
Unique sponsorship opportunities are available for anyone interested in leaving their mark on the coast. The classrooms, offices, and meeting rooms are named for the various habitats in the area, many of which have been the focus of federation projects. For $20,000 one can put their name or that of a loved one on the Bradley Creek Galley or the Lumina Gallery. A $25,000 gift sponsors the Stump Sound, Banks Channel, Lockwoods Folly, Hewletts Creek or Pages Creek office. The Masonboro Reception and Howe Creek Classroom are available for $30,000 each. All room sponsorships can be paid over a two-year period.
The Campaign is expected to run through January 2014. You can follow the center and campaign progress by visiting a special page on the federation's web site.
For more information about the Campaign or to discuss sponsorships email Sally Steele, federation development director, or call her at 251-393-8185 ext. 108.
Federation members in the southern region have waited a long time for their permanent home. Miller summed it up, "I can't imagine a more perfect facility, location, or partnership," he said. "We're confident that the Coastal Education Center will be well worth the wait."