This is part a monthly series about the food of the N.C. coast. Our Coast's Food is about the culinary traditions and history of N.C. coast. The series covers the history of the region's food, profiles the people who grow it and cook it, offers cooking tips — how hot should the oil be to fry fish? — and passes along some of our favorite recipes. Send along any ideas for stories you would like us to do or regional recipes you'd like to share. If there's a story behind the recipe, we'd love to hear it.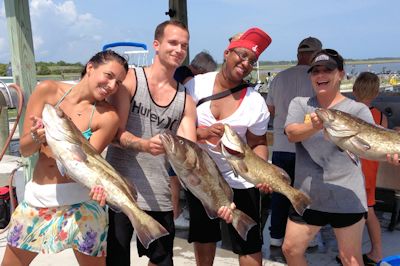 The crew at Catch show off the grouper they caught on a charter  boat that the restaurant hires several times a year for its employees. The fish were likely served at the restaurant that night. Photo: Catch
WILMINGTON — Catch seafood restaurant in Wilmington sports a logo portraying what looks like a grouper preparing to bite a giant hook. The depiction gives diners a sense that the fish they are eating is fresh from the water.
The notion is accurate, but some evenings, the snapper, grouper, mahi and wahoo customers tuck into might have been caught by the chef who cooked it.
In all likelihood, the waitress, the maitre d' and one of Catch's proprietors reeled in a few of the fins, too.
Many times a year, Catch owners chef Keith Rhodes and his wife, Angela Rhodes, treat their staff to deep-sea fishing trips. The journeys, like a different sort of excursion the crew has enjoyed at Universal Studios in Orlando, Fla., were intended as a way to reward employees for their hard work, aid team building and just have some fun.
Boat days have since become a means of directly connecting the Catch staff to the seafood that has made the restaurant famous.
"When one of our servers goes to a table and tells someone that the fish is fresh-caught, they can say it with confidence and know that it's true," Angela Rhodes said.
Most Catch fans know chef Keith far better than Angela Rhodes. The celebrity face of the restaurant, Chef Rhodes has appeared in numerous newspaper and magazine articles as well as on the Bravo TV program "Top Chef: Texas."
Chef Rhodes has long tapped local fishermen and seafood markets to source fresh, local fish for imaginative presentations that have grabbed the attention of celebrities — Rhodes gave actress Gwyneth Paltrow a private cooking lesson in summer 2012 — and the James Beard Foundation, which in 2011 nominated Rhodes for Best Chef Southeast award.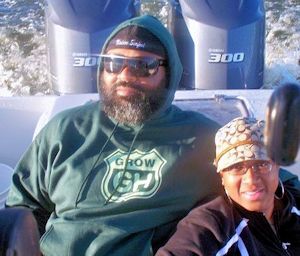 Chef Keith Rhodes and his wife, Angela believe in serving the freshest fish in imaginative presentations. Photo: Catch
Angela Rhodes usually works the office and dining room, leaving ingredients and cooking to her husband. When the couple's friend, charter boat captain Johnathan Mallette of Sneads Ferry, asked if they would be interested in a fishing trip aboard his Pura Vida boat, docked at Sneads Ferry, the Rhodeses said yes.
Rhodes discovered he lacked the sea legs necessary for the rolls and tumbles of deep sea waves. Catch employees and Angela Rhodes, especially, took to the vessel, growing their trips from 2011 plans for once-in-a-while getaways to the many outings Angela Rhodes gladly arranges each year.
Some workers had never been fishing. Others had only seen fish at markets. Either way, team members' excitement is obvious in dozens of photographs they take to show off their hauls to family and friends.
Back at Catch, following fishing trips, employees buzz with anticipation for service. "Had so much fun deep sea fishing," server/hostess Elizabeth Ann Taylor said. "A couple mahi, a huge red grouper, good-size black grouper, lots of snapper and trigger."
In the kitchen, cook Steve Young, one of the best anglers on the boat, helps Rhodes fashion the fish into specials and menu mainstays — perhaps pan-roasted wahoo atop pink-eyed peas stewed with country ham. Creole-seasoned hollandaise and then tiny Swiss chard to garnish the dish. Lately, Catch has featured cornmeal-dusted grouper filets crowing succotash featuring late summer corn, tomatoes and okra, all finished with a dab of lemon saffron aioli
The super-fresh fish staffers snare not only help inspire creative preparations, but they also give everyone on the payroll, a deep respect for all the seafood that they work with every day and an appreciation for the work that professional fishers do to supply that seafood, Chef Rhodes said.
"It's definitely something special here," he said. "When you eat here, you eat a lot of love."
Black Grouper Filet with Succotash and Lemon Saffron Aioli
For the aioli:
1/2 teaspoon fresh saffron
1 tablespoon hot water
Zest of 1 lemon
Juice of 1 lemon
1/2 cup prepared mayonnaise
For the fish:
1 cup cornmeal
1 teaspoon white pepper
1 teaspoon kosher salt
1 teaspoon Old Bay seasoning
2 4-ounce, 1-inch thick black grouper filets
1 tablespoon vegetable oil
1 tablespoon butter
For the succotash:
1 tablespoon butter
1 cup fresh corn, cut from the cob
1/2 cup sliced cherry tomatoes
1/2 cup fresh okra thinly cut on a bias
1/4 cup fresh, sliced scallions
1 teaspoon fresh thyme
1 teaspoon basil cut into chiffonade (thin strips)
To finish the dish:
½ cup fresh, small arugula leaves
Prepare the aioli: Steep saffron in hot water for a  few minutes. In a small bowl, whisk together saffron and its liquid with lemon zest, lemon juice and mayonnaise. Set aside for 30 minutes to let flavors develop.
Prepare the fish: In a glass pan or wide, shallow bowl, whisk together cornmeal, white pepper, kosher salt and Old Bay seasoning. Dredge fish in cornmeal mixture, lightly coating filets. Set aside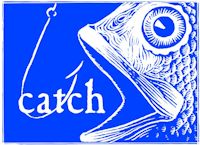 Place a heavy, medium-size skillet over medium-high heat. When pan is hot, add vegetable oil. Place filets in pan and cook fish for a minute or two, adjusting heat to medium. Add butter to pan. Cook fish another minute, until browned. Turn over filets and brown the other side and cook through. Remove fish to a dish and keep warm.
Prepare the succotash: Place a medium-size skillet over medium-high heat. Add butter to the pan. Add corn, tomatoes, okra, scallions, thyme and basil into the pan. Saute the mixture for a few minutes, until vegetables are crisp-tender.
Plate the dish: Divide succotash between two plates, spooning the succotash into neat mounds. Top each portion of succotash with half the arugula. Top each portion with fish. Spoon about 1 tablespoon of aioli on top of the fish or swirl on the plate alongside the succotash and fish.
Makes 2 servings.
Source: Catch owner/chef Keith Rhodes