OCEAN — An Onslow County woman who saved an island in Stump Sound and preserved a historic boat landing received A Lifetime Achievement Award from the N.C. Coastal Federation.
Lena Ritter of Tar Landing joins a dozen winners of 2013 Pelican Awards. They include teachers in Carteret and New Hanover counties, a town in Tyrrell County, an environmental activist in Wilmington and engineers in Cary.
The annual Pelican Awards recognize exemplary action to protect and preserve the coastal environment. The winners will receive the awards Saturday at a luncheon at the Duke Marine Lab near Beaufort.
"These awards are our way of recognizing extraordinary commitment to protecting and preserving our coast," said Todd Miller, the federation's founder and executive director. "We should never underestimate the power that many people bring to the effort of assuring that our coast remains a healthy and vibrant place. We can't thank them enough."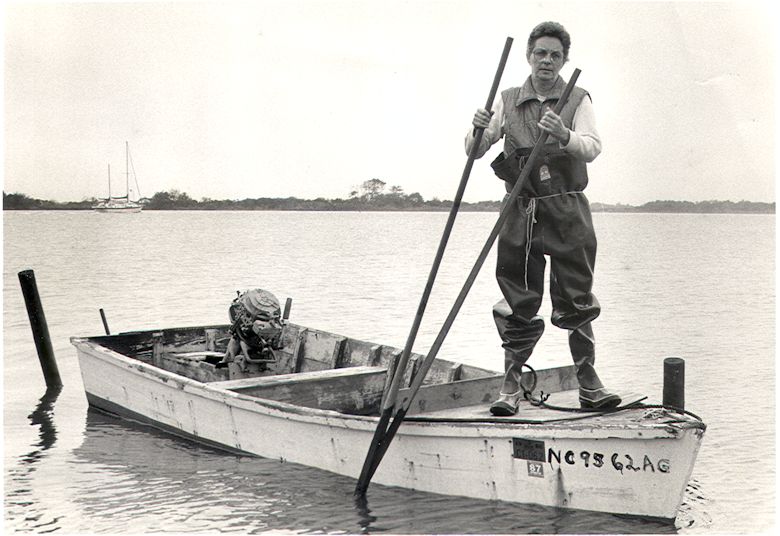 Here's Lena Ritter in the early 1980s, about the time she began her fight against a proposed marina and condo project on Permuda Island in Stump Sound. She worried about what the development would do to the oyster and clam beds she and her neighbors relied on.
Lifetime Achievement
Ritter, a native of Onslow County and a third-generation fisher, in 1982 began organizing local fishers and families against a marina and condo project on 50-acre Permuda Island in Stump Sound because she feared the resulting stormwater would ruin clam and oyster beds. The fight took five years, but the island was preserved and is now part of the state's coastal reserve system. Even more importantly, Ritter's work led to the adoption of more effective coastal management rules to prevent polluted runoff and inappropriately sited marinas in all 20 coastal counties.  She also focused statewide and national media attention on the need to protect and restore our coastal resources to maintain traditional coastal communities.
For her efforts, Ritter in 1987 received the first Nancy Susan Reynolds Award for extraordinary leadership at the grassroots level from the Z. Smith Reynolds Foundation.
Ritter, a former federation board president, later worked to protect public access at Morris Landing, a boat landing that had been used by local people for generations. She worked with the state and the federation, which eventually bought and preserved the 52-acres that now provide a waterfront park for nearby Holly Ridge and a site to stock oyster shells and load barges for the N.C. Division of Marine Fisheries' restoration programs.
Northeast Coast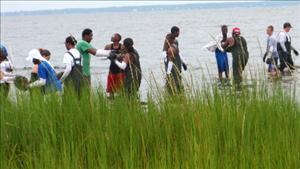 Kids from the River City CDC program build an oyster reef.
The River City CDC YouthBuild program was among the four winners of Pelican Awards along the northeast coast. Others were: Columbia; Kendall Smith of the U.S. Fish and Wildlife Service and James Barrie Gaskill and Gene Ballance, commercial fishermen on Ocracoke.
The YouthBuild program of the River City Community Development Corporation provides low-income kids educational opportunities and employment skills through training and meaningful work in their communities. The federation collaborated with the program last year to take students out to explore coastal habitats and to help with federation projects.
Students rolled up their sleeves to weed mulch and replant rain gardens; bag and distribute bags of oyster shells to create oyster reefs; and plant grasses to build marshes. Field work was coordinated with environmental lessons and activities that supported earning students their high-school diplomas.
Central Coast
Dana Edgren, a teacher in Carteret County; J. Barber Enterprises, contractors in Swansboro and Raleigh; and Geodynamics, an engineering firm in Morehead City, won awards along the central coast.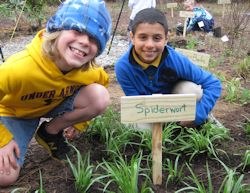 Dana Edgren makes sure students at White Oak Elementary School get their hands dirty.
Edgren, a third-grade teacher at White Oak Elementary School in Cape Carteret, knows that hands-on activities and partnerships benefit students of all ages. The federation has been working with Edgren since 2007 to integrate school rain gardens into her teaching curriculum.  Last year a working greenhouse was built on school property. Edgren worked to get solar panels for the greenhouse, rallied other teachers to install composters and rain barrels and engaged students in growing native plants in the greenhouse for the rain gardens. The students also led school-wide tours of the rain garden, created nametags for the plants and customized the greenhouse with flowers, work tables and signs.
Southeast Coast
Cliff Cash, a longtime opponent of a proposed cement plant near Wilmington joins Sandie Cecelski, a high-school teacher in New Hanover County, and the Winding River Property Owners Association, as Pelican Award winners along the southeast coast.
Cliff Cash has been fighting the Titan America proposal since the day it was announced more than five years ago and he helped launch a grassroots organization, Stop Titan, to fight the plan.  Fighting a corporate giant is no laughing matter but sometimes a good laugh is just what you need. Cash is a stand-up comic by night, but by day he owns a recycling company called Green Coast Recycling in Wrightsville Beach. His small but efficient company keeps 100 tons of recyclable waste out of the New Hanover County landfill each month. Over the years, Cliff has used his local "green business" to support the fight against Titan. He has offered cost breaks on ads on his company's recycling truck and hosted several fundraisers.  Last year Cliff put together a scrap metal drive with all the money going to Stop Titan's statewide essay contest.
Inland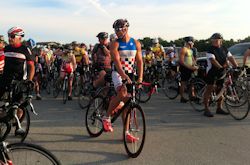 Natty Greene's Brewing Co. has been one of the main sponsors of the Cycling for the Coast event on Bogue Banks.
Bob High, brand manager for Natty Greene's Brewing Co. in Raleigh, and Withers & Ravenel of Cary are the inland winners of the Pelican Awards.
North Carolina became home for Bob High in 1994 and he quickly became a regular at the Outer Banks and its world class beaches.  High loves the water and understands that the things he enjoys most depend on good water quality — fishing, kayaking, surfing, and yes, craft beer.  You see, clean water is essential to making beer, and beer is what Natty Greene's does best.
As brand manager at Natty Greene's, High looks for opportunities to pair events with causes that are important and meaningful to him — athletic events, outdoor adventure, music festivals and most anything coastal.  He met up with the federation about 10 years ago and has been looking for ways to help ever since.
In the past year alone, High has hosted or helped to organize multiple fundraisers for the federation in all over the coast. These events have included Cycling for the Coast on Bogue Banks, Manteo's annual Fish Fry and Shrimp Boil, a retreat at Ocracoke, a seafood festival in Raleigh, a workshop in Wilmington and several events held at the Raleigh Natty Greene's.