RALEIGH—A bill that would force state agencies to review all rules every 10 years and, say critics, turn an already cumbersome rule-making process into a bureaucratic nightmare is one of several key environmental bills moving through the N.C. General Assembly in the late session flurry of activity.
Late Thursday, after spending hours in a tense debate on a controversial abortion bill, the N.C. House passed an amended version of Senate Bill 112  on an 84-24 vote. The bill now heads back to the Senate for concurrence,
It is merely the latest of so-called "regulatory reform" bills that the Republican-controlled legislature has considered in the past two sessions. All are aimed at making rules, especially those that protect the environment, harder for state agencies to pass.
This particular attempt has gone through numerous rewrites and amendments in both chambers, including a final amendment on the House floor. The bill that the House sent across the hallway requires a cumbersome review of all existing state rules at least once every 10 years.
Review Process

Grady McCallie
During those reviews, agencies will have to categorize regulations as either:
Necessary with "substantive public interest," meaning the agency has received public comments objecting to the rule within the past two years or the rule; "affects the property interest of the regulated public;" and the agency "suspects" someone might object to it. Most rules would likely fall in this category.
Necessary without substantive public interest, meaning the agency hasn't received public comments objecting to the rule within the past two years.
Unnecessary, which would be rules that are obsolete, redundant or otherwise not needed.
The agency's initial determinations will be posted on its web site and on the web site of the Office of Administrative Hearings. There, people would be able to comment on the agency's review. The Rules Review Commission, an obscure agency in the Office of Administrative Hearings that now reviews new state regulations, will determine whether the public comments have merit, thus forcing an agency response. It could also request that the agency change how it categorized a rule. Commission members are appointed by the legislature.
Once the determination is final, unneeded rules will expire; those that are needed but don't have substantial public interest  would remain in effect; but needed rules that do have substantial public interest must be readopted through the usual rulemaking process.
Senate Bill 112 also tightens the process for local ordinances, but the House drew back from a restriction passed by the Senate that would have done away with local ordinances more stringent than state or federal regulations.
Local Ordinances
Robin Smith, a former assistant secretary of the Department of Environment and Natural Resources, or DENR, who oversaw the department's efforts to review and streamline its rules process, said the new legislation offered by the House has some significant improvements over earlier versions.
"It's going to be a difficult and time-consuming process, and it's just not clear how productive it will be."
The new version drops a provision that would have caused all rules not re-approved to automatically expire and it raises the threshold on the requirement for a full fiscal analysis of proposed rules from $500,000 to $1 million. Those changes are important, Smith said, because they will avoid problems with the state maintaining federally-mandated regulations and reduce some of the burden on agencies in developing new rules.
Still, Smith said, fulfilling the sweeping review of existing rules and regulations required by the legislation will put a strain on agencies.
"It's going to be a difficult and time-consuming process," Smith said, who also blogs about environmental issues, "and it's just not clear how productive it will be."
She said years of budget reductions at DENR and the prospect of no additional funds in the budget won't help. The bill, Smith said, would essentially require the review of "every single substantive environmental rule."
"We'll see how this plays out, but [DENR] is not going to see additional resources, and you have a lot of programs already cut," she said.
Readopting rules, she said, means going back through a lengthy process that usually takes two years to complete and includes public hearings and a review by the Rules Review Commission. Under the current process, the legislature can also kill any new rules.
Grady McCallie, policy director for the N.C. Conservation Network, said the legislature's attempt in the past two sessions to eliminate regulations and make new ones harder to put in place has gummed up the process. The fiscal note requirement, which includes an extensive economic impact analysis of each proposed rule, has proved to be such a hindrance that recent legislation on hydraulic fracturing included an exemption from the fiscal analysis.
In cases like that, where the legislature wants new rules, "it's come back to bite them," McCallie said. "That's an example of how broken the system is."
Grady's group last week circulated an analysis of the bill among environmental groups in the state. It noted that reviews of needed rules every decade adds a level of uncertainty  to the regulatory landscape that businesses may find uncomfortable. "This places all existing rules in a constant state of uncertainty and flux, and will be detrimental to corporate investment in North Carolina," the analysis concludes.
Locals Get Breathing Room
Smith said one positive change in the new bill shows that an effort led by Rep. Pat McElraft, R-Carteret, to rewrite restrictions on local environmental ordinances has paid off.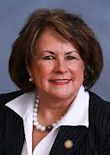 Rep. Pat McElraft
McElraft, a former Carteret County and Emerald Isle commissioner and co-chair of the House Committee on the Environment, has heard from a number of coastal communities worried that under the ban passed by the Senate  local septic setbacks, flood prevention and stormwater rules could be eliminated. Thursday morning, during hearings on the bill, McElraft told members of the House Committee on Regulatory Reform, that the bill needed further safeguards for local flexibility in handling issues not covered under state and federal rules. She cited the need to contain flooding in communities on the Outer Banks as a critical concern that state and federal rules don't cover.
"We need to give local governments a little more control," she told the committee.
The bill was amended on the House floor to add additional local government exemptions, including those necessary to achieve discounted flood insurance rates; serious threats to public health, safety or welfare; court orders; and "a unique geographic, meteorological, or environmental condition."
Smith said the language is not entirely clear, but she thinks the changes should give local governments some breathing room.
"This acknowledges that local governments can adopt ordinances to address local conditions," she said. "There are times when state rules are not actually getting at the local problems."