Searching under couch cushions for spare change and keeping dollar bills handy may need to be added to your checklist of beach-trip necessities this summer.
While only a handful of North Carolina's coastal towns charge beachgoers to park, the oft-controversial topic is a recurring discussion in some municipalities, begging the question of whether free parking at the beach will eventually become a thing of the past.
Pay-to-park proponents say money generated from parking fees increase the tax base, allowing towns to fund programs beneficial to residents and visitors. That's a proven theory in places like Atlantic Beach and Carolina Beach, towns that have implemented paid parking programs within the past decade.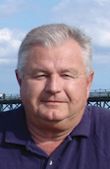 Dean Lambeth
Opponents argue visitors should not be charged to park to access public beaches, which are maintained not only through local budgets, but state and federal funding as well. Beach towns rely on tourists to contribute to local economies and, as one mayor put it, visitors should not be "nickel-and-dimed."
It's a current debate in Topsail Beach, the southern-most town on Topsail Island in Pender County.
The town held a public workshop June 22 giving residents the opportunity to share their thoughts on whether the town should start its own pay-to-park program.
"We're not going to try it this year," said Topsail's Mayor Howard Braxton. "We will still be studying it for next year."
Braxton is skeptical of the revenue Park Select, a Raleigh-based company, estimated the town can expect to receive – $70,000 to $80,000 – if it charges for parking.
Topsail Beach commissioners are split on the idea. Some board members argue that the town should collect money from day-trippers, people who generally contribute little to the local economy. Other commissioners say implementing a pay-to-park program in town may turn visitors away, particularly since neighboring Surf City and North Topsail Beach offer free parking.
Kure Beach officials have been grappling on and off for years on whether to charge for parking.
It's the only coastal town in New Hanover County that does not have paid parking. Town Mayor Dean Lambeth wants it to stay that way.
During a public hearing the town held late last year, a majority of residents who attended the meeting opposed paid parking.
After hearing a presentation from representatives of a parking company that neighboring Carolina Beach uses, town officials decided the projected revenue – $50,000 to $55,000 – wasn't worth the trouble, Lambeth said.
"We hear from visitors who say they come here because parking is free," he said.
The state Division of Coastal Management "has been real good to us and they want parking for the public and they want it for free," Lambeth noted. "We'd rather us help them out with our oceanfront."
Situated next to the national historic landmark Fort Fisher and one of the North Carolina aquariums, Kure Beach receives about 900,000 visitors each year, Lambeth said.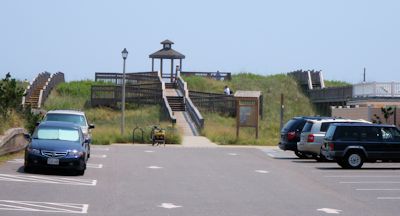 Parking at beach access lots in Kill Devil Hills is free, as it is in other Outer Banks beach towns. Photo: Kill Devil Hills
"I think those people appreciate the free parking," he said. "Paid parking will probably come up every three or four years, but I don't think it's going to go anywhere. Most of the towns use the parking revenue to take care of their bottom line and we really haven't had to do that in Kure Beach."
Atlantic Beach officials see the matter a bit differently. The Carteret County town implemented a paid parking program after the county stopped subsidizing the town's lifeguard program. Revenues from parking fees also cover the cost of keeping the beach and public bathhouses clean.
"It helps us keep the tax rate down for the property owners," Atlantic Beach Police Chief Allen Smith said. "It's to provide a service back to the beach users and to keep the beaches clean. We aren't trying to beat people over the head with a $10 parking space. We try to be as lenient as we can. Parking begins at 10 a.m. We give them a buffer there. We don't just start writing tickets."
Free parking is available on the perimeter of the Atlantic Beach circle and the Tom Doe access at Henderson Drive.
The town charges for parking May 18 through Sept. 1, Thursday through Monday from 10 a.m. to 5 p.m. Atlantic Beach charges daily the last week of June and first two weeks of July, according to the town website.
The rate per parking space – 300 spots to be exact – is $10 for a full day or $5 after 2 p.m.
In 2012 the town collected $120,000 – equal to 1 cent on the local property tax rate – from more than 14,000 vehicles.
Emerald Isle, on the other end of Bogue Banks, also charges for parking at the two large public beach access areas on either end of town. The town charges $10 on Saturday, Sundays, and holidays from April through September between 7a.m. and 4 p.m.
Wrightsville Beach generates about $2 million a year, the town's mayor said last year in a joint meeting of New Hanover County's three beach towns. Of that, about $1.4 million is pumped into the town's general fund, where the money is dispersed to the police department, public works and other services.

Richard Cerrato
Wrightsville Beach and Carolina Beach contract with Lanier Parking Solutions.
The company manages 160-metered parking spaces, 200 timed spaces and 11 parking lots in Carolina Beach.
Visitors are charged $1.50 an hour up to $8 for all-day parking from April 1 through Oct. 31. During those months, parking rates are applied from 8 a.m. until 7 p.m.
Wrightsville Beach kicks off its paid parking season a month earlier, charging fees March 1 through Oct. 31 from 9 a.m. until 6 p.m. The parking rate there is $2 an hour.
These towns are the exception in North Carolina. All of the municipalities on the Outer Banks offer free parking.
"These days with everybody kind of feeling the pinch on the pocketbook it's nice to have that relief," said Lee Nettles, executive director of the Outer Banks Visitors Bureau. "We celebrate our beaches and our shoreline and we want to make sure people have access to those places. Not putting fees on that is certainly a step in the right direction. We just want to invite people to take full advantage of those free parking spaces and come see us soon."
Brunswick County's coastal towns, including Sunset Beach, also offer free parking.
"The beach, on a financial footing, is really the lifeblood of our town," Sunset Beach Mayor Richard Cerrato said. "It's a catch-22. We want to invite people here and when you invite guests you don't charge them. Beaches that are public with public accesses, I think towns should do as much as they can to invite guests and they really shouldn't nickel-and-dime them. It's a real balancing act."