MANTEO — Sea turtles. We feel a connection to gentle creatures, and this year has been especially tough on these endangered reptiles.
Larry Warner, curator of exhibits at the N.C. Aquarium on Roanoke Island believes the connection between humans and turtles is multi-faceted.

Larry Warner
"People love the sharks, the thrill of being scared," he said. "They love the otters. But people view turtles as very innocent and approachable. They are portrayed by the media as gentle animals, and people feel for them because they are just trying to survive."
Warner says that sense of connection has greatly benefitted the turtles in terms of public awareness and support for their existence.
And their existence is vital to marine ecosystems.
"They help keep the marine ecology in balance. They feed on fish and plant species, keeping those species in check so we don't have too much of any one species in the ecology," Warner explains.
Sea turtles, especially species such as the green sea turtles, which prefer tropical climates, are particularly vulnerable to sudden drops in temperatures. This winter has been a hard one. Reptiles are cold-blooded, and when the water temperature drops suddenly, they suffer from "cold-shock." Cold shock literally stuns the turtles, causing them to become listless and unable to feed.
While cold-shock is part of nature's cycle, the effect is more severe on turtle populations as their numbers decline due to loss of habitat for laying eggs and the overall deterioration of the marine environment.
Chistian Legner, husbandry curator for the aquarium, tells us this winter has been the worst since 2009-2010. In that year, over 5,000 cold-stunned turtles were recovered in Florida alone. Of those recovered in Florida, 20 percent, or 1,000 of them died.
While the numbers here are not as large, each turtle is important to the struggling species, and our small facilities make rehabilitating the turtles a challenge — financially and on resources needed to help the turtles recover and return to the wild.
Legner, who oversees the Aquarium's rehab facility, works out of a small outbuilding at the Roanoke Island facility that is barely 1,000 square feet.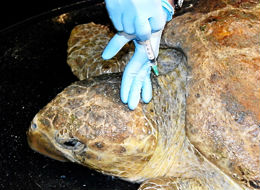 N.E.S.T volunteers work in the rehab center at the N.C. Aquarium. Photo: Russ Lay
This year, Legner's unit has taken in 58 cold-stunned turtles, plus other turtles suffering from viral, bacterial and other problems.
Nearly 40 cold stunned turtles were rescued off Cape Lookout National Seashore in late January. According to a Facebook post on the park's website, there were three loggerheads and 34 green turtles rescued that day and a total of 44 sea turtles that week. The N.C. Aquarium at Pine Knoll Shores had taken in 19 of the sea turtles rescued off Cape Lookout.
According to its Facebook page, the Karen Beasley Sea Turtle Rescue and Rehabilitation Center on Topsail Island admitted 11 cold-stunned turtles on Jan. 26, bringing its total of new admissions to 40 over a two-week period.
A cold-stunned turtle costs anywhere from $300 to $500 to care for from the time it is brought to the Manteo aquarium to the point when it is released. That comes to close to $30,000 for this winter alone in upfront medical care and longer term maintenance.
Injured or sick turtles, such as one large loggerhead that had ingested a fish hook and was unable to dive for food, cost even more and take much longer to recover.
The small facility at Roanoke Island has four tanks: two large ones and two smaller containers. One large turtle can take up an entire tank by itself. The overflow population can be housed in the aquarium's quarantine facility or transported to other centers stretching from Virginia Beach to as far south as Jekyll Island, Georgia.
However, this year's cold-stun events have taken place along the entire eastern seaboard, overloading virtually every available facility, Legner tells us.
"In one week this winter we took in 22 sea turtles, which can put a strain in manpower and consume financial resources." Legner said.
Typically, people who find cold-shocked turtles stranded on beaches or in the sound call the locally based Network for Endangered Sea Turtles (N.E.S.T) at their hotline number (252) 441-8622.
Local volunteers travel from the Virginia state line as far south as Ocracoke Island to retrieve the turtles and bring them back to the aquarium.
There, staff take blood samples and perform X-rays to diagnose the turtles, which accounts for significant upfront costs.
Donations are badly needed to handle this year's influx of cold-stunned turtles. The N.E.S.T. Web site at allows donations from credit cards and PayPal and provides an address for those wishing to mail a check.
Once the turtles enter the rehabilitation phase, local volunteers from N.E.S.T. come every day to the aquarium to feed them, clean their tanks and perform other duties.
"The N.E.S.T. volunteers are a great network of people and we couldn't save these turtles without them," Legner says.
When it's time for the turtles to be released, Legner also receives significant support from the U.S. Coast Guard, charter boat captains and tour boats, such as offshore bird watching excursions, to handle those tasks.
The aquarium facility is licensed by the N.C. Wildlife Resources Commission, which Legner says coordinates and tracks all recovering turtles across the state and provides significant support to the effort.
Caring for the turtles is actually not part of the aquarium employees' full-time jobs.
Legner is in charge of the entire animal collection at the aquarium, and Warren oversees all of the exhibits, including lending a hand at the Jennette's Pier facility. The medical staff at the facility is primarily charged with caring for the animals on exhibit.
In the near future, the aquarium will build a new 3,000-square-foot rehab facility that will triple the number of turtles that can be treated. Warner explains that the new facility will tear down the glass walls between the public and the turtle operation.
"People will briefly exit the main facility and come to a building where a ramp will provide an overlook view of all of the tanks. We hope to add cameras in each tank that users can operate as well as a large overhead monitor," he said.
Warner tells us that "on their way out, visitors will be able to look through a glass window and actually see testing and even surgeries taking place and even talk to the people on the other side of the window."
While all of this is technically outside of the aquarium's main function, both Legner and Warner see it as a necessary role of the aquarium's mission to conserve as well educate visitors and locals about our marine environment "so that they will help to take care of the environment" through their own actions.