This is the first of a monthly series about the food of the North Carolina coast. Our Coast's Food is about the culinary traditions and history of N.C. coast. We plan to write about the history of the region's food, profile the people who grow it and cook it, offer cooking tips — how hot should the oil be to fry fish? — and pass along some of our favorite recipes. Send along any ideas for stories you would like us to do or regional recipes you'd like to share. If there's a story behind the recipe, we'd love to hear it.
By Liz Biro
Mabel Smith's Baked Flounder

Butter or lard
¼ cup diced salt pork
1 cup all-purpose flour
1 3- to 4-pound whole flounder, dressed but not filleted
Salt and pepper to taste
4 to 5 medium potatoes, sliced crosswise and cut into 1/8-inch thick slices
2 medium onions, sliced thinly
Salt
Black pepper
Water
1 tomato, sliced thinly
Grease a large, shallow baking dish with butter or lard and set aside.
Fry salt pork over medium-low heat until meat releases its oil and pork is crisp.
Preheat oven to 400 degrees.
Meanwhile, place flour in a large, shallow dish. Sprinkle flounder with salt and black pepper on both sides. Flour both sides of fish, shaking off any excess. Place fish in greased baking dish. Surround fish with potatoes and onions, seasoning with salt and pepper as the vegetables are stacked around the fish. Sprinkle salt pork and drizzle its drippings over the fish. Add water to the pan to a depth of ½ inch.
Bake, uncovered, at 400 degrees for 15 minutes. Reduce oven setting to 350 degrees and continue baking until potatoes are tender and fish is white and flakey, about 20 minutes. Remove from oven and garnish fish with tomato slices.
Serves 6.
Fresh from the water, dropped into a pan and seasoned with salt and pepper.
Ask a native coastal North Carolinian what's the best way to cook fresh seafood and this is the recipe you're likely to get.
With the elaborate dishes that inventive chefs create at hundreds of restaurants lining the N.C. shore these days, it's hard to remember why simple, traditional seafood recipes like roasted oysters or mullet and sweet potato stew endure — until you sample their pure, delicious seafood flavor.
Letha Henderson in the cookbook Coastal Carolina Cooking (University of North Carolina Press, 1988) remembered fondly her father boiling shrimp "just like they came out of the river with a pod of red pepper and some salt." The Hubert woman told of fuss-free dipping sauces: melted butter or black pepper-spiked vinegar.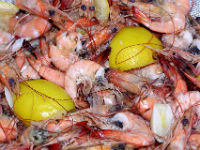 The dish seems primitive compared to sautéed shrimp that Chef James Rivenbark of Wrightsville Beach's South Beach Grill layers with herb-crusted eggplant, Tasso ham and fire-roasted red peppers. He naps the stack in roasted garlic, boursin and asiago sauce.
At the Outer Banks' colorful Port O' Call restaurant, a flounder filet might arrive stuffed with "crab meat imperial" and finished with sherried lobster cream sauce.
The late Mabel Smith, a Salter Path native, crowned flounder with all kinds of sauces, too, when she cooked in famous Carteret County restaurant kitchens such as the former Ottis's Fish House in Morehead City. But Smith thought the best flounder recipe was her mother's combination of fish baked with potatoes and onions.
Mom added only one garnish: "She would take a real pretty tomato and lay about three thin slices on top," Smith said
Coastal North Carolinians' preference for modest seafood meals dates back to the Algonquin tribes that populated the Carolinas' shores for thousands of years before settlers arrived.
Those Native Americans in the mid-1500s offered Spaniards who landed at South Carolina fresh oysters steamed over an open fire until their shells popped. The cooking method never went out of style, as evidenced by the dozens of "oyster roasts" staged every fall and winter in North Carolina's coastal plain.
Settlers who later lived on remote barrier islands relied on what they could catch, what they could grow and Motherland cooking styles, said Kathy Hart, co-author with Nancy Davis of Coastal Carolina Cooking.
Hart and Davis interviewed native cooks all along the state's coast to document traditional recipes. Baked and stewed seafood dishes incorporating potatoes and onions came up a lot, including "baked flounder" like Smith's mother made.
Fishermen were also farmers, Hart notes. Potatoes and onions thrived in the coast's sandy soils and were familiar vegetables.
"They were isolated for many years, so they didn't have access to things like fresh herbs," Hart said of barrier island residents. "Plus, a lot of them were Scottish-Irish immigrants, so they were used to using those (potatoes and onions)."
Seafood offerings did not start to change until the 1970s and '80s, when a huge influx of tourists and new residents altered the culinary landscape. With more foodwise and affluent visitors arriving each year, chefs responded with increasingly daring dishes, author Elizabeth Wiegand wrote in The Outer Banks Cookbook: Recipes and Traditions from North Carolina's Barrier Islands (Globe Pequot, 2008).
"Early Bankers didn't eat deep-water fish like grouper or dolphinfish (mahi), but rather fish from the sounds, like drum and mullet, and they had ample supplies of oysters, clams and crabs. They considered shrimp a nuisance, a 'bug,' which they traded on the mainland as fertilizer for sacks of corn…," Wiegand wrote.
The dividing line between humble, traditional seafood recipes and over-the-top contemporary ensembles is easy to see. Disparate palates, however, always agree on the formula for one dish: crab cakes.
No matter if they're served in a five-star restaurant or dockside seafood shack, the crab cakes that English settlers introduced to the colonies should be so meaty that the cakes hardly hold together.
That's the advice of Joyce Taylor, author of Mariner's Menu: 30 Years of Fresh Seafood Ideas (University of North Carolina Press, 2003). Seasonings in her Deluxe Crab Cakes — dashes of cayenne, white pepper, dry mustard, Tabasco and parsley — hardly seem deluxe. The flavor of the crab is what should shine, Taylor said.
One sweet bite and tasters ask if Taylor has added sugar to the formula.
"Nope," she said beaming. "That's the crab meat."