CHATHAM, VA. — N.C. opponents of lifting a ban on uranium mining in neighboring Virginia have high hopes that the proposal has perished on the political vine, but they're still wary of backdoor maneuvers that could lead to mining of the radioactive ore.
"The way I describe is, 'It's dead,'" said Mike Pucci, chairman of the N.C Coalition Against Uranium Mining. "I'm going to have a beer and celebrate. But I'm not ready to pop the champagne cork yet."
The bill to lift the 30-year ban on uranium mining faced vocal and prolonged opposition from farmers, doctors, environmentalists, citizens' groups, business people and representatives from local governments in Virginia and North Carolina. It also lacked support in the Va. legislature. It's main sponsor,  state Sen. John Watkins, R-Powhatan, pulled a bill on Thursday.
But Watkins made it clear that he will pursue another avenue. He said he has asked Gov. Bob McDonnell to bypass the legislature and authorize state agencies to write uranium industry regulations. McDonnell is reportedly reviewing the request and has not taken a position.
"It's kind of like when you ask your Mom for something and she says no," Pucci said. "Then you go ask your Dad. That's basically what they're doing here."
A huge deposit of uranium lies underneath Coles Hill in Pittsylvania County near Chatham. Owners of Virginia Uranium Inc. approached lawmakers in 2007 about getting the ban lifted so the nearly 120 million pounds of ore could be mined. But opponents said that the site's proximity to the Roanoke River basin made the risk too high of contamination of a major water supply for Virginia and North Carolina residents.
In a press release Watkins issued on Thursday, he defended his support of uranium mining at Coles Hill.  Saying it could provide jobs and promote energy independence, he dismissed "unfounded" fears of contamination.
Watkins also expressed his frustration about being unable to convince his colleagues of the safety of uranium mining and vowed to continue his efforts.
"It is not going away," the statement said, "because it is not good stewardship to leave a God-given natural asset worth $7 billion buried in the ground while our American economy suffers."
A comment posted on the company's Facebook page on Friday struck a similar tone.
"While yesterday was a setback, the Coles Hill project is not going away any time soon. The Coles Hill deposit contains 22 times more energy than all of Virginia's offshore oil resources combined. Virginia can't turn its back on this incredible opportunity."
Virginia Uranium has said that the project would support more than 1,000 jobs over the 35-year project life and represents billions of dollars in economic impact to Virginia.
But opponents said that Virginia's climate is much wetter and more vulnerable to intense storms and earthquakes than other uranium mine locations, and the need to indefinitely store the radioactive waste product of the operation was especially dangerous. One study by the National Academy of Sciences warned that contamination from unanticipated leaks or spills could last for thousands of years.
Rick Seekins, community and economic development director for the Kerr-Tar Regional Council of Governments, said that a bipartisan uproar in North Carolina against the Coles Hill project grew steadily as policy makers and residents in the state learned more about the proposal.
"It got really prominent last summer and early fall when we began hearing the implications of what it could have done to our water," he said.
The prevailing westerly winds blow from Virginia to North Carolina, and the water in the Roanoke River basin —where Coles Hill is situated — provides much of the water that fills Albemarle Sound, as well as the drinking water from Lake Gaston and Kerr Lake.
Of the five counties and 16 municipalities in the council, Seekins said, every county and 12 of the municipalities passed resolutions that supported keeping the ban on uranium mining in Virginia. The Roanoke River Basin Bi-State Commission, with members from both states, also supported the ban.
And in December, the state Environmental Review Commission agreed to send a letter to McDonnell stating its concern about the potential adverse effects to North Carolina waters if uranium mining in Virginia was allowed.
Seekins said he is pleased with the amount of backing the pro-ban side received, considering his initial thoughts on whether or not uranium mining would garner much objection.
"If you'd asked me this six months ago, I'd have been surprised, because the support for this was so well organized," he said. "I began to think we would have been working uphill."
Although the coalition is remaining vigilant, Seekins said, the Virginia proponents of the mining project may have underestimated the "depth and breadth" of the opposition. The stigma associated with potential radioactive contamination in the region convinced a number of legislators that the Coles Hill project could be detrimental to economic development. And it has been helpful, he said, that Southside legislators who were fighting to keep the ban have kept their North Carolinian brethren in the loop.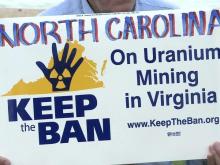 Seekins said he is optimistic that all the negative feedback may have soured the Virginia governor on the idea of mining uranium in his backyard. "I'm not sure he has a taste for it anymore," Seekins said.
Not only that, Pucci added, market forces may have turned in favor of the anti-uranium camp. According to a Jan. 18 article in the Wall Street Journal, less than half of worldwide uranium reserves can currently be mined profitably. In 2008, uranium was worth $135 a pound, the article stated. It currently trades at about $42 a pound. Industry experts say that the price needs to be at least $75 to $80 a pound for future mine production to be profitable.
"So you don't have a viable business model for this thing," Pucci said.
With nuclear energy apparently losing its appeal in favor of safer, cheaper and plentiful natural gas, Pucci said the Coles Hill project is even less defensible.
"We know we need power," he said. "But we know that uranium mining is a disaster."