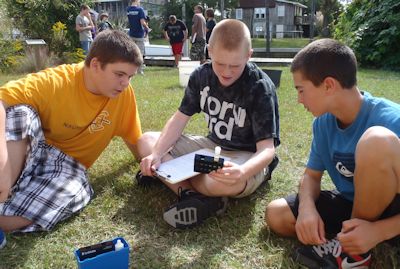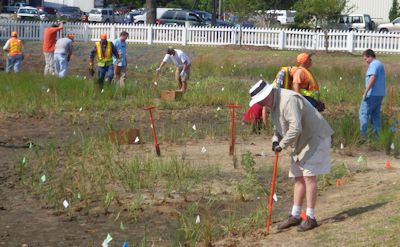 Volunteers planted three types of saltwater plants to create the wetland.
MANTEO – It took a couple of years of busting up concrete, moving dirt around and digging holes for plants, but the first saltwater wetland in the state and maybe on the East Coast that's designed to  treat polluted stormwater is now open as a town park.
Manteo partnered with the N.C. Coastal Federation several years ago to identify, design and install methods to treat stormwater from existing developments, in an effort to clean up the waters of Shallowbag Bay.
The town's stormwater system was designed to collect runoff from streets, parking lots, yards and buildings and send it through outfalls directly into Shallowbag Bay.
"It's some pretty dirty stuff and is affecting the water quality of the bay," said Erin Burke, town planner. "Our board of commissioners recognizes that and is committed to improving that."
Now completed and opened as a nontraditional park, the project at the corner of U.S. 64 and Grenville Street is the first saltwater stormwater wetland in the state and possibly on the East Coast, said Erin Fleckenstein, coastal scientist and the manager of the federation's Northeast Region office.
Wetlands use native plants to slow and purify runoff, which often carries bacteria from animal droppings. Because runoff from rain is freshwater, stormwater wetlands are usually of freshwater variety. Federation scientists, however, found inspiration in naturally occurring swales that sometimes fill with water and act as saltwater marshes.
"We came to them (the town) and said, 'Try a saltwater wetland,'" Fleckenstein said. "Saltwater is more toxic to bacteria than freshwater."
The town approved, and engineers from Withers & Ravenel of Raleigh and N.C. State University helped develop the plans.
The quarter-acre of saltmarsh now treats runoff from a 41-acre watershed in Manteo that is about 64 percent hard, impervious surface and includes commercial properties and U.S. 64.
If as expected it proves itself over time as the better option to treat stormwater and to provide habitat, the wetland could be a tool for other towns and developers to use.
"Stormwater runoff is the leading cause of water quality impairment that causes shellfish beds to close," Fleckenstein said.
The town bought the property known as Buck's Seafood—a small strip mall that included China King—in 2007 with grants from the Dare County Tourism Bureau. It tore down the building and parking lot in 2008.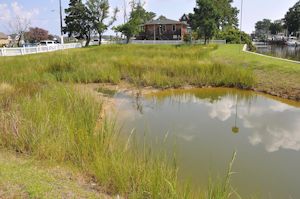 The new wetland was doing what it was designed to do — hold water — after rains in August.
The N.C Department of Transportation supplied the money to build the wetland, and a grant from the N.C. Clean Water Management Trust Fund helped the town place a conservation easement on the land.
Construction began in 2010, followed by planting the next year.
"We recruited volunteers and planted these one-inch marsh plugs a foot and a half away from the other ones," Fleckenstein said. "We have been very happy with how it has filled in."
The wetland includes three species of native N.C. plants bought from local growers: salt meadow hay, black needlerush and saltmarsh cordgrass.
Fleckenstein said it takes 36 to 72 hours for the stormwater to move through the wetland, which was contoured for habitat and because the various types of marsh grasses survive at different water levels. During that time, the plants absorb the nutrients in the stormwater and both ultraviolet light and salt break down the bacteria it contains.
Part of the wetland's design is a pump controlling saltwater flow into the marsh. It can either allow stormwater in or it can pull in water from an adjacent canal when the water level is low. At first it was manually controlled, but in 2012, a probe was installed to automatically trigger the pump.
"The marsh plants like to keep their feet wet," Fleckenstein said. "They like variation in water levels, especially as young plants. Once their roots are established, they can handle flooding more."
The design also strives to eliminate invasive plants such as native cattails and nonnative phragmites, because habitat value is lost when such plants move in, Fleckenstein said.
The saltwater wetland is a type of habitat that is being lost along the coast, Fleckenstein said, and yet it is crucial as a nursery area for estuarine species, such as blue crab, mullet, red drum and other juvenile fish species. Wading birds have been spotted in the wetland, and the town installed a purple martin house.
Mary Ann Hodges, a science teacher at Manteo Middle School, has brought two groups of students to the wetland to help cement textbook lessons in their minds through hands-on experiences.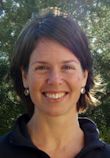 Erin Fleckenstein
She did basic water quality testing with the middle-school science club and more advanced water quality testing with her eighth-grade students. They compared the water quality of the wetland to that of the canal beside it, which leads to Shallowbag Bay.
"We found the water quality in the wetland area is much better than in the ditch right next to it," Hodges said, which "means the plants are doing their job."
State stormwater rules affect new development around water bodies, to keep them as clean as possible, but they are not retroactive. Existing developments don't have to comply with newer, stricter rules. To ensure that water bodies remain protected, ways must be found to control runoff from exiting development, Fleckenstein explained.
Besides the wetland, the federation has helped install a rain garden and cistern at the Manteo Town Hall and rain gardens at Festival Park, Front Porch Café and local schools.
In the next couple months, Manteo's second stormwater treatment project will get underway: a mechanical treatment of the outfall at the boat ramp at the north end of Queen Elizabeth Street, Burke said.
While not as effective as the wetland's biological treatment, this oil-water grit separator will slow down runoff and capture trash like cigarette butts and large particles such as gravel, dust and dirt, Burke explained.
The board is able to implement that project with a grant from the N.C. Division of Water Resources. They hope to do one stormwater-related project every year as time and budget constraints allow, she said.
More information is available at Town Hall, and a map at the wetland park site explains the process.