Christians, says Penny Hooper, often don't put their beliefs to work protecting God's creation.  They just need to know how, she says.
Interfaith Power & Light, Hooper hopes, is one way.
This national coalition that describes itself as "a religious response to global warming" and believes that Christians and environmentalists aren't necessarily very different and that they can work together to solve the greatest environmental threat.
Interfaith Power & Light believes that the Christian response to global warming is good stewardship – in this case, promoting energy conservation, energy efficiency, and renewable energy.
"This organization works from our moral commitment to Creation Care and specifically for advocacy and education about climate change within faith-based communities," said Hooper, Carteret County resident. "Alternative energy gives the churches more money to use in other ways."
Hooper serves as the secretary of the steering committee of the N.C. chapter of Interfaith and is the sole representative from coastal North Carolina. She organizes events and demonstrations in the coastal region and monitors such issues as offshore wind development and offshore drilling.
"I work on offshore wind as an alternative to offshore drilling. [We are] not in favor of that," she said.
Hooper taught for 16 years at Carteret Community College, where she chaired the sustainability committee. She also chaired the Green Team at her church. That's where she first heard of Interfaith Power & Light.
"I decided when I retired, rather than work from the 'head' I wanted to work from the 'heart'. The scientists aren't getting it done, she said. "One is a moral responsibility and the other is 'scientifically'."
Interfaith has its roots in Episcopal Power & Light, which was formed in 1998 by the Episcopal Cathedral of the Diocese of California. The group expanded its reach two years later and brought in partners from other faiths, becoming California Interfaith Power & Light.
That group was instrumental in the passage of many of California's climate and clean energy laws. Since then, 38 states have followed this model, and IPL is working to bring similar programs to every state.
To become an affiliate groups must be faith-based and include multiple faith traditions; have a steering committee or board of directors that includes ordained religious leaders; advocate for clean energy, conservation and responsible stewardship in response to global warming; and have a written work plan and timeline that provides a description of a strategy for taking action and raising funds.
North Carolina became the 16th state to join Interfaith Power and Light in 2005 as the organization then known as Climate Connection: Eco-Justice Network, which represented Catholics, Protestants, Jews and Muslims. The name was changed to North Carolina Interfaith Power & Light (NCIPL) in January 2007.
The state group accomplishes its educational goals by working through churches and synagogues and by holding educational classes and workshops.
The group's empowered program offers churches free energy audits, which helps churches identify ways to reduce their carbon footprint and  save energy and money. The program also helps churches discover ways to finance the installation of solar energy and other forms of renewable energy at their buildings.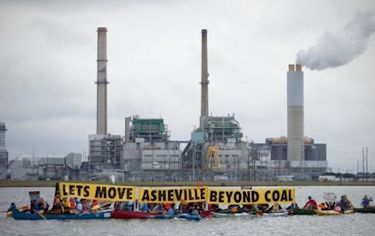 N.C. Interfaith Power & Light helped stage a protest against a coal-fired power plant in Asheville. Photo: French Broad Riverkeeper
The N.C. group also offers Earth Sabbath Celebrations, interfaith, Earth-based hour-long services in Chapel Hill, Asheville, Durham and Raleigh.
According to Hooper, members of the steering committee are always happy to give presentations to congregations about ways they can support the transition to alternative energy sources.
"It's never too late," she adds.
Even if a building is complete there are still ways the congregation can implement green changes. Hooper is willing to meet with building committees, pastors and Bible studies to share her knowledge of ways to better care for the earth that God created for our enjoyment.
In addition to education, policy advocacy is part of the core mission of the state group. It provides information and opportunities for communities and congregations to get involved in policy-making activities related to efficient use of energy. Hydraulic fracking natural gas and proposed electricity rate hikes are just two of the issues it is currently working on.
"The Preach-In is a big event from our religious leaders who want to talk about creation care and climate care. Afterwards everyone sends a Valentine to our representatives and senators telling them to love the earth and treat it like their mothers," Hooper added.
This year's Preach-In will take place Feb. 8-10 in various locations across the United States.