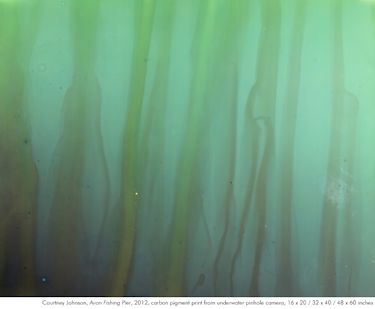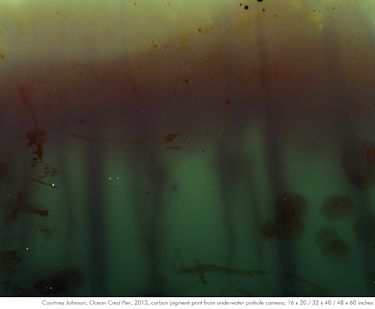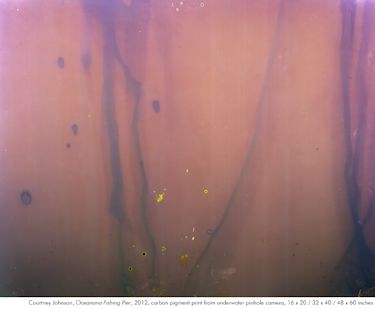 These abstract photos, taken by Courtney Johnson, emerged from the depths of the Atlantic off fishing piers in Avon, top, Atlantic Beach, center, and  Oak Island.  Photos: Courtney Johnson
WILMINGTON — One photographer fishes among the anglers on North Carolina's 19 remaining fishing piers for what has never been captured before.
"This was about a picture that we've never seen," said Courtney Johnson about her exhibition Light Lure, Underwater Pinhole Photographs of North Carolina Piers, currently on display at the Art Gallery in the Cultural Arts Building at the University of North Carolina Wilmington.
Equipped with a homemade pinhole camera and funding from the Charles L. Cahill Research Award, Johnson imagines what time looks like at the bottom of the Atlantic and invites us to do the same.
"I didn't know what was going to happen so it was a lot about that mystery and the magic of photography," Johnson said.
First the viewer must imagine a camera made from a pineapple juice can fitted over a wafer cookie tin, fishing line, black rustproof spray paint, waterproof putty, a Cheerwine can and 3.5 pounds of fishing weights.
"It took me many trips to the piers just thinking about what would work," said Johnson.
The result is essentially a lightproof tin with a pin-sized puncture as its "lens." When the contraption hits the water, the juice tin floats, exposing the pinhole to the ocean's light on 4-by-5 color film inside the cookie tin. The weighted cookie tin cannot withstand the movement of the waves for long and after 30-minutes on the Atlantic floor, Johnson reels in her mysterious image.
The abstract photos that emerged from the depths of the Atlantic come in a surprising variety of hues, mimicking the true colors of North Carolina's sand, sky and sunsets. "I actually really like how soft the exposures ended up being and how much they're about time and the unknown," Johnson said.
Johnson is a leading expert in the cliché-verre photographic process and often focuses her work on creating images that have never been seen.
"I knew there was going to be some blur. I knew I was going to get light on top and dark on the bottom, but I didn't really have much more of an idea besides that," said Johnson.
Inspired by her UNCW photography students, Johnson deviates from cliché-verre to explore North Carolina's coast. It was just a few months after moving to Wilmington in 2011 for a position as assistant professor of photography at the university that she began teaching pinhole photography and applied for the Cahill Research Award. Several prototypes were tested in Greenfield Lake and the Cape Fear River before her first final underwater exposure at Nags Head Fishing Pier in May 2012. After all, transcending nature's most unpredictable element from the piers would mean facing greater travel distance, choppier waters and stronger winds. Not all of the images were captured in fair weather either.
"The very last one I did was in pouring rain storm," Johnson explained. "Hurricane Sandy was going to hit the next day. In fact, I did Avalon pier on Friday and that Sunday it was split to pieces."
Light Lure highlights the importance of the fishing piers to North Carolina's coastal tradition. Johnson made it a component of her grant to use the funds locally, buying film from her local photography store and learning about the history from a book she found in Old Books on Front Street titled North Carolina's Ocean Fishing Piers: From Kitty Hawk to Sunset Beach.
"Fishing piers were some of the first structures built on the barrier islands," said Al Baird, author of North Carolina's Ocean Fishing Piers: From Kitty Hawk to Sunset Beach and founder of the N.C. Fishing Pier Society. During the 1980s there were as many as 36 fishing piers along North Carolina's coast. Today only 19 remain.
Building materials for the fishing piers were inexpensive in the 1950s and '60s when pine was being forested in the state and so piers were used to promote the coast to Northeastern tourists. Pictures of pretty girls holding big fish circulated in the news as if to say, "We have everything Florida has yet we're half the distance."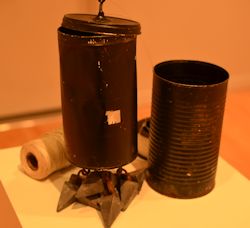 A Cheerwine can, a pineapple juice can and fishing weights are the essential components of Courtney Johnson's pinhole camera. Photo: Tess Malijenovsky
More recently, however, those building costs have risen along with oceanfront land values. "When the hurricanes of the mid '90s started to pound every year, pier owners were finding that their land was worth more in oceanfront housing than fishing piers," said Baird.
Or, as put by Baird's group, "The land is becoming too valuable to operate a marginal business like a fishing pier and once the property changes hands the pier's fate is almost certainly sealed."
Yet for a "marginal business," trips to the state's ocean fishing piers reel in about $152 million to the state's economy, according to a January 2012 study produced by the N.C. Division of Marine Fisheries.
Johnson particularly appreciated the camaraderie of the fishermen who were equally excited to learn what she was doing. "Really they're doing the same exact thing I am—putting something into the water and hoping that they get something out of it."
Just like the fishermen, the mystery of the catch kept Johnson hooked.
Courtney Johnson's work has been featured in nine solo exhibitions in New York, San Francisco, Miami, Richmond and Bogotá and in more than 30 group exhibitions in the last three years. She earned a bachelor's degree in fine arts with honors in photography and imaging from New York University's Tisch School of the Arts and a master's in fine arts in studio art from the University of Miami. Light Lure,
Underwater Pinhole Photographs of North Carolina Piers is showing through Feb. 22 at the UNCW Art Gallery, Randall Parkway and Reynolds Drive. The gallery is open Monday through Friday from noon to 4 p.m.