Last of two parts
Before falling on hard budgetary times, the N.C. Clean Water Management Trust Fund had distributed about $970 million in more than 1,500 grants. More than a quarter of that money – about $255 million – was spent in the 20 coastal counties.
The money has been used to buy sensitive lands threatened by development, clean up hog lagoons, improve sewer plants and reduce stormwater runoff. It also bankrolled major planning initiatives, including a blueprint for restoring the state's once-great oyster population.
Goose Creek Game Land: The N.C. Wildlife Resources Commission bought the Beaufort County portion of the game lands with $1 million from the trust fund.Below are highlights of a few coastal projects. Go here for a complete list.
The game land is a series of waterfowl impoundments, each about 200 acres, on a peninsula on the south side of the Pamlico River between Aurora and Hobucken in Beaufort and Pamlico counties.
The best time to see waterfowl is from January through February, while May to August is prime time for wading birds. The impoundments are north and east of N.C. 304 and are best reached from several public launch sites nearby. Visitors will need a boat to see much of the area. The water can often be rough so boats 16 feet or longer are advised. The swamp forest is south and west of N.C. 304.
Hunting is allowed during fall, winter and April through May, on Mondays, Wednesdays, Saturdays and holidays. The best time to visit the game land is on non-hunting days.
Bird Island: One of the great conservation victories in North Carolina ended with a $2.7 million grant from the trust fund that allowed the state to buy Bird Island on the southern tip of Sunset Beach in Brunswick County and permanently protect it as part of the N.C. Coastal Reserve.
People had put up a 10-year fight, starting in 1992, to save the uninhabited island from developers. Aided by the N.C. Coastal Federation and other groups, they banded together to write letters, raise money, pack public meetings and lobby legislators. What started as a local effort soon spread throughout the state. Tourists from towns across America joined the cause.
Since the island was saved, tens of thousands of tourists have walked its lonely beaches, Many stop at the famed Kindred Spirit mailbox in the dunes where they record their most cherished thoughts, reminiscences and prayers.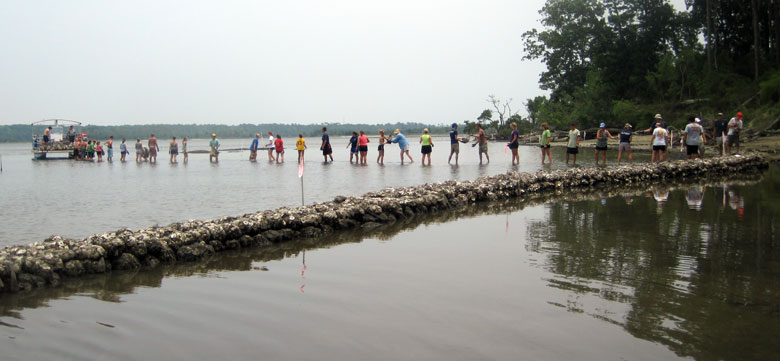 White Oak River: Special places sometimes need special friends. Since 1999 the trust fund has provided $8 million to enable the federation, Hammocks Beach State Park and other friends of the White Oak River to work effectively to protect and restore its water quality and fisheries habitat.
The river stretches 48 miles through Jones, Onslow and Carteret counties. Government agencies, private organizations, local residents, schools and visitors are making sure the river remains a place to celebrate. They have used these state grants to leverage an additional $13.7 million in federal, local and private funds to buy nearly 4,000 acres along more than 17 miles of shoreline. Much of this property is now available for public use as either part of the state park or as wildlife game lands. Hundreds of volunteers visit Jones Island, now part of the park, to help the federation restore oyster beds and salt marshes
"A healthy river is good for business and recreation," says Jimmy Phillips of Clyde Phillips Seafood in Swansboro. "These clean water investments keep the White Oak River a great place to live, work and play."
Dover Sewage Improvements: The trust awarded a grant to Dover in Craven County to build a collection system and pump stations designed to move sewage to a regional pump station and force main to Kinston. Onsite systems throughout the town weren't functioning, resulting in untreated sewage being discharged into surface waters.
"Our town's central sewer system would not be possible without Clean Water Management Trust Fund participation," Malcolm Johnson, the Dover mayor, says on the trust fnd Web site. "Vacancy of homes within town was becoming a problem as owners could not obtain septic tank permits to allow rehabilitation efforts to be performed. Central sewer will improve the standard of living within our community."
Eagles Island: The trust fund gave the New Hanover Soil and Water Conservation District $255,000 to buy 239 acres on the northwestern edge of this complex of islands in the Cape Fear River across from Wilmington.
Now a total of 746 acres of wild freshwater tidal marsh on the northern part of Eagles Island are protected from future development. The protected area can be seen while driving on U.S. 74/76 towards Leland.
Eagles Island and the Lower Cape Fear River basin are home to ecologically sensitive plants and animals including the shortnose sturgeon, the rare skipper butterfly and the Carolina bishopweed, which is found only in a few places in the world.
The conservation effort began in 2001 when Whitey Prevatte, owner of the former Whitey's restaurant, gave 53 acres on Eagles Island to the New Hanover Soil and Water Conservation District.
Since then, the Eagles Island Coalition, a group of concerned people including planners from area municipalities and state agencies, formed to protect water quality, promote education and awareness, conserve and restore the habitat for wildlife and establish passive recreational opportunities such as canoe and kayak trails, hunting and fishing and wildlife viewing areas.
Holly Shelter: Hervey McIver, protection specialist with The Nature Conservancy, describes the 950-acre McLean tact in Pender County as "one of the best remaining savannas in southeast North Carolina."
These fire-dependent woodlands are recognized as significant natural heritage areas that can provide habitat for endangered species such as red-cockaded woodpeckers. "You also find many plants that garner a lot of attention such Venus fly traps and pitcher plants, as well as beautiful little well as beautiful little orchids," McIver says on the trust fund Web site..
The McLean tract is most recent acquisition funded by the trust fund as part of an ongoing effort linking up conservation lands with the 50,000-acre Holly Shelter Game Land and the 25,000-acre Angola Bay Game Land. Area game lands support the hunting industry.
These conservation efforts also support military installations such as nearby Camp Lejeune, and are part of a local initiative known as the Onslow Bight Conservation Forum that partners conservation goals with the interests of local military installations.
Buckridge Coastal Reserve: Through funding partnerships with the U.S. Fish and Wildlife Service, the N.C. Natural Heritage Trust Fund and the N.C. Clean Water Management Trust Fund, the N.C. Division of Coastal Management in 1999 bought  27,000 acres that a year later became the Emily and Richardson Preyer Buckridge Coastal Reserve — the largest and first inland component in the N.C. Coastal Reserve Program.
About 15 miles south of Columbia in Tyrrell County, the site is between the Alligator River and Pocosin Lakes National Wildlife Refuge and is part of the East Dismal Swamp, a vast wetlands complex that encompasses more than 320,000 acres in Dare, Tyrrell, and Washington counties.
Scattered remnant bald cypress and Atlantic white cedar stands occur in the deep organic soils of the preserve, while sweet gum grows in the rare mineral soils and black needle rush rims the perimeter of the site. Most of the oldest Atlantic white cedar forest has been cut, but there is a 30-year-old area of about 4,000 acres that represents the most extensive contiguous example of this forest type in the state.
Buckridge is habitat for several rare, threatened or endangered species. Confirmed rare species on site include the red wolf, red-cockaded woodpecker, bald eagle, American alligator, timber rattlesnake and pigmy rattlesnake. Habitat for Atlantic and shortnose sturgeons and high priority neotropical migrant birds is also maintained at Buckridge. Certain migratory birds, such as the black-throated green warbler, Swainson's warbler, and prothonotary warblers, are dependent on southeastern-forested wetlands of the coastal plain for breeding.