EAST LAKE  — Sitting on worn wooden benches in the community building, their faces expressionless, members of this modest community on the mainland of Dare County quietly listened on Tuesday as a representative for the state Department of Transportation explained a road project to expand U.S. 64 that may force them off their property and out of their homes.
But it's one thing to be moved off the land you inherited from your great grandparents. Yet, some said, it's even worse to think about moving your great-grandparents from their final resting place.
For the first time that night, the more than 60 people — unusually polite for a meeting about such a consequential project — broke out in applause."Would you really relocate our cemetery and dig up our bodies?" resident Rosemarie Doshier asked Jamille Robbins, the DOT moderator. "That's not acceptable to us."
"That's unethical to me," said Michelle Perrot, who moved to East Lake 12 years ago. "You can't do that. These people have buried their loved ones once. Don't make them do it again."
The public hearing was held to give residents the opportunity to discuss their concerns about the 17 alternatives detailed in the draft environmental impact statement released last month for the U.S. 64 widening project — especially the one that goes right through their working-class community built in the middle of swamps and surrounded by wild lands.
The proposed 27.3-mile project between Columbia and Manns Harbor is the final section of 200 miles of the highway from Raleigh to the Outer Banks that is slated to be four-laned.  The project, estimated to cost $356 million to $400 million, includes replacing the 52-year-old Lindsey C. Warren Bridge, a three-mile swing span over the Alligator River.
The bridge replacement itself is not controversial, nor is much of the Tyrrell County half of the project. On the Dare County side, however, great conflicts exist between the Alligator River National Wildlife Refuge on the road's south side and this tiny pre-Civil War community on the north side. East Lake residents sent a resolution to DOT in February asking the agency to build the southern alternative that would bypass 12 homes and historic cemeteries, churches, buildings and the 1936 fire tower. The northern alternative is more expensive and would impact a larger portion of the refuge's 147,432 acres.
Minnie Spruill, 89, and the community's oldest resident, told DOT she wants the road to be built behind the village on the south side and reattached to the highway at Buffalo City.
"I can't understand why you would tear up a neighborhood," she said, "when all that land is right there."
Although DOT's main rationale for widening the road is to prevent accidents and speed hurricane evacuations, East Lake residents say neither reason is based on the reality they know. Crashes are infrequent and backups are few, even during evacuations.
"I've lived here since 1973, and we've stayed through every hurricane," said Steve Doshier, Rosemarie's husband. "Anybody who's lived here for any time knows that the main evacuation point is north."
Big sheets of paper illustrating each of the proposed alternatives lined one side of the community building, which earlier in the 20th century had been East Lake's school house — the blackboard is still covering the rear wall.  Most of the folks who attended — nearly half of East Lake's total population — appeared older than 50.
According to the DOT report, a total of about 140 people live in the community's 60 or so houses, and the median household income is about $27,500.  Additional information on City-Data.com, DOT's cited source, said that East Lake had 61 houses built between 1960 and 1989 and 16 built between 1995 and 2000. Most of the homes are 3-bedroom owner-occupied structures, and a number of them are mobile homes.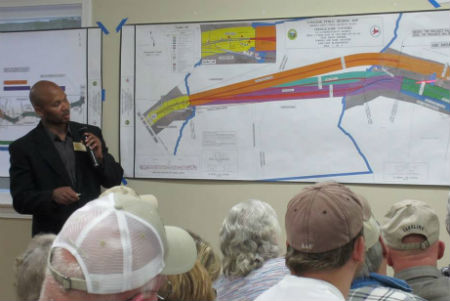 Jamille Robbins of DOT explains the route alternatives to residents of East Lake.
The 1887 East Lake Methodist Church and its cemetery, on 1.69 acres along U.S. 64, are eligible for listing in the National Register of Historic Places, the report said.  The cemetery behind the church has more than 175 head stones, some dating back to the late 1800s, and a number of graves that are capped with tablets. The church is still active, and many members are descendants of the original congregation.
Eugene Smith, a Chesapeake resident who works at the Norfolk Naval Shipyard, said after the meeting that he plans to return to East Lake when he retires next year. Smith said he owns a house on six acres, and he still has a number of family members living in the community.
A 1960 graduate of Manteo High School, Smith said that his grandmother, his brother's wife, his great-grandfather, his father and his sister are buried at the Methodist Church cemetery, and "if I died tomorrow, I would be planted there, too."
"They're all in the cemetery they're talking about moving," he said after the meeting. "I don't like that at all. That hurts more than moving a house."
A smaller cemetery would also be affected if the northern alternative is chosen.
Crystal Creef Basnight, an East Lake native, said in a later interview that the community hopes that DOT keeps their promise to listen to them and take their concerns seriously.
Basnight said she and her husband live on her mother's land, which falls within the proposed northern section. If DOT chooses that route, she said it would take not only her grandfather's old homestead, but also her mother's house and her neighbor's brand new house.
"It would be horrible — perfectly terrible," she said. "It would just be devastating, because I have nowhere to go."
Comments will be accepted through May 24. Email comments to Robbins.