MOREHEAD CITY – Stan Riggs seems to be on a mission these days. His goal is ambitious: To save our beautiful coast – its inlets and marshes and barrier islands – and in the process to save our coastal economy. To do that, though, he has to persuade us to change our ways.
The East Carolina University professor and researcher has been, for more than 30 years now, the N.C. coast's preeminent marine geologist. He's poked more holes in its landmasses and sediments than probably any man alive – "Some people accuse us of causing sea-level rise with all our holes," Riggs says. He's walked, driven or boated along every inch of the coast from Calabash to Currituck – well, almost. He knows every creek and stream, spit and swamp, beach and dune.
"I know this system," Riggs says. "It's part of my world, of who I am. And I don't want to see it screwed up. I care about these beautiful natural resources and I care about the people."
So Riggs takes to the road preaching a message of change. One night could find him in Wilmington. The next, in New Bern or Raleigh or Manteo. Monday night, Riggs was at Carteret Community College for a local environmental group's annual meeting.
"I have probably taken this picture over and over again in the last 10 years," he told members of Carteret County Crossroads as a photo of a row of beach houses loomed large on the screen. The surf rolled beneath the houses. Stairways have collapsed; the tops of septic tanks, looking much like concrete caskets, poked from the eroded dunes.
"Is this good for tourism?" Riggs asked.
Most in the crowd agreed it was not.
Neither are the crumbled, jumbled pieces of asphalt; the flooded roadways; the army of bulldozers plugging gaps in sand dunes; the rocked shorelines; and the sandbags that armor expensive beachfront houses. All were the subjects of more photos.
"We haven't been very good stewards," Riggs said.
Mixed among the photographs were maps and charts that chronicle a million years of the coast's geologic history. Islands have come and gone, and inlets have opened and closed. The ocean was once much higher than it is now and much lower.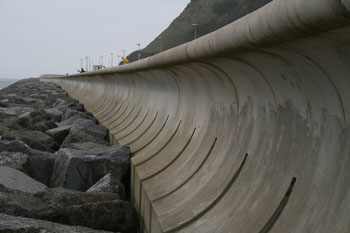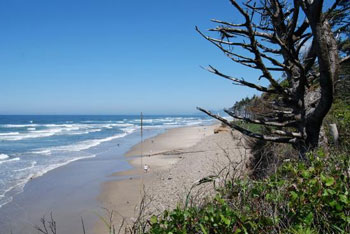 Stan Riggs says the future of the N.C. coast could be one of seawalls or natural beauty.
"There will always be a shoreline, but it will always move," Riggs noted. "It has always moved. Change is the only constant."
In a perfect world, tourists wanting to buy their piece of beachfront paradise would heed the message. As would highway planners intent on building bridges over moving inlets or roadways over shifting sands. But in world we live, the houses and roads and bridges are built, followed by expensive and usually futile – thus the photos of crumbled highways and collapsing buildings – attempts to control the sea.
That has been the modern history of human development along our coastline, Riggs noted. It was never really sustainable, he said, and is even less so in era of accelerating sea-level rise.
The oceans have always risen when the temperature has warmed – Riggs has a chart to prove it. Water expands as it warms and melting glaciers release their volume into the oceans. The seas have been rising since the last Ice Age 18,000 years ago, and the rate of rise will increase this century as the climate warms dramatically. The scientific consensus is about a three-foot rise by the end of the century. It all depends on how much and how quickly the ice caps on Greenland and Antarctica melt.
Guys like Riggs who poke holes everywhere know where the ocean was the last time the ice caps melted. It's no mystery, not a matter of conjecture. It's happened before and would happen again. "If we were to melt the rest of the ice in Greenland and Antarctica, the shoreline would move up to the Fall Line along our rivers," he said. "That's I-95, folks."
Given that possibility, it makes even less sense to build our permanent structures so close to shore, Riggs said. The cost of protecting them will become astronomical and the coast's natural resources and the beauty we derive from them will be destroyed in the rush to build walls and jetties and revetments, he notes, as will the coast's tourist economy.
"What we have here in coastal North Carolina is unique in the world," Riggs said. "If we are going to preserve what we have into the future, we have to change the way we do things."
Instead of fighting the inevitable, we need to accept it, Riggs suggested. Once over that mental hurdle, we then need to start planning to adapt to a watery future, he said. In real terms, that means, for instance, that we could continue to maintain a roadway along the Outer Banks but understand that it will disappear into ocean, along with large chunks of the islands themselves.
Small ferries and water taxis leaving from a series of terminals at small rural villages, such Stumpy Point, Bayboro and Engelhard, could provide transportation to the islands. Once there, visitors could rent electric cars or bicycles to get around. They could hire charters to go on cruises to photograph dolphins and sharks and migrating whales. They could board helicopter for aerial tours. They could camp, fish, or go birding. They could step lightly.
"We don't need to compete with Myrtle Beach and Florida," Riggs said. "They don't have what we have. Let's use it."
The vision, which is explored in depth in Riggs' most-recent book, The Battle for North Carolina's Coast, will seem preposterous to some, fanciful to others. The alternative – continuing as we have in the past – is unthinkable to Riggs.
"I may not see it happen," he said, "but the tide has turned. I've given this talk everywhere and no one hoots or calls me names. People want to know what's going on. They are starting to get it."