WILMINGTON — The idea was to award developers who go that extra mile to protect natural resources.
Builders who take the time to think creatively in an effort to be environmentally responsible deserve to be recognized. So went the conversation that initiated what would become the Lower Cape Fear Stewardship Development Coalition.
An alliance of groups normally thought to be at odds with one another – environmentalists and developers – the coalition is now a platform on low-impact development, a concept that some believe will eventually become the norm in building rather than the exception.
"For a builder to stretch beyond meeting a particular rule or regulation and being more creative than that and going further than that is significant," said Donna Girardot, executive director of the Wilmington-Cape Fear Home Builders Association.
Girardot, one of the stewardship's originators, remembers the first awards banquet that the homebuilders hosted seven years ago in Landfall, one of Wilmington's premier gated communities.
With little funding, the Girardot's group invited anyone thought to be interested in learning more about the projects being awarded.
"It was kind of an experiment to see who would actually come," Girardot said.
The turnout was better than anticipated and the banquet fostered what would become a long-lasting dialogue on best practices to contain and recycle stormwater runoff, which is now the largest source of water pollution on the coast.
The homebuilders and the Wilmington Regional Association of Builders sponsored the first event, honoring developers in Brunswick, New Hanover and Pender counties in southeastern North Carolina.
"Then we started thinking about it and we didn't want people to think this was just about builders rewarding builders," Girardot said.
So, they invited the N.C. Coastal Federation and other environmental groups to join in.
"It has just kind of built over the years and here we are," Girardot said. "It's taken a whole separate identify all of its own. We're proud of the way it's come about. I'm proud of the relationship we have with the Coastal Federation."
Lauren Kolodij, the federation's deputy director, said that before the stewardship, there wasn't really a dialogue about low-impact development between environmental groups and developers.
"We've been at odds over the past with low-impact development," she said. "This has become a lasting opportunity for us to have these discussions."
Before this year's awards banquet – held in Wilmington Feb. 23 – participants were invited to join in an education seminar about low-impact development.
Low-impact development, or LID, is a land and engineering approach to managing storm water runoff much different than typical conventional storm water management practices.
"Instead of taking and building the retention ponds that you see all over the state, it looks things like rain gardens, rain barrels, bioretention areas, infiltrating and storing rainwater and putting it back into the soil," said Cameron Moore, the HBA's Business Alliance for a Sound Economy director of governmental affairs.
"At the end of the day the developers are operating a business," he said. "If we can reduce the amount of curb and gutter, the amount of drainage issues, there's a cost-saving element to the developer, who passes it down to the consumer. They have to look at these things in different elements to keep their costs down so they can keep the housing costs down."
Guest speakers at this year's event included U.S. Rep. Mike McIntyre, and Roya Stanley, director of the Policy and Technical Assistance Team in the Weatherization and Intergovernmental Program at the U.S. Department of Weatherization. Both lauded the stewardship coalition's efforts to promote low impact-development.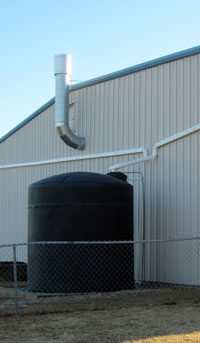 A cistern is a LID technique that collects rain water from a roof top.
The HBA has a joint grant with the Coastal Federation to research current state and local stormwater rules that may actually impede some LID practices.
More than two years ago, the HBA began work on a LID policy manual as a guiding document to help developers, Moore said.
"What we found moving through it is that there were a lot of things that we saw in the regulations that could potentially stymie a residential or commercial developer," he said.
The state is also looking at LID efforts.
"I think the state recognizes that we need to look at alternatives to the way we've been managing stormwater," said Mike Randall of the N.C. Division of Water Quality's stormwater program. "I believe LID meets all of the state requirements so we encourage people to do LID."
Randall said the stewardship coalition is one outreach effort that goes a long way in changing developer's mindsets with regard to stormwater management.
"I don't think it's as simple as saying, 'Don't do it the way you've been doing it,'" he said. "I think it is changing. The traditional methods right now are the easy way to go. I think, in time, people will be the motivator. They will have the expectations. I think it's going to take that shift."
And the Winners Are..
.The winners of the Lower Cape Fear Stewardship Development Coalition's Awards for 2012 are:
Significant Achievement
Sunset Beach Fire Station #2, Sunset Beach
Outstanding Recognition
New Brooklyn Homes at Robert R. Taylor Estates, Wilmington
South Front Apartments, Wilmington
Snipes Academy of Arts & Design, Wilmington
Wilmington Convention Center