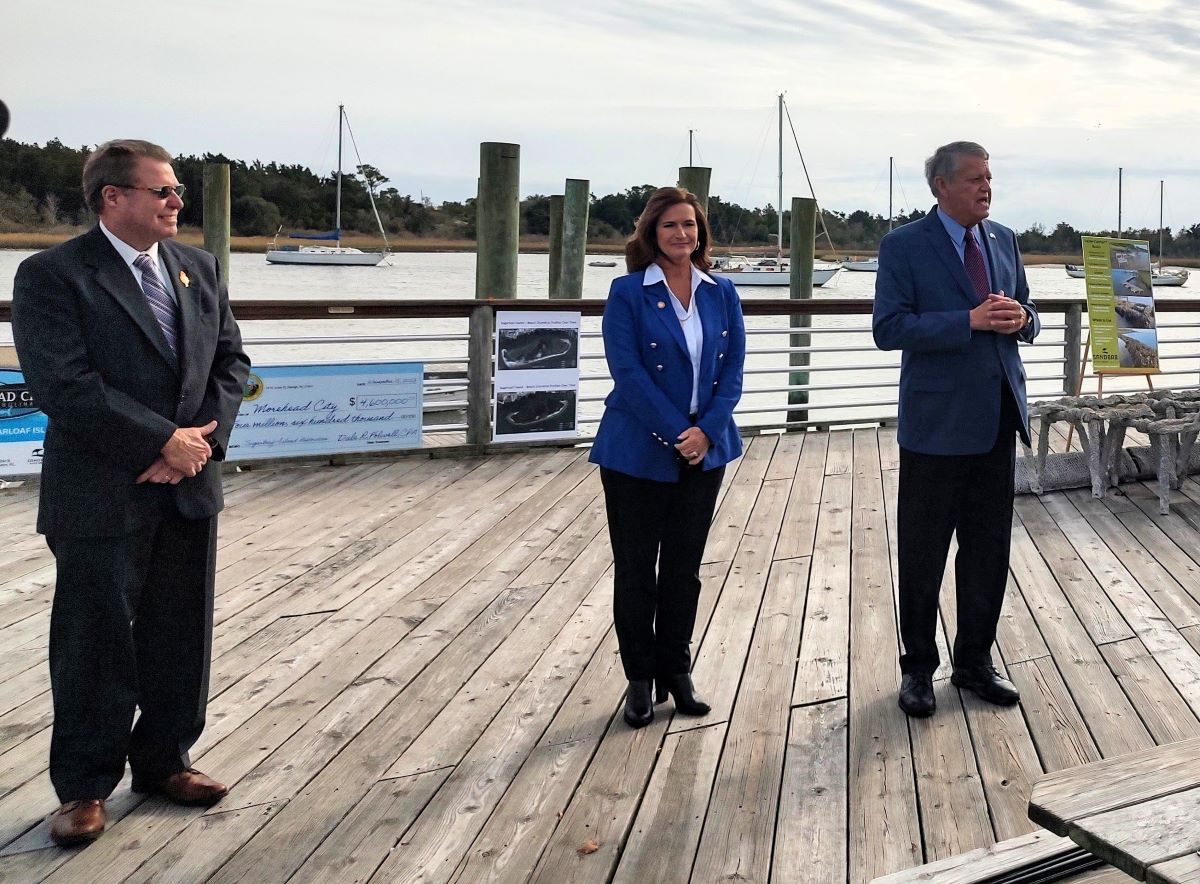 Construction of a long-planned project to save Sugarloaf Island, the rapidly eroding, uninhabited barrier island across from the Morehead City waterfront, is officially underway.
Morehead City Mayor Jerry Jones welcomed the handful of reporters, elected officials and partner representatives gathered Wednesday at Big Rock Landing on Shepard Street, facing the island that's just south of the federal Harbor Channel, to celebrate the start of the project.
The gathering was also held to thank Sen. Norm Sanderson, R-Pamlico, who also represents Carteret County, and Rep. Celeste C. Cairns, R-Carteret and Craven counties, both present at the media event, and former Rep. Pat McElraft of Emerald Isle for supporting the effort.
The shoreline protection project has been appropriated a total of $6.6 million – $2 million in 2022 and $4.6 million in 2023 — to restore the island by using a hybrid approach of offshore wave attenuation breakwaters, expanding seagrass meadows, and building living shorelines.
Sanderson said Morehead City is a destination for many people in the state, across the Southeast and farther. He lauded local leadership for making the project happen, "because this is vital. It's vital again for the citizens, for our tourists. It's vital for the next generation. It's vital for all of the people who want to come to Morehead City and enjoy what we get to enjoy every single day."
Cairns added that when she was approached about the project, she was excited and thought "we can do this."
Jones said that when someone asked him a few minutes prior why they were there, "I said we're here to celebrate. We have a celebration of protecting our future while preserving our past."
For the last two years, Florida-based aquatic restoration company Sea & Shoreline, the nonprofit North Carolina Coastal Federation, engineering firm Quible & Associates, aquaculture firm Sandbar Oyster Co., and East Carolina University have been studying, designing, planning, and permitting the project, officials announced.
"Currently, the seaward shoreline of the Island is eroding, leaving uprooted trees and vegetation behind. In addition, wave exposure and swift currents are sweeping nutrient-rich sediment into the water column. The eroded sediments now released into the water are degrading water quality and visitor experiences to the Island," officials continued. "Protecting the Island with an offshore wavebreak will mitigate shoreline and coastal habitat erosion, enhance coastal resilience, create seagrass habitat and increased fishing opportunities, improve water quality, enhance ecotourism by increasing the beach line, sequester carbon, and enhance shorebird nesting."
Jones recalled Wednesday that the city had purchased Sugarloaf Island 20 years ago to prevent its development.
"We had heard that a developer was coming. They wanted to build high-rises and boat marinas on the island, and we felt like the better use would be a public park," Jones said.
The city used grants, donations and tax dollars to purchase and conserve the island.
"Today we're here to preserve Sugarloaf Island for future generations," he said, and to make sure that the Morehead City waterfront is protected.
Brian Rubino, vice president of the engineering firm Quible & Associates in Currituck County, said that although Sugarloaf Island is a small barrier island — it's only about 36 acres right now — it protects downtown Morehead City's infrastructure, roads, homes and businesses.
The island also is host to a number of different marine and coastal environments, such as sand flats, sandspits, low dunes, maritime forest and peat marsh, all of which is getting eroded at dramatic rates.
"The erosion rates of the island vary, depending on where you are, but it's anywhere from 5 to 15 feet per year and it's not uncommon to lose up to 10 feet overnight in a big storm," Rubino said. He added that sea level rise and large storms coupled with very strong currents creates a lot of erosion, leading to sediment washing away and going into the federal boat channel between downtown waterfront and the island.
The project, Rubino continued, is to protect what's left and hopefully grow the island to create and expand shallow water habitats for fish and wildlife.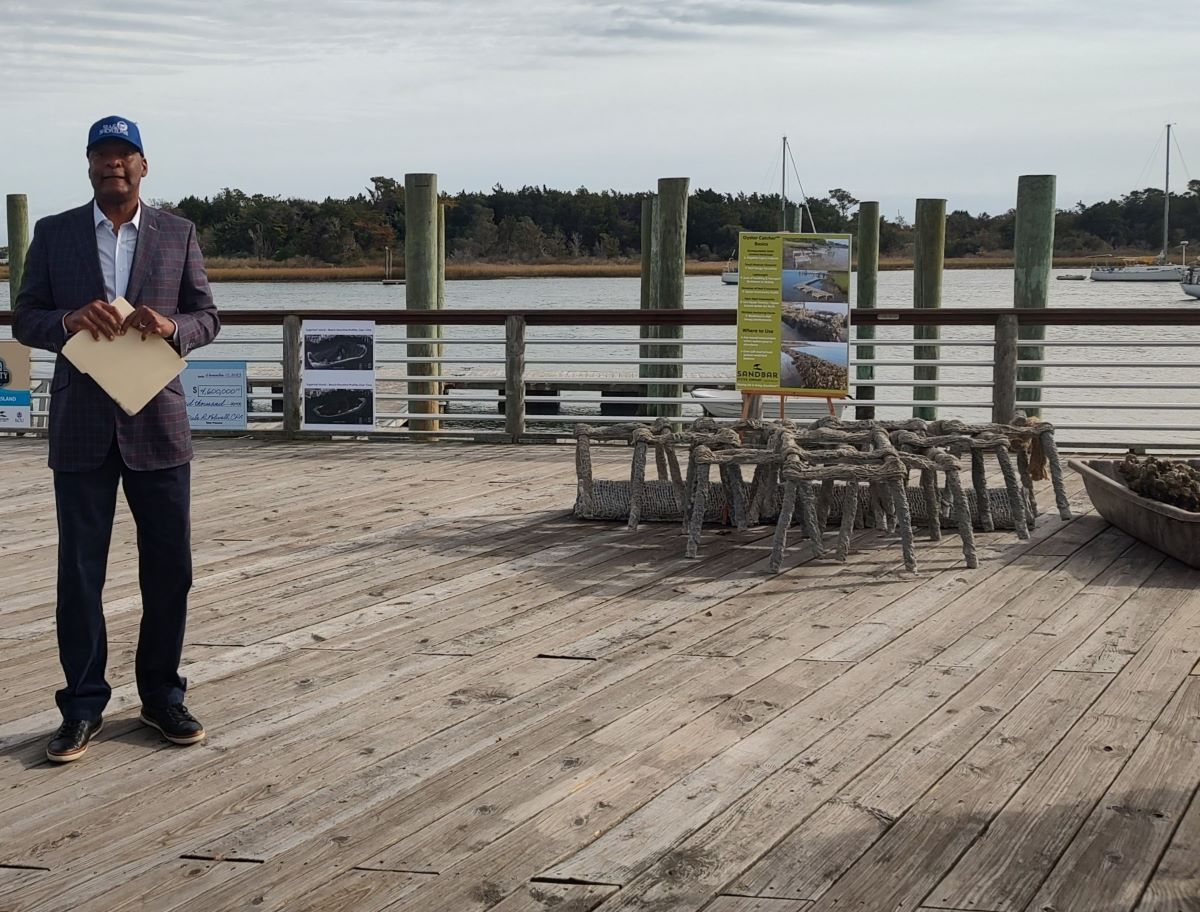 Brian Henry, director of the Sea & Shoreline's North Carolina and South Carolina offices, said state elected officials "saw the vision" to restore the small barrier island.
Henry told attendees to expect Carteret County-based Sandbar Oyster Co. to be deploying soon its oyster tables on the east end of the island. Made of biodegradable hardscape formed in the shape of a table, these are designed to provide a surface for oysters to attach and grow and create an intertidal oyster reef and salt marsh habitat.
Henry continued that Sea & Shoreline has a construction area nearby where 400 of the 1,200 wave attenuation devices for the project have been built. The devices will be deployed from the west side of the island all the way around and leave room for boats to get through.
The concrete triangular structures are 7-foot-tall. The base measures 9 feet on each side. There are six triangular windows on each side, and a small opening on the top, officials said.
"These are the first wave attenuators that have been deployed in this area," he said, adding they're very excited to bring these here.
The devices, which are supposed to withstand hurricane-force winds, are to be placed offshore to diffuse wave energy, help re-form the shoreline via sand accretion, support seagrass growth to enhance water quality, and create essential fish habitat, officials said.
Henry added that the company plans to begin deploying the devices in January and complete work in June.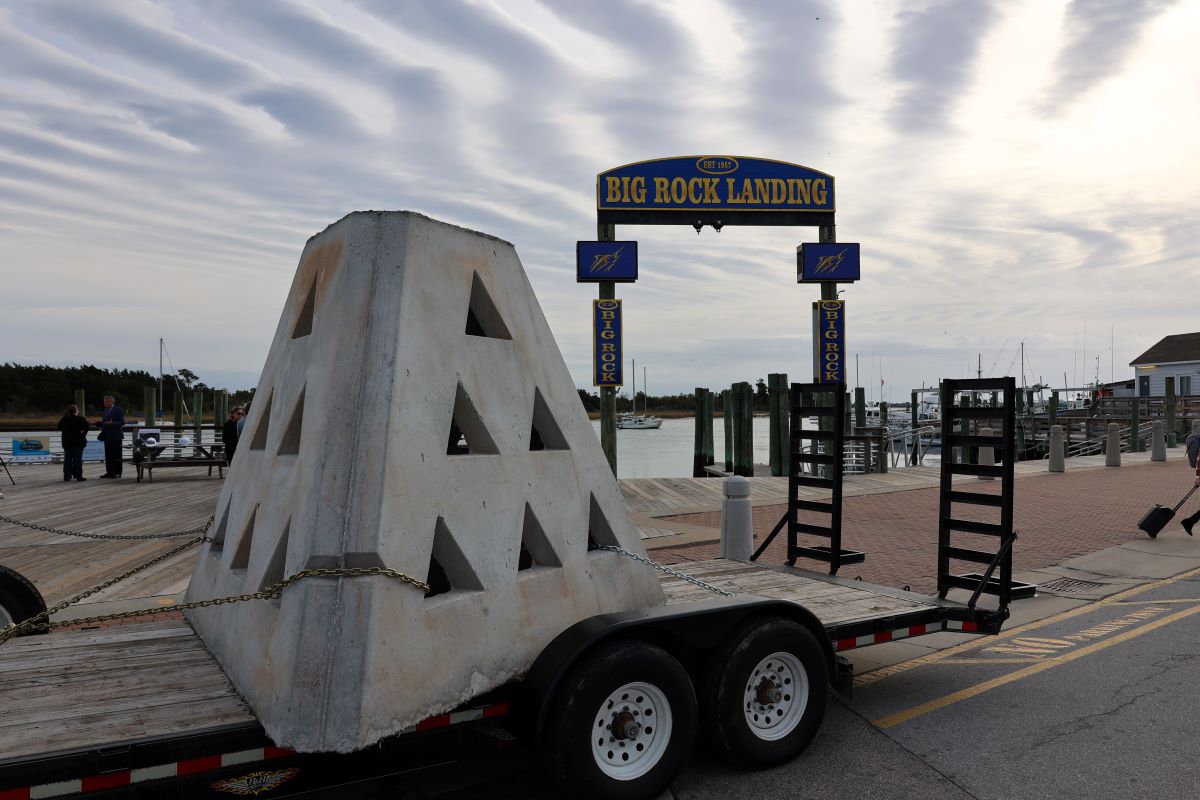 Jones closed the press conference saying that the community was built on legacies.
"We would not be standing here today if it wasn't for the people that came before us. The leadership that came before us. The generations that recognize the beauty that we have here to Morehead City," he said. "We are protecting our legacies, we're protecting the future of Morehead City for future generations because we don't inherit the Earth, we borrow the Earth from our children. And we have a responsibility to protect that for our children for the future and our future generations."
After the press conference, Sanderson told Coastal Review that the project could serve as a model for other communities looking to preserve their at-risk public lands.
"If they don't, then they're missing a great opportunity to preserve what God has given us here and be stewards. We're supposed to be stewards," he said, adding that it's a challenge throughout the year. "We're always fighting Mother Nature."
Cairns added that one of the good things about this project is that everyone is on the same page, whether it's the businesses, community, environmental groups and the city.
"Everybody seems to benefit and I think when people are able to work together, then the project becomes much easier to come to fruition," she said. "Success begets success. So if this project turns out as well as we expect and hope, then other towns will look at it as a model."
Coastal Federation Living Shoreline Program Director Dr. Lexia Weaver told Coastal Review that the nonprofit organization is eager to begin construction and that it will not only stabilize the shoreline of Sugarloaf Island and protect downtown Morehead City, but also restore valuable salt marsh and oyster habitats that have been lost through time.
The Coastal Federation publishes Coastal Review.