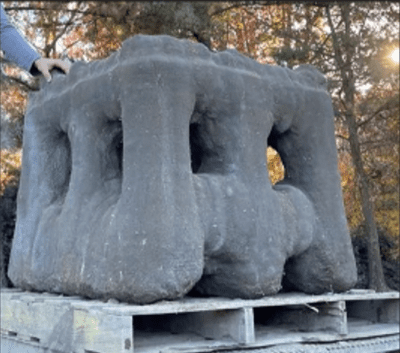 Update Oct. 13: Organizers have rescheduled the deployment of the 15-acre artificial reef into the Pamlico River for 9 a.m. Wednesday, Oct. 18.
Update Monday: Officials announced that because of scheduling change with the transport barge, the deployment of the artificial reef in the Pamlico River initially scheduled for Wednesday has been delayed. A new date for the reef installation will be announced.
Original story:
Officials with state agencies and a recreational fishing group are optimistic that an artificial reef that is to be deployed Wednesday off Hobucken will give the Pamlico River ecosystem a needed boost.
This project is a partnership among the North Carolina Division of Marine Fisheries, the Coastal Conservation Association of North Carolina and Raleigh-based Natrx, which is providing the 3-D printed artificial reef structures called ExoForms that will make up the reef system.
ExoForms "provide refuge for important fish species such as red drum, sheepshead, black drum, striped bass and speckled trout, as well as oysters, mussels, crustaceans, invertebrates and other organisms, promoting biodiversity and vibrancy within the river ecosystem," according to Natrix, the company that designed and printed the product.
The reef to be deployed at 9 a.m. Wednesday will be the second Pamlico River reef project for Natrx, CCA NC and the division in the last 16 months, according to a news release. In May 2022, a similar artificial reef was deployed upstream near the mouth of Bath Creek.
"These reef projects have been supported by popular demand from the local community as well as among sportsmen traveling here," David Sneed, executive director of CCA NC said in a statement. "This project dovetails with local efforts by the state Wildlife Resource Commission to improve access for recreational anglers to this part of the Pamlico which is more remote than other areas of the state with more development."
Natrx produces nature-based "adaptive infrastructure" that is used to enhance coastal sustainability and resilience. The president of the company, Matt Campbell, invented Natrx's dry forming manufacturing process. Campbell is a bio-agricultural and coastal engineer with a doctorate from N.C. State University.
The new 15-acre reef site will be one of 25 artificial reefs in North Carolina maintained by the division. The reef program receives funding from the North Carolina General Assembly, the U.S. Fish and Wildlife Service Sport Fish Restoration Program and the North Carolina Coastal Recreational Fishing License Grant Program.
The deployment Wednesday has made possible by financial contributions from the CCA Building Conservation Trust and Starborough Wine, a New Zealand-based wine brand.
Sneed said in a release from CCA NC that the New Zealand winery, Starborough Wines,owned by E. & J. Gallo Winery, is contributing $25,000 to the project.
E. & J. Gallo Winery Senior Director of Marketing Adrienne Daniels said in the CCA NC release that the Pamlico Sound was chosen for funding "because it's the largest estuarine lagoon in the state and one of the largest in the United States."