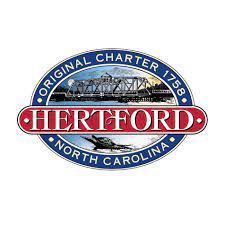 Reprinted from the Daily Advance.
HERTFORD — Hertford town officials are exploring a possible historic district designation for an area in West Hertford.
Hertford Town Council voted unanimously last week to accept a proposal from Landmark Preservation Associates to perform the work needed to secure the designation.
Town Manager Janice Cole recommended the firm based in Lexington, Virginia, to conduct a study in preparation for applying for an official historic district designation.
Landmark's work would cost the town between $24,000 and $26,000, with the final amount to be determined in negotiation with the town. Cole said she had been told to expect a fee of $30,000, so she was pleased with the proposed amount.
Dan Pezzoni of Landmark Preservation Associates states on his website that he "provides architectural history and preservation consulting services" and has done work "from the East Coast to the Mountain West in states as diverse as Nevada and North Carolina, Kansas and West Virginia."
According to the website, the firm's clients include homeowners and municipalities seeking assistance with historic designations like the National Register of Historic Places, which is what the town of Hertford is hiring Landmark Preservation Associates to help with.
Other clients include "business owners planning the rehabilitation of a historic building; historical organizations in need of research and editing for their architectural history; and archaeologists and architects in need of an architectural historian as a team member."
In another matter, the town council approved a preliminary resolution for financing the purchase of a new fire truck.
Cole said the town has been trying to buy a new fire truck and has identified one at a price of $650,000. She recalled that the council had indicated it plans to take half the cost of the truck from fund balance and seek a loan for the remainder.
Fund balance is the town's reserve that is set aside for items such as emergencies and special capital projects.
The N.C. Local Government Commission requires the preliminary resolution as a first step toward approving the town's borrowing of the funds.
Council also voted to accept a $5,000 grant from ElectriCities for tree trimming around utility lines.
Former Councilman Quentin Jackson asked to address the council during public comment but was told he could not do so since he had not signed up before 6 p.m. in accordance with the town's established procedure.
The Daily Advance is a newspaper based in Elizabeth City and serving Chowan, Camden, Currituck, Pasquotank and Perquimans counties. Coastal Review is partnering with The Daily Advance to provide readers with more stories of interest about our coast.