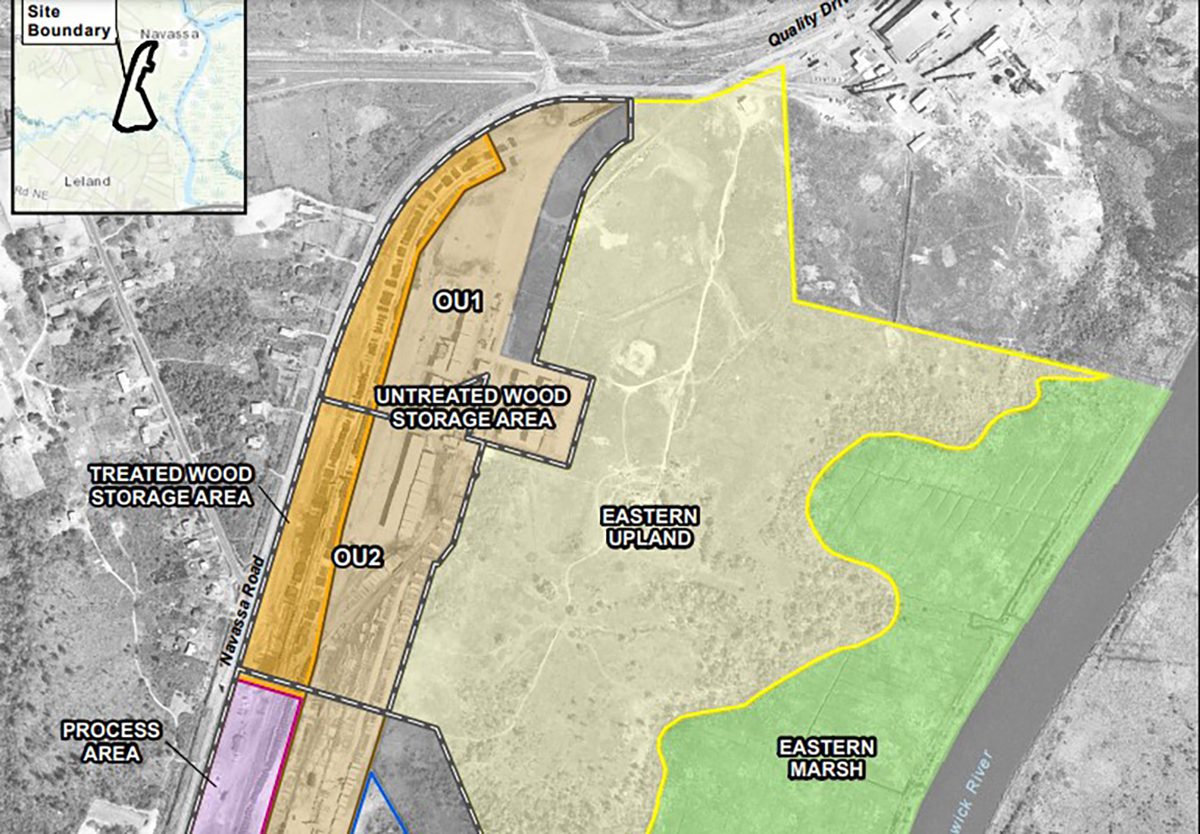 A portion of land that once was the site of a wood treatment plant in Navassa is up for sale.
Claire Woods, Greenfield Environmental Trust Group director of environmental justice policies and programs, announced during a community meeting Tuesday night in Navassa that the bidding process is now open, kicking off a long-awaited move to get some of the land on the market.
"The invitation to bid includes 87 acres," she said to those attending a quarterly meeting hosted by agencies overseeing the remediation and cleanup of the former Kerr-McGee property.
The areas for sale include about half of a 100-acre chunk known as the Eastern Upland, which is contamination-free, and operable units 1 and 2.
Bidders have until Nov. 9 to submit comprehensive development plans explaining in detail how they would use the land.
The property was added to the National Priorities List of federal Superfund sites in 2010 after creosote contamination was discovered in the groundwater, soil and sediment within portions of the 200-acre site. Creosote is a gummy, tar-like substance used to treat wood, including railroad ties and electric utility poles.
The U.S. Environmental Protection Agency divided the site into operable units to distinguish geographic areas within the property, the level of contamination within those areas, and to determine the best course of action in remediating and cleaning those areas.
The EPA removed operable unit 1, or OU1, from the National Priorities List more than a year ago after the more-than-20-acre site was deemed contamination-free and suitable for residential use.
Cleanup efforts will start in the coming weeks within an area of OU2, a unit of about 16 acres where treated and untreated wood were stored during plant operations. The wood treatment plant was closed in the 1970s.
EPA Remedial Project Manager Erik Spalvins said Tuesday that contaminated soil from about 1.6 acres will be excavated from OU2 and moved to OU4, where the soil will be stockpiled for an undetermined amount of time.
He said that removing the contaminated soil will clear the land within OU2 for unrestricted use.
Ngozi Ibe, senior project manager for the Multistate Trust site in Navassa, further detailed the cleanup efforts, saying the work to remove about 2,900 cubic yards of soil from OU2 will likely begin in December.
Trucks will bring in clean soil to backfill the areas excavated in the unit.
Contaminated soil taken to OU4 will be placed in two stockpiles – one that will hold a majority of the excavated soil secured in a geotextile membrane. A separate stockpile of soils containing a higher a concentration of contamination will also be lined and covered, Ibe said. The stockpiles will be regularly monitored.
The Multistate Trust has selected two local contractors to do the work in OU2. Those contractors will, in turn, conduct a community outreach event seeking locals to assist with the work.
Work on OU2 is expected to wrap in March.
The EPA, in consultation with the North Carolina Department of Environmental Quality, oversees the trust, which was court-appointed to own the Superfund site and is responsible for managing the remediation of the property.
As work is done within OU2, officials will be conducting site investigations of operable units 3 and 4.
OU3 includes about 30 acres and consists of marshland. Officials will continue to gather information to assess the condition of the marsh, which will help them determine a remedy for OU3.
"It's a slow process, but it's thorough so, when we finally get the information we're really going to be able to move on that remedy," Ibe said.
OU4 is the pond and process area where chemicals were stored during plant operations. Ibe said additional soil samples will be collected and more monitoring wells will be installed on that site to determine how best to remedy that portion of the site.
About $94.8 million, the result of a court settlement with the prior owners of the site, has been set aside to cover the costs associated with cleaning the land for reuse.
To date, about $23.3 million has been spent on everything from environmental investigations, risk assessments, project planning, operations and maintenance, legal and other accounting costs, beneficiary oversight and community engagement efforts, according to Woods.
Navassa will receive a donation of about 27 acres under a conservation easement. The town plans to build a heritage center on that property and including walking trails and other ecotourism-related amenities.