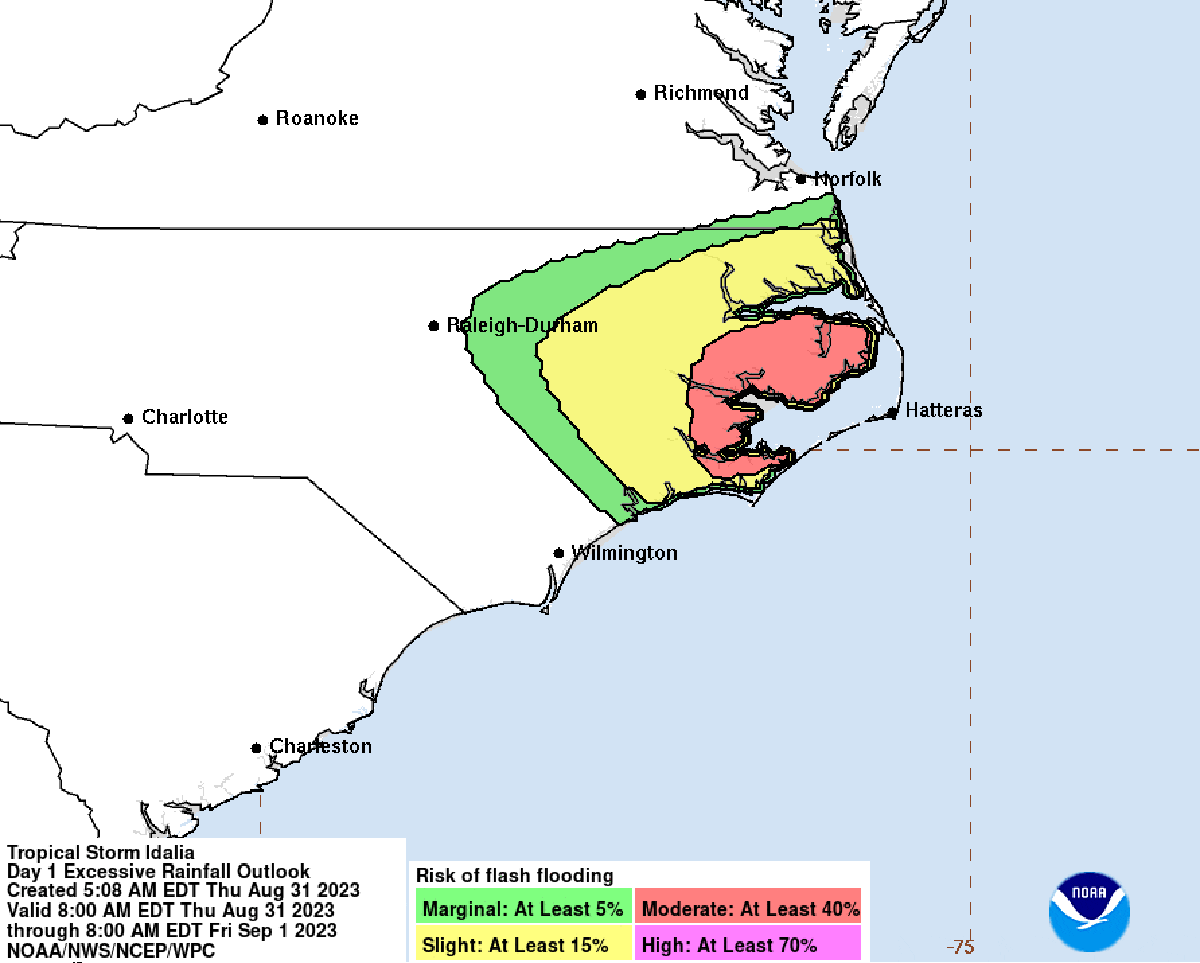 Updated at 9 a.m. Thursday
Eastern North Carolina can still see flash, urban and river flooding as well as coastal flooding from storm surge Thursday as tropical storm conditions continue through the day.
Winds were increasing over Pamlico Sound and the Outer Banks as of the National Hurricane Center's 8 a.m. update.
A tropical storm has maximum sustained winds of 39 to 73 mph. At 5 p.m., National Hurricane Center meteorologists said that as of 8 a.m. Thursday, Idalia's maximum sustained winds were near 60 mph.
Flooding in low-lying areas is likely, especially for areas adjacent to the southern Pamlico Sound including the Neuse, Bay, Pamlico and Pungo rivers.
Dangerous marine conditions are expected across coastal waters.
At 8 a.m. Thursday, the center of Tropical Storm Idalia was near latitude 33.7 degrees north, longitude 77.0 degrees west, or about 65 miles southeast of Wilmington and 135 miles southwest of Cape Hatteras. Idalia was moving toward the east-northeast near 20 mph, and this general motion was expected to continue Thursday morning. A generally eastward motion is forecast to begin Thursday and continue through Saturday.
Forecasters said the center of Idalia will track just offshore of the coast of North Carolina
Thursday and then move over the western Atlantic into the weekend.
Tropical-storm-force winds extend outward up to 185 miles from the center.
A tropical storm warning extends from the central east coast of Florida to the North Carolina-Virginia state line, including Pamlico and Albemarle sounds.
The storm surge watch is in effect for Beaufort Inlet to Ocracoke Inlet and the Neuse and Pamlico rivers. This means there is a danger of life-threatening inundation from rising water moving inland.
Storm surge of 2 to 4 feet is likely for the Neuse, Bay, Pamlico, Pungo rivers and waters from Beaufort Inlet to Ocracoke Inlet. Areas south of Beaufort Inlet and north of Ocracoke Inlet to Duck can expect 1 to 3 feet of storm surge.
Storm-related closures
The North Carolina Aquarium at Fort Fisher will be closed to the public on Thursday and plans to reopen Friday.
Cape Lookout National Seashore said it will temporarily close all public access facilities Thursday and the closure may continue through Friday, depending on conditions.
All facilities at Cape Hatteras National Seashore, Fort Raleigh National Historic Site and Wright Brothers National Memorial will be closed Thursday. Once post-storm assessments are completed, facilities at the three parks will reopen to the public, staff said.
As of 7 a.m. Wednesday, the North Carolina Port of Wilmington was closed to inbound maritime traffic greater than 500 gross tons without permission from the captain of the port and the Port of Morehead City was closed at 11 a.m. All port operations were expected to be suspended at both ports Wednesday evening.
North Carolina Department of Transportation's Ferry Division announced Wednesday that most routes will be suspended Thursday and will resume once it is safe.
Service has been suspended for for the Southport-Fort Fisher, Cherry Branch-Minnesott Beach, Bayview-Aurora, Cedar Island-Ocracoke and Swan Quarter-Ocracoke ferry routes.
For the Hatteras-Ocracoke route, service will be suspended after the 4:30 a.m. Thursday departure from Ocracoke. Officials will assess conditions in the morning to determine if service is possible for the Currituck-Knotts Island ferry route.