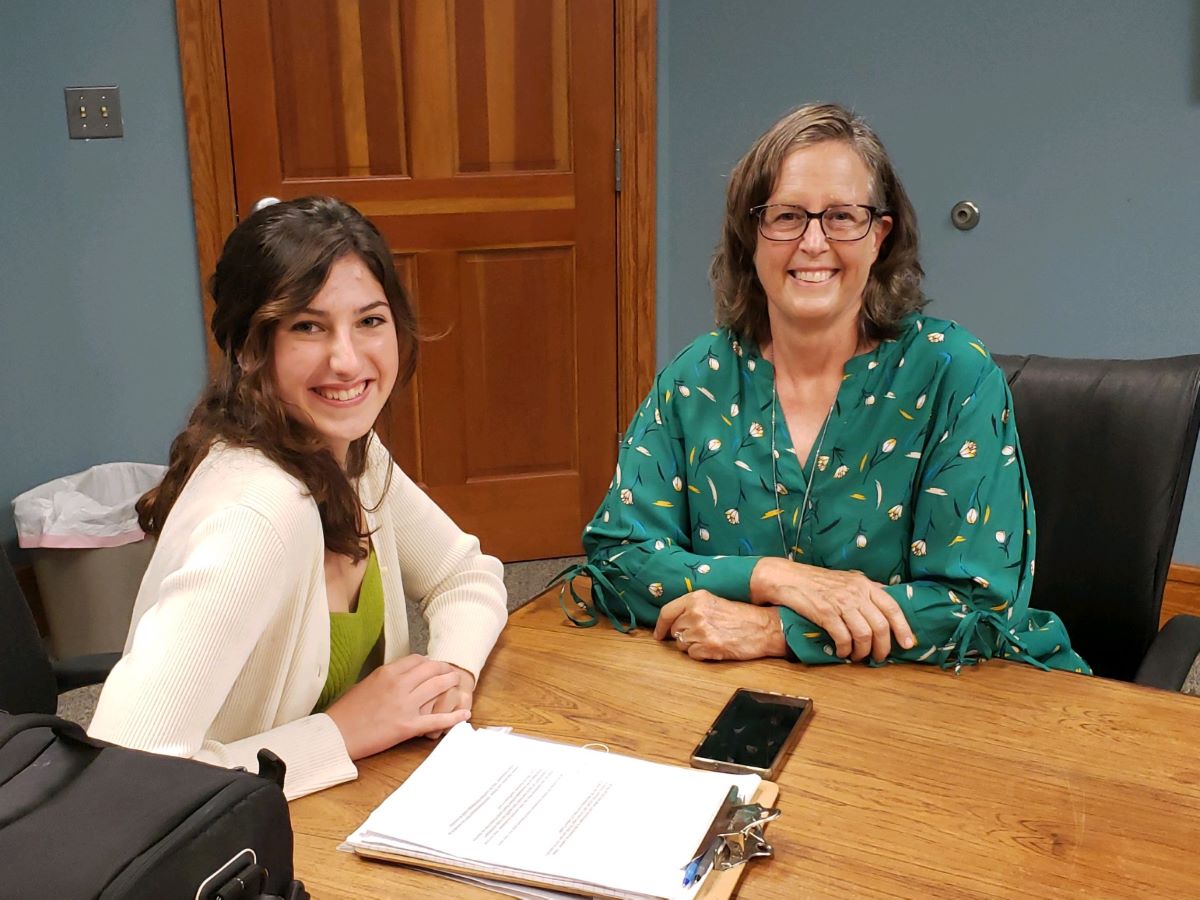 Tara Hinton, a rising junior at University of North Carolina Chapel Hill, spent her summer in the archives room of Core Sound Waterfowl Museum and Heritage Center on Harkers Island listening to hours and hours of recorded oral histories for quotes about the environment and change.
Funded through the university's Office of Undergraduate Research's accelerated research program, Hinton told Coastal Review that she is working on a two-part project that began with mining the archives at the museum.
"We have hundreds of oral histories in here and a lot of them haven't been transcribed," she said on a recent sunny afternoon in the archives room, which is tucked away in the museum's library.
"That's the first part of my job, mining through those to look for evidence of environmental change, because they are great historical and cultural records," she said. "But they also have a treasure trove of scientific knowledge. I found a couple of quotes on the impact of Hurricane Floyd on the fisheries. In 1999, a lot of the crabs were wiped out and the crabbing wasn't good because you had all this runoff."
There were scientific papers published on the storm's impact on the crab industry, but those papers came out about five years later. "That knowledge was there in 1999," she said, adding there's so much that you can actually find if you look locally.
Hinton is listening to the National Oceanic Atmospheric Administration's Local Fisheries Knowledge Pilot Project, as well, which she described as a collection of oral histories with local fishers about changes that they were seeing. "Some of the richest stuff that I've been getting has been from fishers in this NOAA project. There's been a lot of change."
For the second part of the project, she interviewed community members about the environmental changes they've observed. She had eight interviews, a few of them with couples.
"I think climate change is a global issue, but there's not a whole lot of local narratives about it," she said. "I think the important part of getting those local perspectives is that you get a finer-scale view of the changes that are going on."
During the interviews she asked about their background, everyday changes related to environmental factors they've observed, such as the daily and long-term impacts of every day flooding, about ghost forests, recovery and adaptation since Hurricane Florence hit in 2018, the role of Down East churches in that recovery, and what those in the fisheries industry have observed, because "you get that immediate perspective, especially with fish ranges changing with climate change."
Some of the main lessons coming out of the interviews, Hinton said, are that climate change is felt most by the people who are already economically, physically and socially disadvantaged, and access to local community resources, like the Carteret Long Term Recovery Alliance, drastically impacted recovery times after Hurricane Florence, with those not having access to those resources having the longest recovery times. The alliance provides assistance to survivors who sustained damage or loss as a result of a disaster affecting the Carteret County area.
One thing she observed during the interviews is that recovery means something different to everyone impacted by Florence. "Some people feel like they have their lives back together, while others are still struggling to regain a sense of stability."
Another interesting thing coming out of the interviews is everyday adaptations, Hinton continued. "Whether it's a high-rise chicken coop, a detachable birdhouse, or putting in a workspace below a newly raised house, everyone seems to find their own unique ways to adapt to storm events and recurrent flooding. Every day I am blown away by the strength and resourcefulness of Down East communities."
She interviewed Robbie Phillips, past disaster recovery director for the Carteret Long Term Recovery Alliance. This was the second interview for Phillips by the museum. The first was not long after Florence.
Phillips said a lot has changed since that first interview.
"I wanted to document the changes and how much I've learned over the years working in storm recovery. I also think it's a great idea to document the stories about the disaster experience of individuals. The stories show how a community works together in difficult times," she said. The stories show how God can work and inspire people in these times as well. It's a great project to capture this type of work."
Phillips hopes that her interview will help raise awareness about the unequal and unjust disaster recovery process across the economic divide. "Those with more financial resources recover quicker, better and with far less hassle, particularly with insurance companies."
Phillips said she also hopes this project and her input will help encourage conversations about appropriate housing for the workforce.
"A community's health can be measured by the way we take care of the less fortunate and our workforce. It would be beautiful to see those with more resources being put to the end of the line for insurance settlements, contract labor, work teams," Phillips said. "We need to learn to see through the lens of those who suffer more in a disaster and recovery and work to relieve their suffering first. That's what the Carteret Long Term Recovery Alliance has tried to do. The elderly, the poor, families with special needs children in them, and families with children in them get resources and help first. We have it backwards in this country."
Hinton plans to work on this project through the next school year. Long term, she intends to create a living, digital archive of these quotes that can be accessed online.
"I think the main goal is to document how people Down East are seeing and understand climate change. And then to do more rigorous research on oral histories that have already been done. But ultimately, it's to make the story of climate change relevant to people here. And maybe get hopefully give them more tools to, to like, address climate change at a local level," she said.
Hinton headed back home to the mountains this past weekend, before the fall semester starts at Chapel Hill, where she is currently majoring in environmental studies with a minor in statistics.
From Sylva, she heard about the museum from her neighbor Rob Young, director of the Program for the Study of Developed Shorelines at Western Carolina University in Cullowhee. He connected Hinton with the museum's executive director, Karen Willis Amspacher, who welcomed Hinton on board. She began the research project in early June.
Amspacher told Coastal Review that Hinton has done a great job of going through the oral history collection to identify references to environmental change that people have been talking about for the last 20 to 30 years, especially the fishing for fishermen.
"We have a ton of fishing interviews that were done for different projects. She's listening to pick up on the references to change in the temperature in the water, change grass beds, changing in the landscape, plus she's doing interviews with people of all ages to learn more about what they're seeing as environmental change," Amspacher said.
"She's so gentle about it, she understands the connection between the culture and the environment," Amspacher continued, adding she has the right approach, and she's knowledgeable of the subject. "We're planning to continue to work with her through the school year and hopefully next summer again."
Amspacher said the research will go into the museum's collection, and will use quotes Hinton collected for an exhibition.
"We'll be using the full transcriptions to inform researchers who are coming here trying to understand how people are reacting or responding to ghost forests or more frequent flooding. We plan to use it in a multitude of ways," she said.