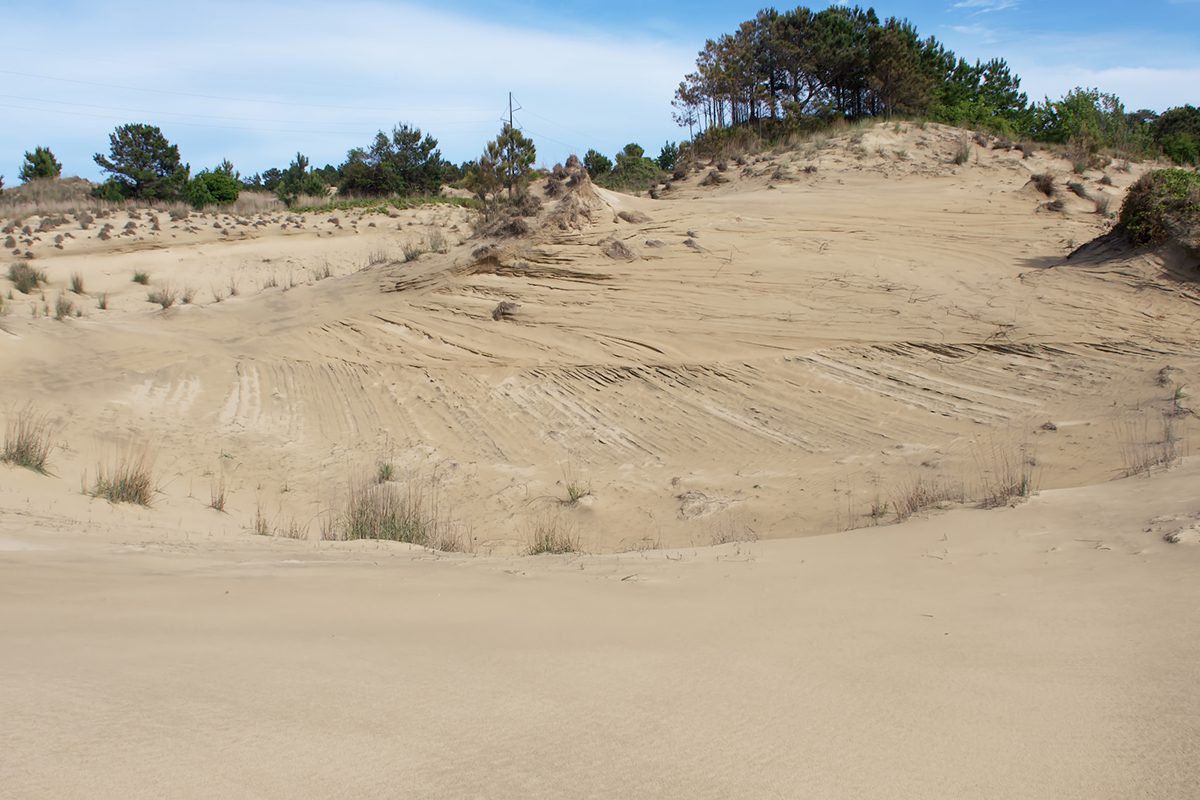 In the spring of 1890, journalist John Randolph Spears made plans to visit Cape Hatteras on the Outer Banks of North Carolina, one of the most isolated and dangerous stretches of coastline in America. For Spears, the Outer Banks loomed as a forbidding geography blackened by fog, lashing waves, and fitful winds, a place where pirates and grubby sea captains battled the elements and over 500 ships had been lost along the boils and shoals scuttling the legendary Cape's angry waters.
Why go there at all? For the 40-year-old Spears, the answer was obvious: He craved adventure. As a reporter for The New York Sun and Scribner's Magazine, Spears had covered the Spanish-American war in Cuba, boated down the Amazon River in Brazil, and wandered the bottom of the world in Patagonia. Now, he hoped to document the otherworldly sand waves of Hatteras — giant mountains of snow-white sand migrating across Hatteras Island from the Atlantic Ocean to the Pamlico Sound.
Spears found the idea of the sand waves hallucinatory and thought the readers would share his fascination. Some of the waves were said to be as tall as skyscrapers. Others were moody and fitful, rolling over yaupon and live oaks, burying maritime forests, turning ridges into mountains.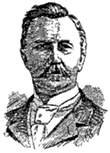 The mysterious waves were the work of the ever-present wind pulsing across the lower Banks. Indeed, the swirls, gusts, and hurricane-force gales — wet from the east, dry and brittle from the west, baking hot from the south, frigid and gray from the north — defined life there, sculpting the desolate and ethereal beaches, bending trees in half, battering flimsy cottages.
Spears assumed the sand waves were a broken thread in the grand design of how the physical world works. But he couldn't say how or why, and apparently that bothered him. He needed to see for himself.
But first he had to get there, no small undertaking given the isolated geography. Cape Hatteras was far from the nearest mainland town of any consequence. There were no roads or bridges. The only way across was by open boat and the trip was dangerous and long.
Spears's had grown up in Van Wert, Ohio, a small town originally known as the Black Swamp because of its boggy ground, mud, and malaria. He had worked his way up from a series of no-name local newspapers to The Sun, where he specialized in writing features about far-flung places. Spears had read a line or two about the sand waves of Hatteras and sensed a good story. So, off he went early on a Monday in May, traveling by rail to Norfolk, then securing a berth on the steamer Manteo, which chugged up the south branch of the Elizabeth River, through the recently dug Chesapeake and Albemarle Canal, down the North Landing River, and finally across the shallow, brackish Currituck Sound until he landed at a rickety dock in Manteo, the political seat of Dare County, and then one of the poorest counties in North Carolina.
The town was already shuttered for the evening but Spears managed to find a bed in a local boarding house. He wasn't nearly as lucky, however, finding a ride to Hatteras, unable to book passage on a mail boat until the following Thursday. It was a 25-mile journey from Manteo to the village of Chicamacomico (now Rodanthe). The captain was a "broad-shouldered, deep-chested" man named J. Clifford Bowser, with "a new-moon mouth, keen eyes, and a most genial temper," who gleefully laughed as chop and froth "whooped after them." His boat, the Shad Pilot, was a mighty dugout canoe, 27-feet long, 7 feet wide, and 3 1/2 feet deep. It was cut from two giant cedar trees and halved together with nails and glue, and known locally as a cunner. The ride across took seven and one-half hours. Not that Spears complained. It was adventure he craved. And at 75 cents, the long boat ride was a bargain.
Spears waded ashore in Chicamacomico and found his way to a weather-beaten shack that served as the Post Office. He assumed he must be close to Cape Hatteras and asked where he might see the giant mountains of moving sand. A thin young man "with a thin, yellowish face, yellowish white hair, a yellowish white little mustache, and watery blue eyes" eyed Spears suspiciously. "Whar from?" he asked. "New York," answered Spears. At which the man shook his head and repeated his question. It finally occurred to Spears that he meant his destination, and he replied, "Cape Hatteras."
An hour or so later, Spears was back aboard the dugout dodging wind and waves as Capt. Bowser navigated the inner waters to Kinnakeet (now Avon). He spent the night there in an unpainted shack scattered amid sound side woods and a tumbledown windmill, and then hitched a ride on a passing mail boat that finally delivered him to Cape Hatteras. It was 10 o'clock at night on Friday and he had been traveling for nearly a week.
---
The next morning Spears began hiking north along the beach. The wind was warm and wet, the Atlantic a great sprawl of blue-white foam and waves. He had been hiking an hour or two when he observed a "mammoth wave of sand that towers aloft like a sea-wave, even curling in places like a huge breaker," tumbling and rolling across the low dunes, as though some wild animal waiting to pounce.
Later, he would write that sand waves extended at least 30 miles, to Kinnakeet in the north, and as far south as Buxton, where the famed lighthouse stood sentinel over the rioting ocean. Spears was no scientist, let alone a geologist, but that didn't stop him from speculating. Once upon a time, he informed his readers, the entire Outer Banks had been lushly carpeted with forest that anchored the sand in place. However, over decades fishermen and farmers had cut the forest to build houses and boats, and had freely grazed cattle, sheep and pigs up and down the Banks, denuding the landscape and allowing sand to blow freely across the island and form giant heaps.
The speed of the sand waves was increasing each year, Spears continued, and was now "on a mission of death. Foot by foot, yard by yard, rod by rod [as] the wave traveled inland."
Now, the end was near, Spears warned. "There is as yet no family homeless, but a number of families find the surf from the deadly sand-wave beating at their doors." Oddly, the humble Bankers appeared indifferent to their fate, Spears observed. Perhaps it was because death always seemed near on the Banks. So many had been lost to the crushing sea, fevers, and the frigid cold of winter. Doctors were hours away and there were no roads to get to them in any event. So far removed from ordinary life, who would save them?
The more Spears wrote, the more his mood darkened. Soon, he concluded, the entire island north of the Cape – the 60 miles or so of Hatteras Island — would be "uninhabitable," its people "left to wander Ishmael-like.
"Steadily, stealthily, onward creeps the relentless wave," the journalist concluded, "and calmly, idly waiting, these people accept their doom."
---
It made for a riveting yarn. Yet much of what Spears told his readers was incomplete or wrong. True, sand waves had buried cottages but not scores as Spears asserted. Nor did the towering mountains of sand make Hatteras Island a vast wasteland. As anyone who has driven N.C. Highway 12 from Kitty Hawk to Cape Hatteras knows, the Outer Banks are now a destination for millions of vacationers and dotted with thousands of houses and businesses worth billions of dollars.
So, what happened? How did Spears get it so wrong? One explanation is that Spears assumed that the barrier islands had once been fixed in place – a lush paradise of forests and woods that anchored the sand in place. What scientists now understand is that the opposite is true. The Outer Banks are, by definition, unstable, a highly dynamic chain of low-lying islands that are always moving, re-sculpting themselves, grain by grain, eroding here, adding sand there, a forest now, a desert later, retreating and advancing in a cyclical dance as water approaches and falls away.
Millions of years earlier, in what scientists refer to as the Quaternary Period, the North Carolina coast was alternately buried under water as sea levels rose, or nearly dry as glaciers captured water in ice and sea levels dropped precipitously. The shoreline shifted along with the water levels. One million years ago the sea was over 400 feet higher than today and the North Carolina shoreline reached miles inland. Then, during the last glacial maximum, or little ice age, about 17,000 years ago, the shoreline receded so far seaward it extended to the continental shelf, about 50 miles east of where it stands today.
The only constant in this dynamic interplay is change, explains Stanley Riggs, one of North Carolina's best-known coastal scientists. "The North Carolina coast is a work in progress. It is always evolving and subject to great energy transfers in storms. All it takes is one big storm to reshape an entire island. And despite what some people think, there is no way to hold the line."
Even as John Randolph Spears worried about sand waves swallowing the Cape and its inhabitants, the sea was rising, steadily gobbling massive chunks of sand and ferrying it down the coast, through inlets that regularly opened and closed, or out to sea, where it formed treacherous deltas and shoals. As Mike Bryant, the former manager of the Pea Island Wildlife Refuge told me, "There isn't a single grain of sand on the Outer Banks in the same place today as yesterday – let alone epochs, centuries, or even minutes ago."
In this sense, sand waves were a normal, even predictable, feature of the Outer Banks, not an aberration as Spears assumed. For as long as the Banks have existed, sand has migrated from ocean to sound. It is part of how barrier islands adapt to rising seas and flood waters, and ever so slowly inch their way to the west, toward the mainland. Never stable, always in motion.
Locals put names to the hills and hammocks. There is Penny's Hill, north of Corolla, and Run Hill and the Seven Sisters, near Nags Head. In the 1990s, scientists used handheld radars to date several of the sand waves. They discovered that some were over 1,000 years old, while others were hundreds of years old, still others barely a few years old.
Jockey's Ridge, probably the best-known sand wave on the Outer Banks, was once a staggering 150 feet tall, maps reveal, but now is only about one-third of its former height. Is that because of tourists trampling the dunes? Wind pushing the ridge to the south? Perhaps. But natural forces are also in conflict with man-made ones. Oceanfront development in Nags Head "cuts off the supply of sand from reaching the middle of the island," Stan Riggs explained. "So, the sand doesn't get to the dune anymore. It is sand-starved."