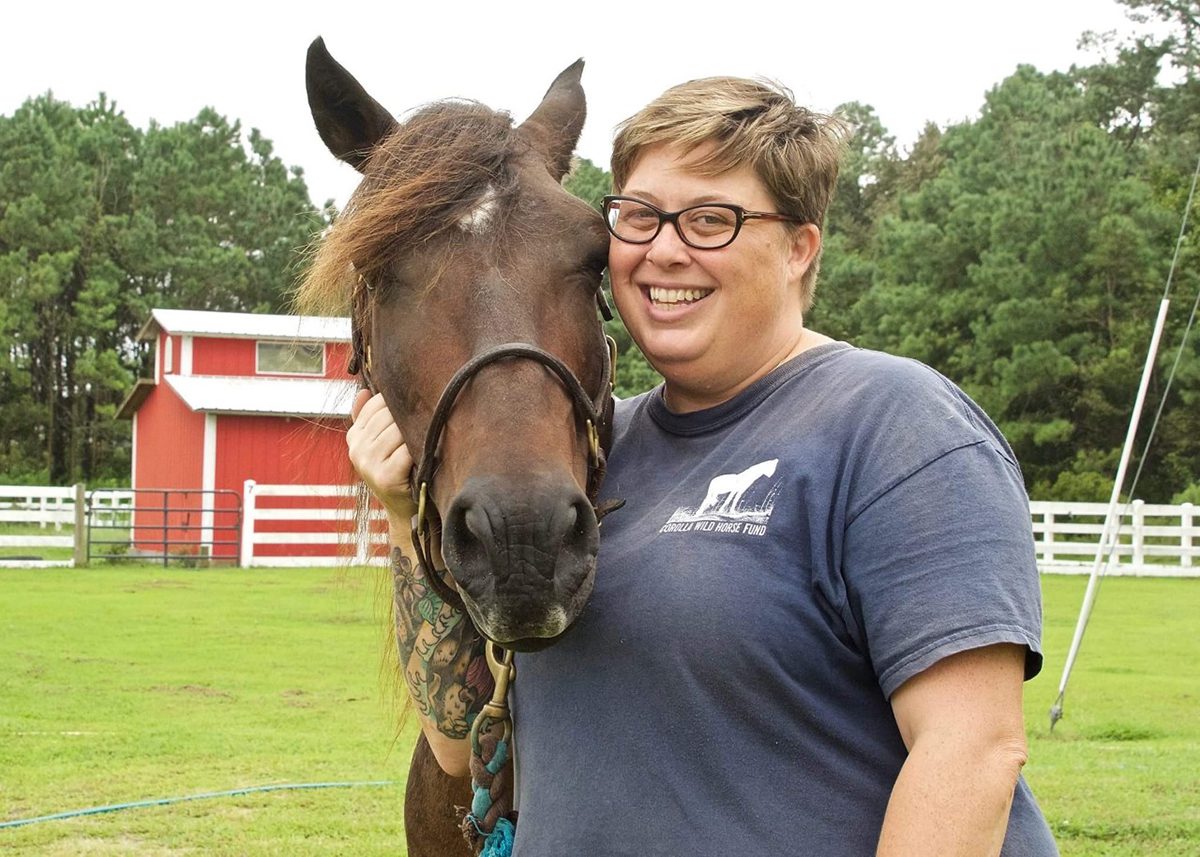 In 1860, Edmund Ruffin described the Corolla wild horses, the Banker horses, in his book, "Sketches of Lower North Carolina, and the Similar Adjacent Lands," in unflattering language.
"These horses are all of small size, with rough and shaggy coats, and long manes. They are generally ugly," he wrote.
Ruffin's description is apt: The Corolla horses are small, and they tend to have rough, shaggy coats and long manes. Beautiful and ugly are in the eyes of the beholder, but even Meg Puckett, herd manager for the Corolla Wild Horse Fund, agrees they are not show animals.
"Some of them are, we call them marshy, swampy ones. But those are the ones that survive, and they look like that way for a reason," she said.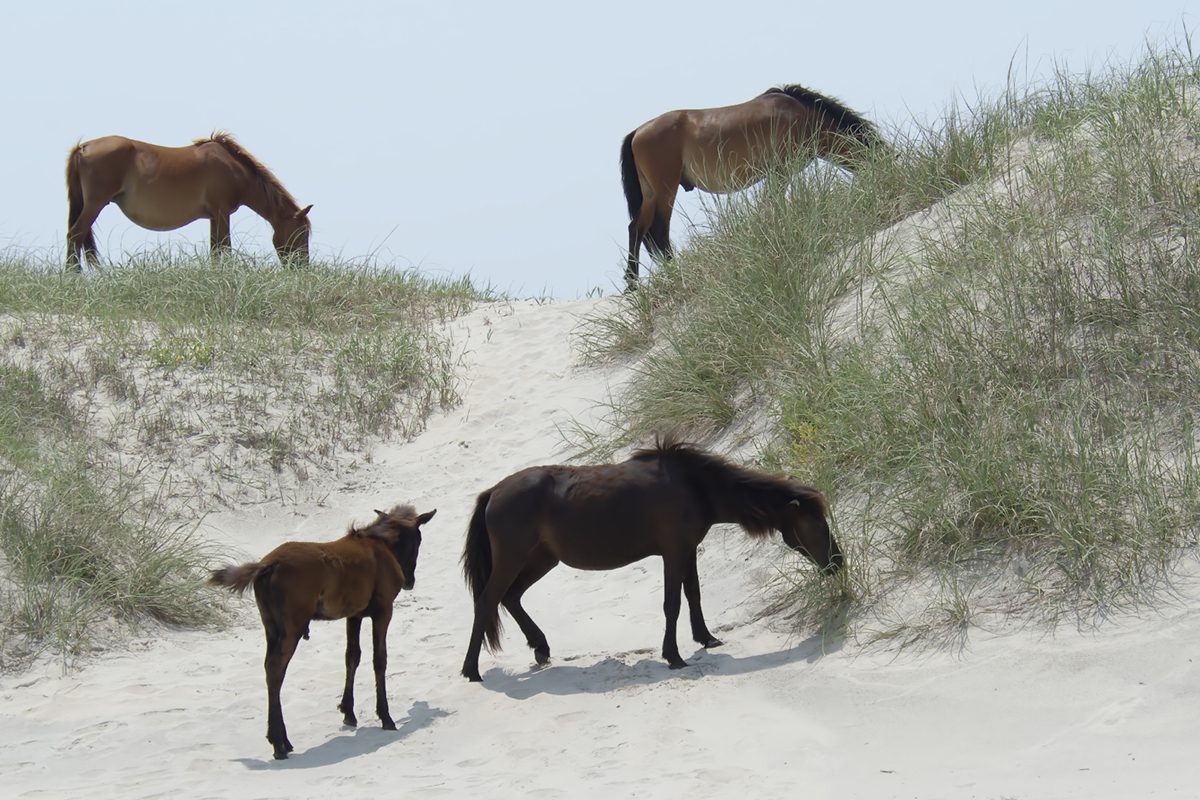 The Corolla Wild Horse Fund is the horses' protector.
The Corolla wild horses are feral animals, a species that has been introduced into an environment and is not native to it. They are certainly horses, but their behavior has little in common with domestic horses, something Puckett knows from experience.
"I've had domestic horses my whole life," she said. "And they're so different. The way they think, the way they behave, just everything. Nothing is the same."
How or when they first came to coastal North Carolina is unknown. Genetic testing has shown a direct link between the Corolla herd and the mustangs of the Conquistadors, although there are other genetic influences in their makeup.
Whatever their origins may have been, the Banker horses long thrived. Writing for the National Geographic in 1926, Melville Charter estimated that, "Between 5,000 and 6,000 of these wild horses roam the sandy banks of the North Carolina coast …"
After the 1920s, however, the population plummeted. The U.S. Fish & Wildlife Service, which was worried that the herd would compete with migratory waterfowl for resources when it established the Pea Island National Wildlife Refuge in 1938, placed a bounty on the horses.
Other factors, including a change in North Carolina open range laws that required the once free ranging horses to be penned, also contributed to a steep decline in the population.
The last remnants of that herd now live on the Shackelford Banks on Onslow Bay or Carova, the area that stretches 11 miles north of Corolla to the Virginia state line. Carova is an area with no paved roads, although large vacation homes dot the landscape.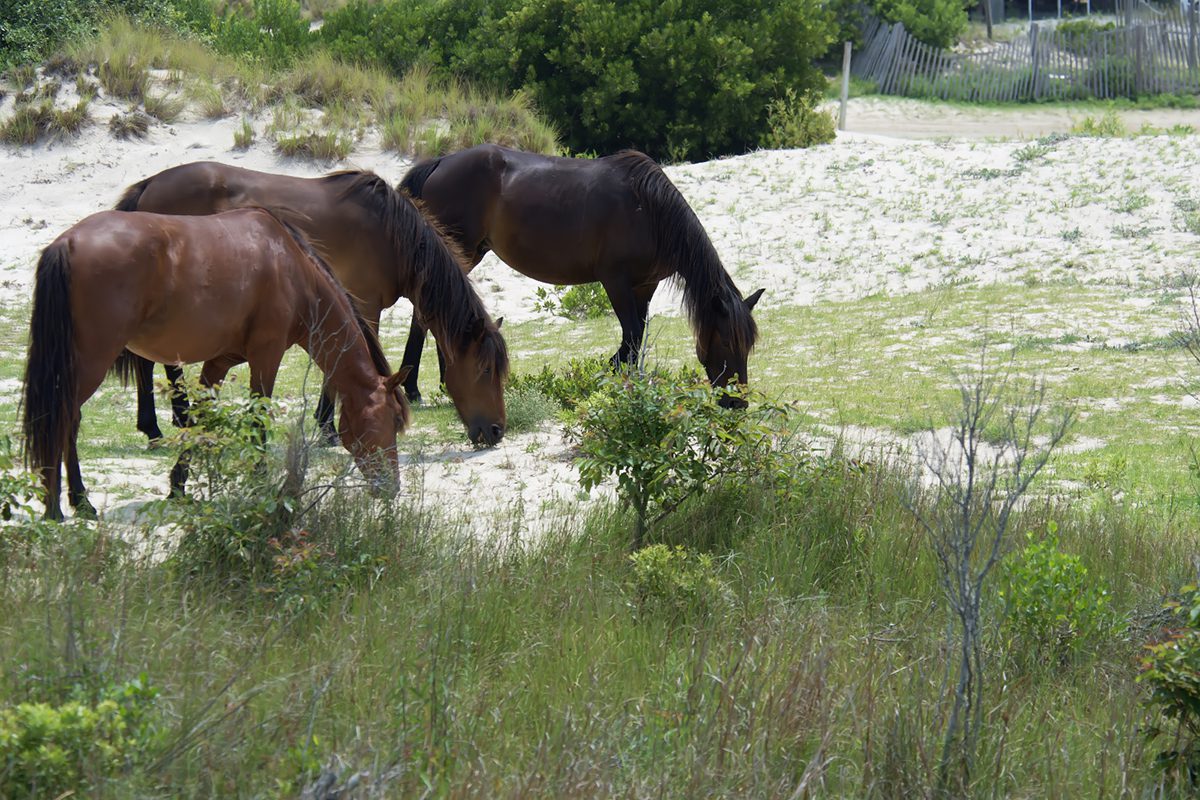 A landrace breed
Banker horses have adapted to their environment. More than 160 years ago, Ruffin noted that the herd could survive where other breeds would die.
"To introduce horses of more noble race … if turned loose here, would scarcely live through either the plague of blood-sucking insects of the first summer, or the severe privations of the first winter," he wrote.
The ability of the horses to survive in an environment that would most likely kill other breeds differentiates the Banker horses.
"They are considered a landrace breed, which means that they are a breed that has developed in a specific region and has developed adaptations, physical and behavioral adaptations, based on where they live," Puckett said. "That sets them apart, regardless of anything else. And that's what makes them Banker horses and culturally significant."
It's a hot and humid day on the Carova beach north of Corolla. On the dunes lining the beach, there is a small harem, a stallion, two mares, and a colt grazing on the sea oats.
The sea oats and other grasses that grow in the dunes are part of their adaptation. Puckett points out that what grows in the sandy soil of Carova would not sustain a domestic horse.
"They couldn't process it and it also wouldn't be enough calories," she said. "That's the big thing with these horses, they just do not need the calories."
The reverse is also true — the Corolla horse cannot process the nutrient-rich grass that most horses eat. As development continues in the Carova area, some homeowners have planted grass. For the horse, it's another place to graze, but Puckett notes, "that green grass is not that great for them."
There are times a horse must be removed from the herd, usually to save its life, and after recovery from an injury or illness, the animal cannot go back to the wild. The Corolla Wild Horse Fund has a 10-acre farm where rescued horses are placed.
"You can't put them out in the pasture at first because it's just too much. They go out in the dirt paddock … because the grass will kill them," Puckett said.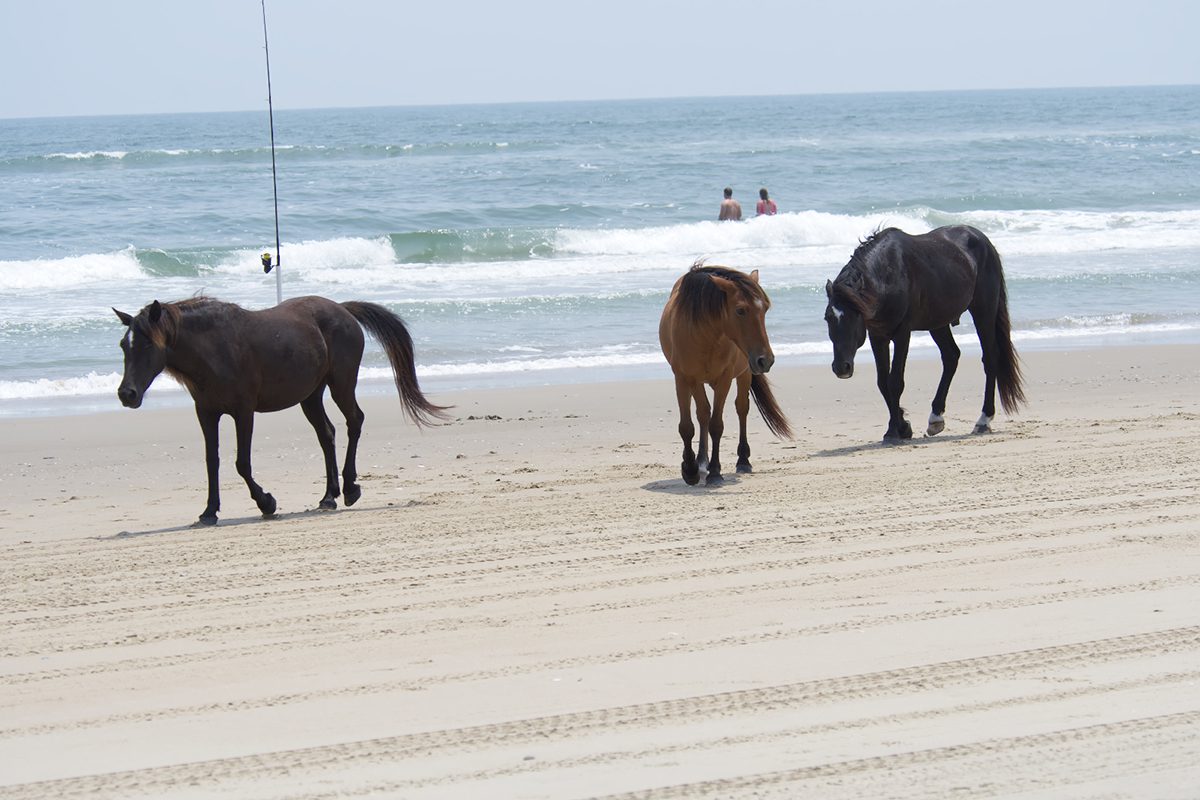 Managing the herd
Because a significant portion of the land where the horses roam is in the Currituck National Wildlife Refuge, the size of the herd is limited to 130 horses by a management agreement with U.S. Fish and Wildlife. Puckett said the current population is 101, although there could be some uncounted animals in the marsh islands on the north end of Currituck Sound.
Recently a mare and her foal were added to the herd, and Puckett, who has named well over half the herd and knows them all by sight, is certain the pair had not been seen in the past.
"The mother of this foal has a very distinctive marking on her face, so I am positive that she's not in our file," she said.
That illustrates how difficult it is to get an accurate count of the herd.
"From what we've seen, there were five total out on that island. But you know, the horses go back and forth between those islands all the time," she said.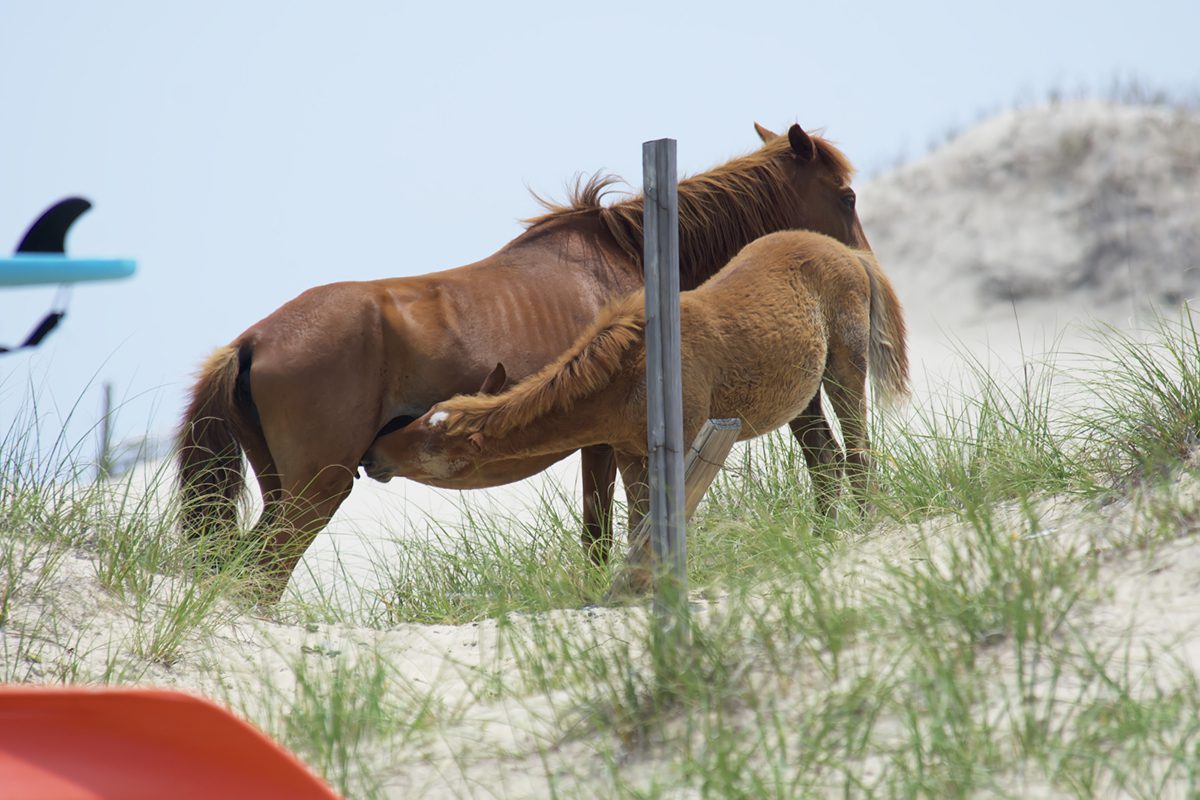 Difficult decisions
The Corolla Wild Horse Fund has two goals with the herd, and Puckett said the two objectives can be at odds with each other at times.
"Managing a population of wild animals and also managing breed conservation do not always go hand in hand," she said. "Not only are we trying to allow a wild population of animals to stay here and remain wild, but we have to make sure that they can do that. We have such a small population that every individual is critically so important that we can't afford to lose them. So, at what point do you step in? And at what point do you let nature take its course? And it can be tricky."
Puckett said the horses can survive injuries that a domestic horse does not encounter, such as after a fight between stallions.
"They can survive injuries and issues that a domestic horse would just lay down and die. You'll have a stallion with a neck bite or something like that, but they're tough. It's very, very rare that you need to intervene when it comes to natural injuries. My general rule of thumb is, if something happened to it naturally, I'm not messing with it. It doesn't need me giving antibiotics. That's a part of life for these horses," Puckett said.
There are injuries and diseases in which a horse must be treated, and sometimes difficult decisions must be made.
Equine pythiosis is almost always fatal to a horse if untreated. Sometimes called swamp cancer, the pathogen that causes it is Pythium insidiosum.
The Louisiana State University Ag Center website describes the disease as, "traditionally thought of as an aquatic fungi or water mold and typically occurs in wetland conditions."
It begins at a small cut. The wound does not heal and develops into tumor-like lesions. Over time, the pathogen will infect the animal's entire system, eventually killing it.
Since 2020, there have been four cases of the disease among the Corolla herd …
"… that we know of," Puckett stressed.
The first case that was detected illustrates the often-difficult decisions that must be made balancing herd management and breed conservation.
"The first mare that got it, she had just had a foal. So we said, 'Alright, this is fatal, but it's not immediately fatal.' The quality of life really doesn't begin to deteriorate right away," she said.
The options were to take the mare in for treatment immediately at the North Carolina State University College for Veterinary Medicine or allow her to raise her colt.
Although quality of life for the mare was not yet affected, Puckett and the vets who were aware of the situation decided the disease was too far advanced for a successful outcome. But, if they pulled the mare from herd before the colt was weaned, the colt would also have to be taken from the herd and raised at the farm.
"The chances of us being able to save her at this point were pretty slim," Puckett explained. "We've now lost her and the foal from the herd, or we can leave her here, let her raise him and then next year when he's old enough, we'll take her and see what we can do about treating her. That's what we decided to do. She unfortunately did not survive."
"But the colt is still here. He has a harem of his own now," she added.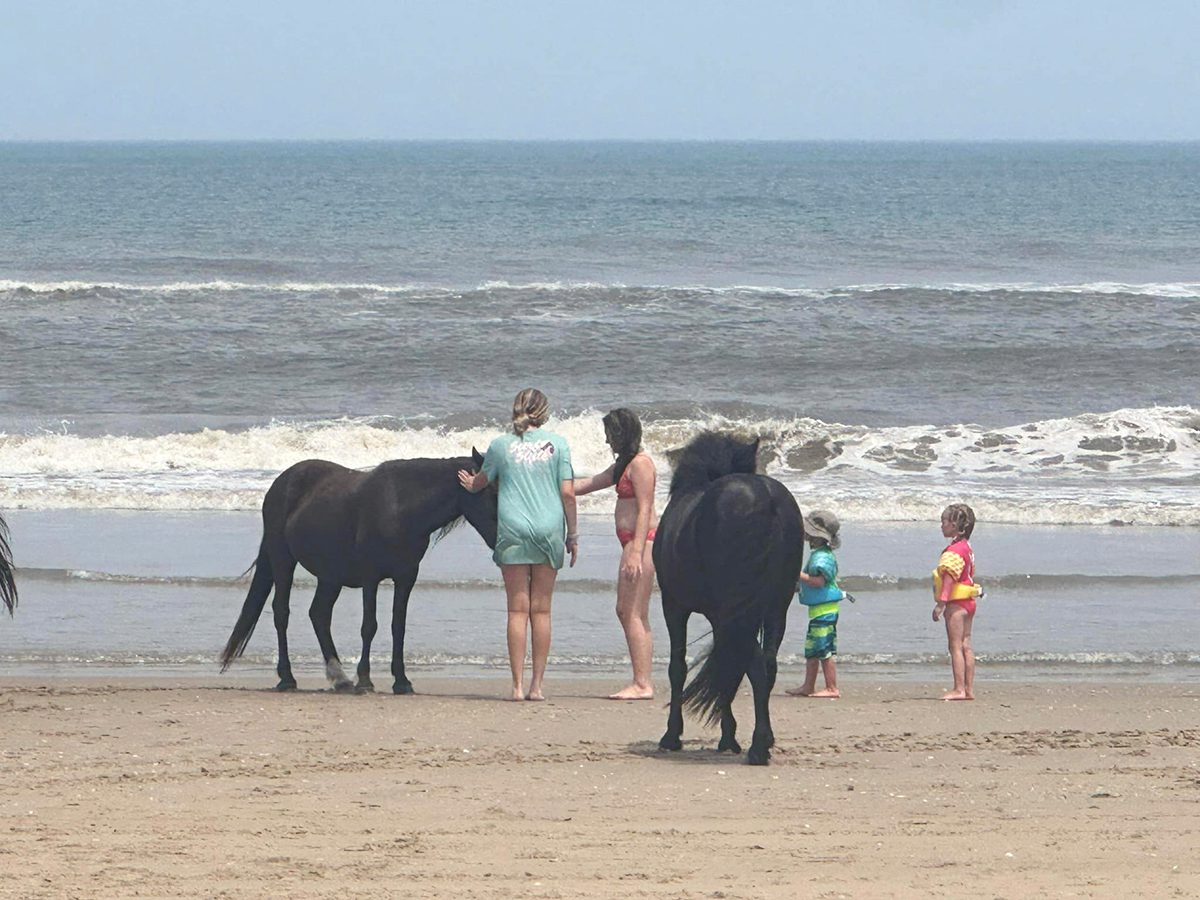 Human interaction
Many of the people who encounter the Banker horses do so when the animals come out of the dunes and wade into the surf.
"Especially when it's really buggy and hot," Puckett said.
The beach is a crowded place, with four-wheel-drive vehicles lined up for miles. On this recent day, a stallion and two mares can be seen walking along the wet sand. A Currituck County ordinance mandates a 50-foot separation between people and the horses, and on this day, the beachgoers are doing a good job of keeping their distance.
The horses don't seem to be bothered by the families and all the cars.
"They don't care about people," Puckett said. "They're going to go where they're most comfortable. But, do I think that it does change their behavior? Some. If it's really, really crowded, that could certainly deter them from wanting to go out there. But at the same time, they're used to it."
The Corolla Wild Horse Fund is a mostly volunteer operation, and Puckett noted that in the summer there are almost always two volunteers on the beach trying to let people know about how to avoid interacting with the horses.
"I think that people don't understand how lucky they are that these horses are so generally good-natured. There could be a lot more pain and suffering that could happen if they were more reactive," she said, adding, "It can happen in a heartbeat. They are very wild. Last Sunday we had a group of stallions that were fighting, and they ran over the dunes and ran right through people on the beach."
She looked over at a harem grazing on sea oats and the sparse grasses. The colt stayed close to his mother and Puckett smiled.
"It never gets old," she said. "Never, never gets old."