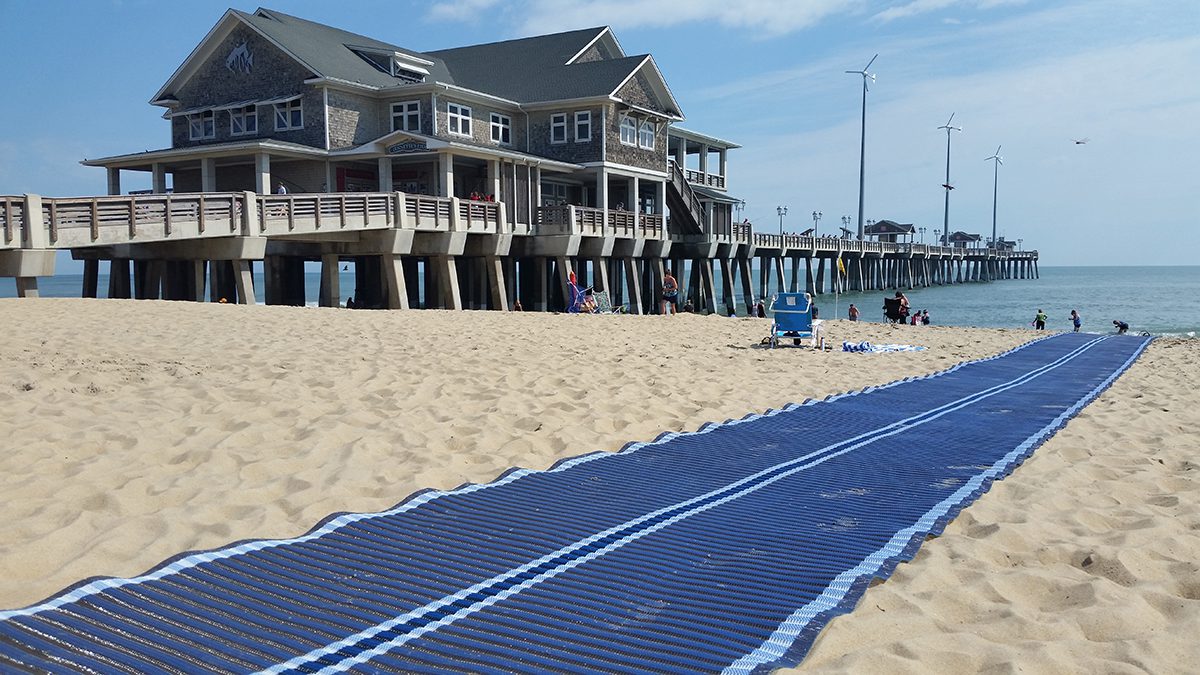 This story has been updated.
Ahh, the beach walkover.
They're as common along North Carolina's developed ocean shorelines as seashells scattered on the sand.
These typically wooden structures built to link private properties to the beach could, like the waters at low tide, eventually fade from shores.
The North Carolina Coastal Resources Commission earlier this year submitted to the state Rules Review Committee proposed amendments that will allow coastal towns and counties, government agencies and private beachfront property owners to choose an alternative to traditional accessway structures – the beach mat.
These portable, wood-like mats can be rolled out over sand to create a surface suitable for feet and wheels. And, they may reduce debris typically left behind from walkovers damaged and destroyed during coastal storms.
The committee has given the North Carolina Division of Coastal Management an Aug. 15 deadline to submit technical corrections to the proposed rules, according to division officials.
"If the RRC staff are satisfied with DCM's responses, the proposed amendments will be on the RRC September agenda," division officials said in an emailed statement. "If the proposed amendments are approved, the effective date will be Oct 1st."
The use of beach mats has in recent years have been gaining traction in North Carolina beach towns as a way to provide wheelchair accessibility from public accesses to the shore.
Carolina Beach and Kure Beach in New Hanover County and Topsail Beach in Pender County have in recent years received variances from the commission to install matting on the beach seaward of the frontal dune, which is just landward of the beach, and to enhance handicap accessibility on the shore.
The Coastal Resources Commission in 2021 amended the rules to allow beach matting for public accesses only. Until that rule change, only elevated, pile-supported structures built out no farther than the seaward toe of a frontal dune, those at the landward of the beach, were allowed.
That limited the use of beach mats to local, state and federal governments, a decision made at the urging of the North Carolina Wildlife Resources Commission and U.S. Fish and Wildlife Service. Those agencies were concerned the use beach mats waterward of the frontal dune might adversely affect sea turtle habitat.
The latest proposed rule changes would allow beach mats on the dry sand beach without a variance from the commissions long as they're sponsored by a local government to provide handicap accessibility to the shoreline. The placement of those mats is subject to review by state and federal wildlife agencies.
Division of Coastal Management officials explained in an email responding to Coastal Review's questions that, under the proposed rule amendment, private property owners can install beach mats without a permit if they comply with the standards set for structural accessways. Mats must be no wider than 6 feet, no farther waterward than 6 feet from the toe of the dune, and must not require excavation or fill.
"Residential application of matting material will need to adhere to the same standards previously approved for government entities, including installation at grade and prohibiting extension onto the public trust beach," according to the division. "We anticipate that beachfront property owners will maintain these mats because of their personal financial investment in the mats. While there will likely be some debris resulting from storm displacement and/or long-term deterioration/abandonment of some access mats, we are hopeful that the overall amount of marine debris associated with coastal storms will be reduced by replacing the wood and metal materials associated with traditional walkovers, including boards, nails/screws, wires, and other materials."
The division is to work with local governments and local permitting officers "to monitor this closely and ensure that any mats not conforming to the State rules are brought into compliance (or they will need to go through the proper permitting process)."
While the division has not seen a boost in requests from private property owners to install beach mats, it "has seen an uptick in unpermitted use of access mats along the coast over the past few years."
"In North Carolina we are seeing the need and the request more and more for Mobi-mats," said Sandrine Carpentier, managing director of Mobi-mats, an outdoor portable access surfaces manufacturer in New Jersey.
Mobi-mats have been growing in popularity, she said, because they are easy to install and remove, have demonstrated they can withstand coastal storms, and are more cost efficient than traditional beach access structures.
The average cost of a beach mat is about $42 per foot in length, according to the division. Structural accessways cost on average of $333 per linear foot.
Mobi-mats come with anchoring accessories, are made of recycled plastics and are 100% recyclable, Carpentier said. Their life span ranges between seven to 10 years, after which time they may be returned to the manufacturer where they will be recycled and used to make new matting.
Holden Beach West Property Owners Association President Chad Hock is anxiously awaiting what he hopes will be a final approval by the Rules Review Commission of the rule amendments.
"We're transitioning 100 percent with Mobi-mats as soon as we can do it," he said.
The gated community on the Brunswick County barrier island has mats or a hybrid of wooden walkways and stairs and matting at all seven of its beach accesses after receiving temporary approval to do so by the Coastal Resources Commission and the town.
Using beach mats comes down to three factors, Hock said: cost, convenience and that they do not cause the damage structural accessways do during coastal storms.
Structural beach accesses are one of two of the association's biggest expenditures, Hock said. It costs anywhere between $30,000 and $50,000 to rebuild wooden walkways and stairs damaged in coastal storms. Property owners in the gated community must also pay to maintain the private roads in the community.
"When a hurricane is coming, we can actually roll up our walkway, put it away and not lose our walkway," Hock said. "It's also better for the overall dunes in the end. The honest truth is the way that the wood and everything was done there, there was a lot more damage issues that came with it."
One of the community's beach mats did break loose during a storm and was found on a neighboring beach, he said. The mat, intact and with little damage, was returned to the owners association and replaced along the accessway.
Chris Driver, an association manager with Seaside Management Inc. in Kitty Hawk, was first introduced to beach mats when he began recently managing a couple of communities in Duck.
The oceanfront communities of Osprey and Sea Ridge both use mats at their private accesses to the beach.
The mats were rolled up and removed to clear the way for beach nourishment and replaced after the project was completed.
"For the most part, it just makes the walking to the beach tremendously easier for everybody, but especially elderly," Driver said. "They're very easy to roll up. One man can definitely do most of the work. They're pretty easy to work with."
Coastal management officials advise beachfront property owners to contact their local Division of Coastal Management office or local permitting officer with questions regarding the use of beach mats.