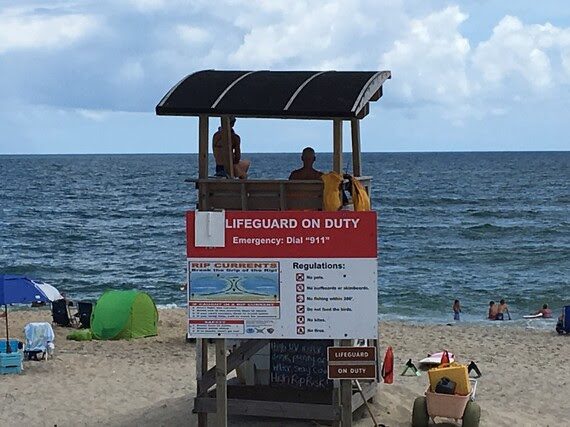 With the addition of lifeguards to the popular Rodanthe Beach Access, there are now five beaches staffed with lifeguards this summer on Cape Hatteras National Seashore.
A partnership of the National Seashore and Dare County, as of Saturday, July 1, lifeguards will be stationed every day of the week from 9 a.m. to 5 p.m. through Aug. 11 at the Rodanthe access.
National Parks of Eastern North Carolina Superintendent David Hallac explained that beaches with lifeguards are the safest places to swim along the Outer Banks.
"The Seashore is grateful for the new partnership with Dare County to bring lifeguard services to the tri-village area of Rodanthe, Waves and Salvo," he added.
In addition to the Rodanthe access, lifeguards are at Cape Hatteras Lighthouse, Frisco, Coquina and Ocracoke beach accesses.
Lifeguards will only be at the Rodanthe Beach Access through Aug. 11 because of limited availability of certified lifeguards late in the summer season. Lifeguards will be at the other accesses 9 a.m. to 5 p.m. seven days a week through Labor Day.
Officials remind beachgoers that swimming in the Atlantic Ocean is not the same as swimming in the pool or a lake.
"Ocean swimming can be physically strenuous and may exacerbate underlying medical issues in older swimmers," officials said.
Officials recommend checking the National Weather Service's experimental beach forecast before visiting the beach. If in doubt, don't go out.
Beachgoers are encouraged to bring something that floats into the ocean. If you get caught in a rip current, you can float away. Always swim with a buddy and have adult supervision for all children. Have someone on shore keep an eye on you while in the water.
Officials also remind beachgoers to fill in any holes dug during the day for safety reasons.
The seashore recently launched its "Fill Beach Holes" campaign to educate visitors about the dangers associated with abandoning deep beach holes. Digging deep holes and leaving them can cause serious harm to beachgoers, emergency response staff, and sea turtles.
Visitors are asked to avoid digging holes deeper than your knees when standing in them, and if you dig a hole in the beach or see an abandoned hole, fill it in before leaving the beach.
Be aware that the ocean presents additional hazards, such as shore break, high surf and longshore currents. Learn more at www.lovethebeachrespectheocean.com.