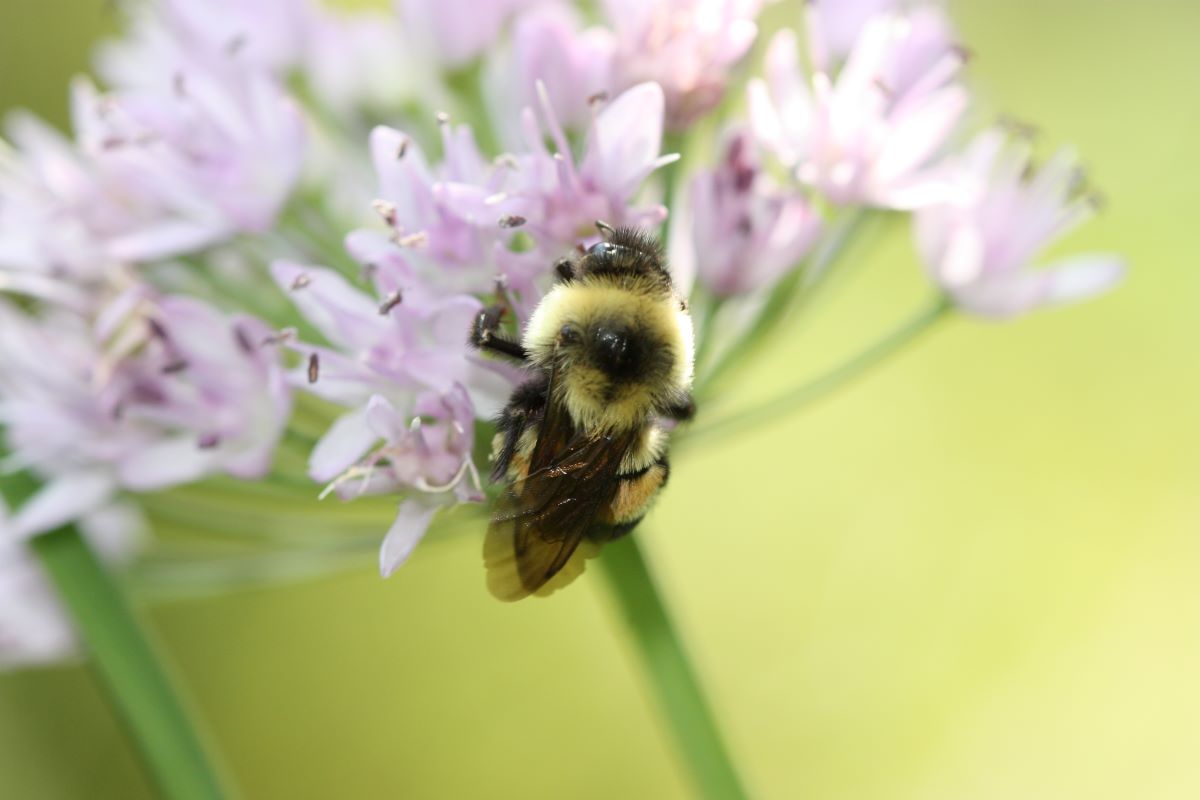 Part of a series on pollinators.
What began as a grassroots effort in the North Carolina mountains a decade ago to save honeybees has become a nationwide initiative to protect pollinators.
The program, Bee City USA, got its start in Asheville as an independent nonprofit in 2012. Founder Phyllis Stiles grew the program by welcoming affiliates across the country and adding Bee Campus USA for colleges and universities.
In 2018, the nonprofit Xerces Society for Invertebrate Conservation absorbed the programs that provide a framework for communities and campuses "to come together to conserve native pollinators by providing them with healthy habitat that is rich in a variety of native plants, provides nest sites, and is protected from pesticides."
The Xerces Society, like many other pollinator conservation programs, offers special programing during National Pollinator Week, June 19-25.
The seed for the awareness campaign was planted when the U.S. Senate passed a resolution in 2006 designating June 24-30, 2007, as National Pollinator Week, and recognizing the North American Pollinator Protection Campaign, or the Pollinator Partnership, which now holds National Pollinator Week the third week of June.
Bee City USA Coordinator Laura Rost told Coastal Review that the organization celebrates National Pollinator Week with a different theme. This year, the theme is "Bee Safe" and the organization is focusing on reducing pesticides. Information on National Pollinator Week can be found on the website.
Bee City USA, and the Xerces Society's pollinator conservation program as a whole, are based on four principles: plant native plants that bloom throughout the growing season, reduce or eliminate pesticide usage, protect natural nesting sites for bees, and spread the word.
"The key ideas of pollinator conservation are really quite simple, native plants blooming consistently, and pesticide reduction. If you can have those two elements and you're paying attention to natural nesting sites, the habitat comes together on its own," she said.
Rost said that while Bee City USA initially concentrated more on honeybees, the focus has shifted to native bees.
"It's not just honeybees that feed us, it's our native bees as well," she said.
"We can thank bees for one in three bites of food we take," Rost said. For example, 85% of all flowering plants rely on pollinators for reproduction, and 67% of agricultural crops rely on pollination.
"Honeybees, though they serve a lot of functions for agriculture, are nonnative," Rost said. There are 3,600 species of native bees in the United States, but many are in decline. "There's this whole diversity of native bees that need protection."
She added that of the 3,600 native species, 90% are solitary nesting, so they're not in hives, and then 70% are ground-nesting species. Most native bees rarely sting, rather they tend to be very gentle and keep to themselves.
Rost is based in Oregon and oversees both Bee City USA and Bee Campus USA. As of Thursday, there were a total of 354 city and campus affiliates in 46 states, Washington, D.C., and Puerto Rico.
To become a certified Bee City USA, a town needs to apply, establish a standing Bee City committee for the town, pass a resolution or memorandum of understanding committing to conservation measures, and pay an application fee that depends on the size of the city population.
New affiliates have a year to meet the requirements detailed in the resolution, which are to host a pollinator-focused activity, implement a pollinator-friendly habitat with native species on public and private land, create a list of recommended native plants, and adopt an integrated pest management plan that guides pesticide usage. Affiliates receive Bee City USA signage and must include on their website information about the program.
Communities can base their native plants list on those provided by the Xerces Society's Pollinator Conservation Resource Center. The organization recently updated its native plant lists for every area of the country. The list contains suggestions about plants that tend to be easier to grow.
There is also a new list, Buying Bee-Safe Plants, that offers ways to help find plants that are safe for bees, and includes tips and questions to use at the nursery, a guide to reduce pests without pesticides, and suggestions on creating and maintaining habitat on the website as well.
Bee City USA and Bee Campus USA are great ways to build community and create a sense of identity. You can create projects that reflect the beauty of your own ecosystem and add your own interests and priorities as a community, Rost said.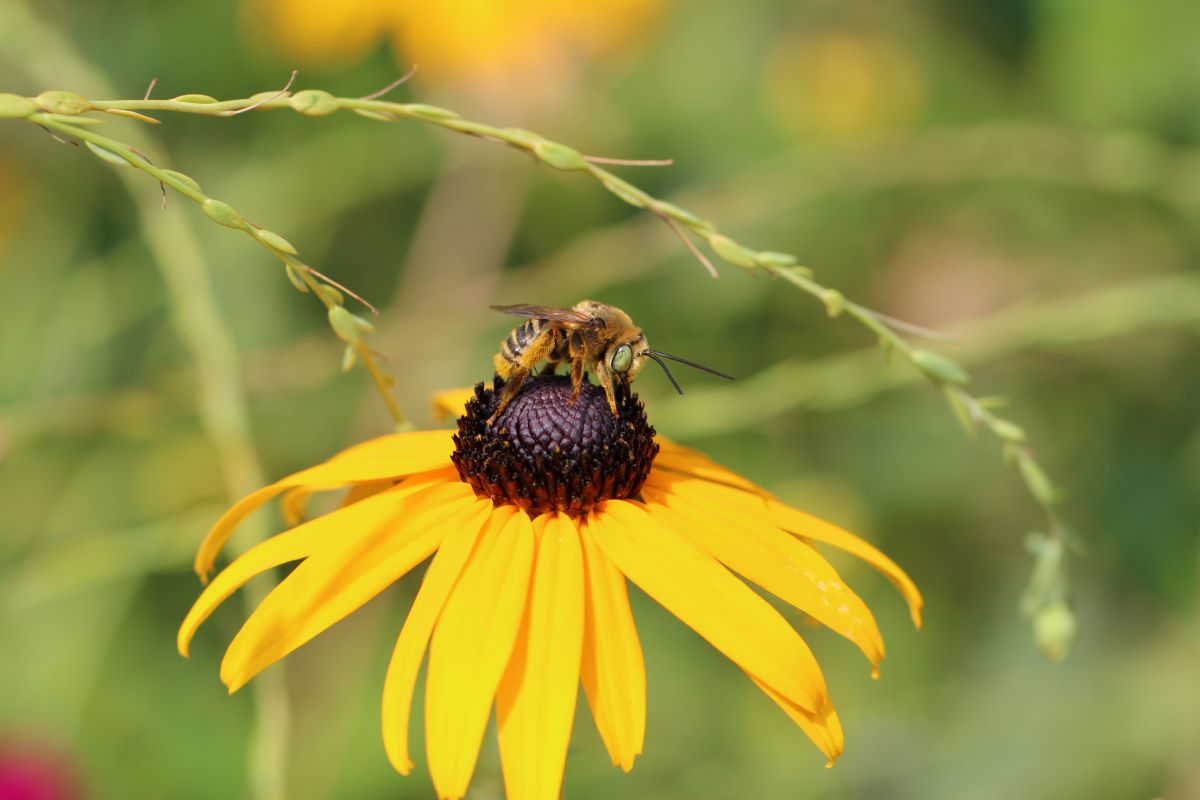 Each town or campus can create its pollinator habitat project and "it can look like a million different things" — vegetable gardens, a meadow in a park, wildflowers along a roadside, a green roof and even bioswales and rain gardens.
You can incorporate pollinators into existing projects, too, and it doesn't have to be flowers, either.
"It could be trees and shrubs because those are kind of the unsung heroes for native bees, especially early in the season. A lot of newly emerging bees really rely on crab apples and willows and actually fruit trees in general," Rost said, adding that trees have been called the meadows of the sky. "If you think about it, there's so many blossoms in one tree.".
Additionally, choosing native trees for streets that attract pollinators is "a beautiful way" to incorporate a pollinator habitat. A bonus is native plants are low maintenance.
"The nice thing about native plants is you probably don't need to water them as much because they're adapted to your ecoregion," Rost said. "They may not get as much disease or pest pressure because they're happy and healthy in their environment."
They're encouraging people to rethink how they see their yards, and see them as habitat, where plants and animals are welcome, Rost continued. Residents can add more pollinator habitat without eliminating your lawn. Allowing their yard to be a little messier, a little wilder "can really go a long way."
If plants have bites taken from the leaves, that doesn't mean that your plant is dying, especially with native plants, it means you've created an ecosystem by bringing in those native plants.
"Pollinators may be really subtle at first or even subtle long-term, but if you hold still, especially in the early morning and in the evening and you look at some of your flowers, you'll be surprised by that diversity you see," she said.
Rost, who has a degree in environmental studies, with an emphasis on social science and policy, said she feels "insects are where it's at for conservation because if you protect the biodiversity of insects and invertebrate life, everything else comes together."
The foundation of life is all these insects and invertebrates that all these other species rely on, she continued. "If you create good habitat for invertebrates, you create good habitat for everything else … and it's not very often you have such a fun way to help with environmentalism … planting beautiful flowers."
Which is what they're doing in Southport.
Kate Singley, a representative from the Southport Beautification Committee, said the Brunswick County town's designation was approved in April 2022.
"Being an affiliate of Bee City helps bring communities together to sustain pollinators, increase the abundance of native plants, provide habitat and nesting sites, and reduce pesticide use," she told Coastal Review.
The Southport Beautification Committee has supported a native plant pollinator garden at Lowe-White Park, 226 E. Leonard St., since 2017, where brochures are available as well as at the Fort Johnston-Southport Museum and Visitors' Center at 203 E. Bay St.
"One of the goals was to plant a demonstration garden for the community to show the ease and importance of using native plants to attract pollinators and educate, regarding the important the role pollinators play in our ecosystem and everyday life," she said. "Southport has shown that being a Bee City is important by staying aware, and the town does not spray any mosquito pesticide near the pollinator garden."
Awareness and educational programs have taken place over the years, and the committee has a display highlighting Southport's Bee City USA designation planned for the month of August at the Fort Johnston-Southport Museum and Visitors' Center, she added.
"Beautification volunteers working in the garden hear many positive comments from people who frequent the garden daily or visitors to Southport. One highlight was a letter from a high school student who visited the garden while on vacation with his family. He was the editor for the school newspaper and wrote an article about the garden for Earth Day," Singley said.