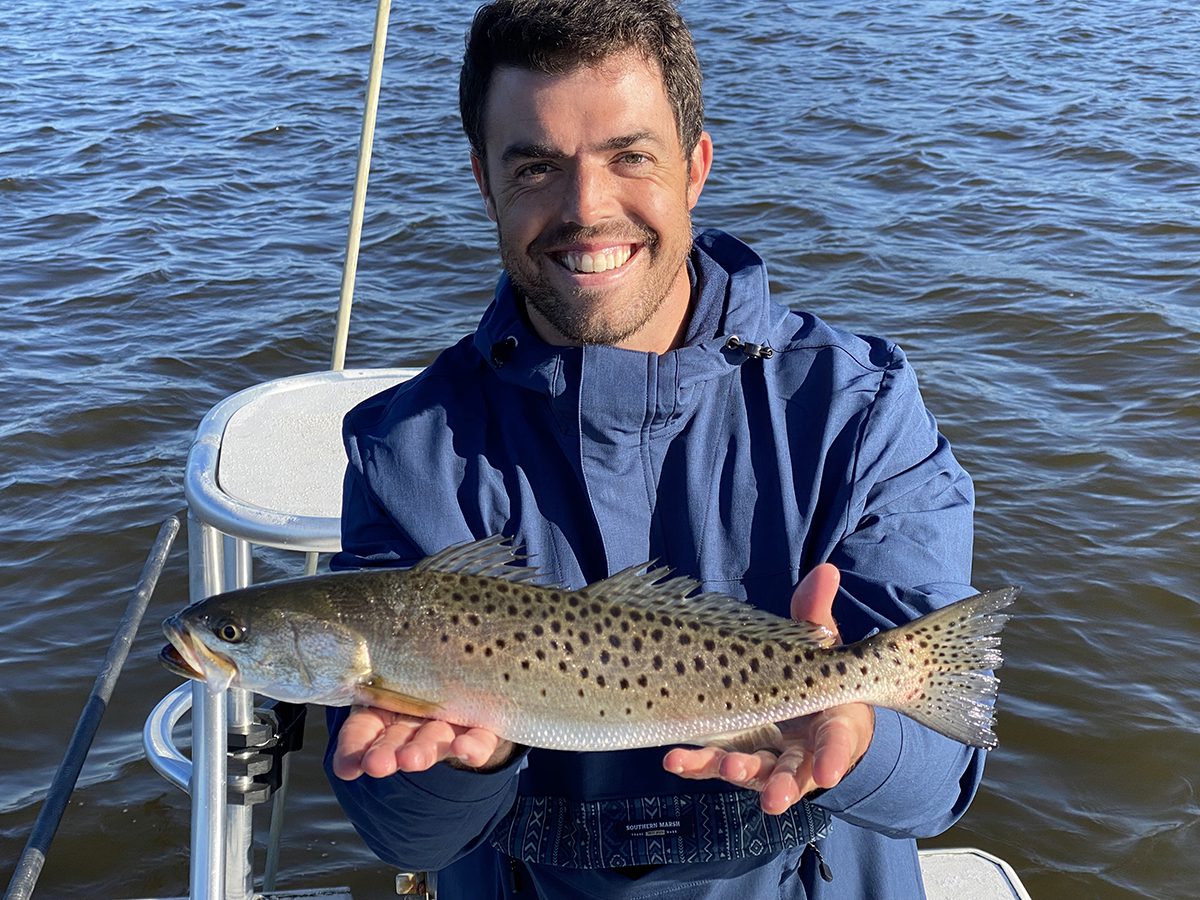 Remember when you were in high school and there was that young male coach who was always quick with a smile, a joke, and a kind word for everybody?
Josh Helms is that guy at Havelock High School.
In between his work as a P.E. teacher, coaching soccer and spending time with his wife Heidi and their dog Beacon, Helms will often be found someplace near the water with a fishing rod.
After spending most of his life bouncing around the country as his father, Dave Helms, was transferred from one Marine Corps duty station to the next, he's settled down at Havelock, bought a house in New Bern and is fishing every conceivable spot between Beaufort and Johnson City, Tennessee.
Like so many of us, Helms got his start in fishing when his father would take him.
"I started fishing probably when I was about 7 years old. My father got me going and taught me the basics on how to fish for catfish, blue gill, and other typical pond fish."
A little later on he had a revelation.
"Saltwater fishing didn't surface for me until I was 11. My dad first took me to the beach fishing for red drum in the surf, and that's where the addiction for saltwater fishing came from."
He couldn't get enough.
"After that, I would be asking him every weekend if we could go," Helms said.
But day to day, after school and whenever he could, "Most of my fishing done as a kid was pond fishing."
When Helms was younger, he did the typical odd jobs teenagers take.
"I worked as a busboy during high school summers. While attending college and playing soccer at Methodist University, I worked as a camp counselor for Morehead City Parks and Rec," he said.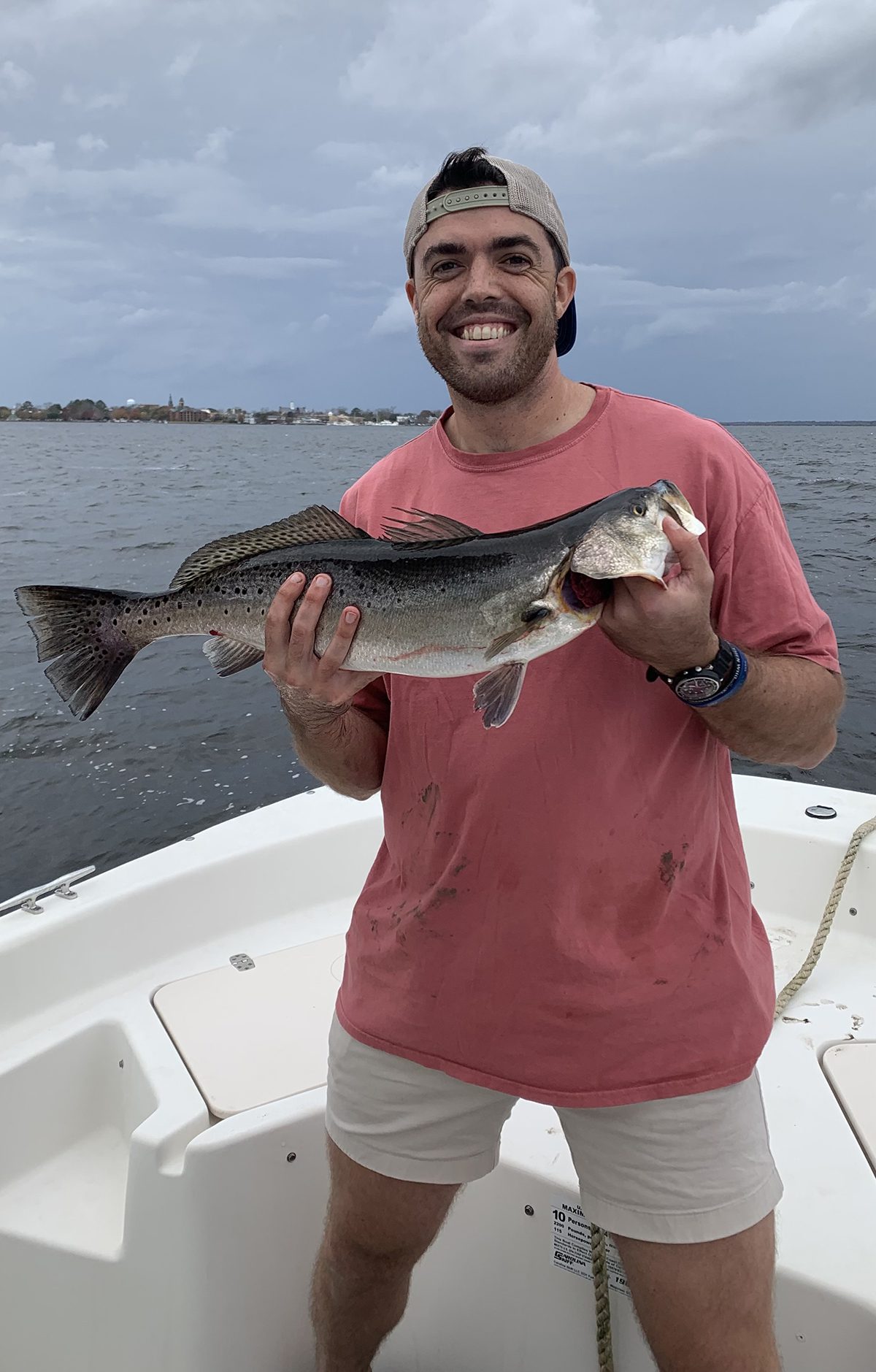 Helms sees his family as frequently as he can.
"My parents live in Maysville, and we get together often. I go fishing with them as much as I can but they're pretty busy," he said.
While his father continues to be his biggest influence, Helms had made some great friends along the way who help. That includes friends from college, among them a former colleague at Morehead City Parks and Recreation.
"Are you ever really done growing? Because as I've grown over the years, my buddy Kirk Peterson has really helped open the realm of saltwater fishing to me," he said, referring to the department's former program supervisor who now resides in Kinston.
Helms is learning to fly fish too with guidance from another longtime friend.
"Logan Klarzuk (of Boone) has recently gotten me into fly fishing. But we won't talk about that because it's still a work in progress … There's just an art to it that I can't explain," Helms said.
Helms does a lot of traveling to satisfy this new artistic passion.
"Some weekends I'll go see my buddy Logan up in Boone and go fly fishing around there, and in Tennessee or Virginia," he said.
When you talk to old salts, they will tell you that there is no substitute for time on the water when it comes to achieving consistent results in fishing, and so it is with Helms. He said it's the key to success, "Because It's never going to be the same lure or the same perfect weather."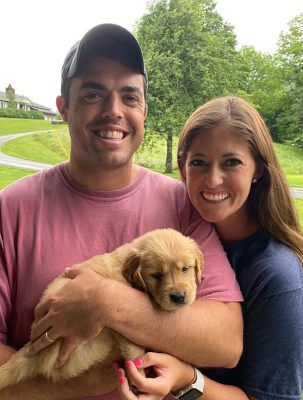 He's learned a few things, he said.
"You have to think about how fish will act in certain conditions or which lures to use or even spots to try out as the seasons change. Paying attention to fish patterns over the years and what they like or don't like is very important."
And you can't be afraid to try new things.
"You have to be always evolving, thinking about different ways to even approach a fish. And just be open minded," he advised.
However the real key to being successful with your time on the water is just having a good time, he said, because you're not going to catch fish every time.
"Whether it's with your buddies or by yourself, just enjoy the scenery and kind of get lost in it," he said.
These days, Helms is delving more into fly fishing. He's fishing some ponds near his house, really getting into it, and he's looking forward to getting his fist saltwater fish on fly. He loves to spend time with his wife and dog in the home they recently purchased, and as for the future:
"I'll keep doing what I'm doing as a health and physical education teacher and a coach for the men's and women's soccer teams, enjoy what I have and spend as much time as I can with my family, on the water," Helms said