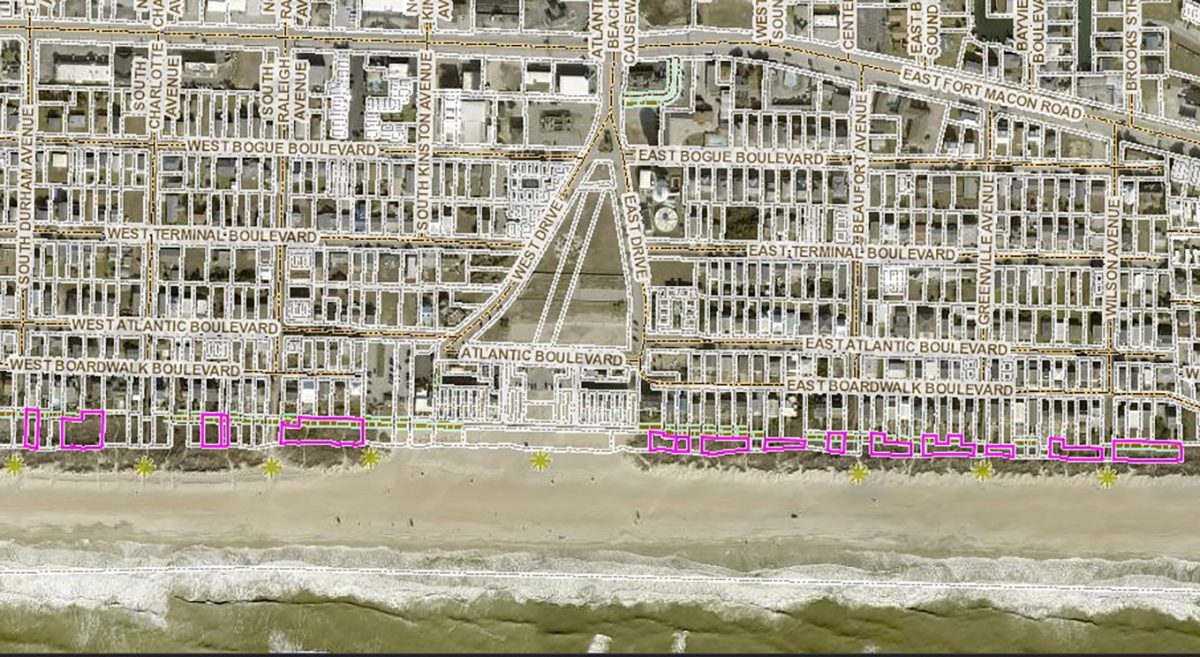 ATLANTIC BEACH – Numerous oceanfront property owners here are banding together in a developing legal dispute over who owns the dry sand beach in front of their houses.
An attorney representing the owners said last week that he hopes the state attorney general will intervene to protect the public's rights.
The dispute arose last month after a Cape Carteret resident, who also has an apparently dormant real estate business website for a firm in Wilson, notified the beachfront property owners and others that he now owns the dunes and that their continued access to the beach amounts to trespassing.
James Anthony Bunn in April registered quitclaim deeds with the county for more than a dozen parcels in Atlantic Beach south, or oceanward, of beach houses and condominiums to the east and west of the boardwalk at the former amusement circle. Bunn's mailing address is 102 Hunting Bay Drive, Cape Carteret, according to county records. Last year, he also registered deeds on parcels in Down East Carteret County.
All show sales prices of zero dollars or minimal exchanges, such as $10 in consideration, with no county revenue stamps paid. Attorneys who prepared the deeds noted that no title work was requested or performed.
Unlike warranty deeds, quitclaim deeds in North Carolina carry no guarantee of title.
Some of the individual oceanfront parcels that Bunn claims to own front multiple beach houses — one as many as five separately owned homesites.
Attorney Rob Wheatly of Beaufort is representing some of the Atlantic Beach property owners whom Bunn had notified of his claim of ownership.
"First, he started by sending out a statement. I don't know if he sent it to everybody, I know that a couple of people showed me what they had. He wanted them to sign some agreement with him, sort of like a lease where they would be able to continue to go on about the property. He was not going to interfere with their use if they in fact signed that paper. The people we talked to, we told them not to sign it for various legal reasons," Wheatly told Coastal Review Friday.
Wheatly said that because nobody would sign the agreement, Bunn had since been "stepping it up" to the point where he had posted "no trespassing" signs and was telling people who were accessing the beach that they were trespassing.
Oceanfront property owners told Coastal Review that Bunn was wearing a gun on his hip during their interactions with him. Some described cordial conversations, but others said Bunn acted in an intimidating or threatening manner, allegedly calling one homeowner a "chickenshit," and that his going armed on the public beach,in the presence of families with children, was out of line.
Coastal Review has obtained two police incident/investigation reports dated April 18 and April 27 involving "verbal disputes" between Bunn and other individuals. Some information in the police reports was redacted.
Bunn, when reached for comment, said his intention in claiming ownership was for his "quiet, personal enjoyment." He said he had tried unsuccessfully to work with the oceanfront property owners. Bunn then said he didn't want to answer Coastal Review's questions and hung up. He then called back shortly after and agreed to answer questions but only by email.
In his email response to Coastal Review's questions, Bunn said he was, "in the process of evaluating my land for a suitable location to develop a non profit low impact site to provide a covered structure with bathroom facilities, running water electricity and private parking to be used by physically or mentally impa(i)red individuals who could not otherwise peacefully enjoy a day at the beach."
Bunn did not respond to further questions, including whether he had formed a nonprofit or partnered with an existing organization to provide such services. He also did not respond to questions regarding any discussions he might have had with town officials or staff with the state Division of Coastal Management regarding his development plans.
Atlantic Beach Mayor Trace Cooper told Coastal Review last week that the strip of dunes was once part of a tract known as the Musgrave property, but that land had completely eroded away decades ago.
"I don't think they are lots anymore. These kinds of ocean parcels have been on the tax maps for a while, but my belief, based on what I remember as a kid in the '70s and what I've heard from everybody, is that those areas eroded away before we began our beach nourishment program. The first beach nourishment was in 1979, and there's a state statute on point that says oceanfront, basically beaches, if it is created through a publicly funded beach nourishment project, that sand is property of the state, and all the public trust rights that would apply to other parts of the beach would apply to that," Cooper said.
According to state law, the title to land in or immediately along the Atlantic Ocean raised above the mean high-water mark by publicly financed beach nourishment projects "shall remain open to the free use and enjoyment of the people of the State, consistent with the public trust rights in ocean beaches, which rights are a part of the common heritage of the people of the State."
Wheatly agreed that the ocean had decades ago washed away the beach, he said up to a seawall that had been placed there sometime in the mid-1950s. The beach has since been nourished several times with sand from the shipping channel in Beaufort Inlet.
Wheatly said that's referred to as "avulsion," where, in this case, there's a sudden throwing up of spoil next to the ocean or a river, "and by statute that becomes property of the state of North Carolina," he said.
"The big issue is going to be where these dunes have now been created through the years, or the neighbors putting sand fences or these sorts of things," Wheatly said. "And of course, the neighbors have been walking across the area down to the water all these many years, and they would have what is referred to as a prescriptive easement to go from their property down to the beach, and that requires a 20-year use. So, if it's not the state of North Carolina's public trust lands, then these people certainly would have a prescriptive easement to go to and from their properties the way they've been going all those many years."
Cooper said no town-owned properties are involved in the dispute, only privately owned homes and condos.
"My guess is that he's trying to be big enough of a problem that these homeowners may just want to pay him off," Cooper said. "The town is trying to do what we can, but it's essentially a private property dispute. We are not allowed to spend public money for private benefit, so we couldn't be the lead plaintiff in this, even if we wanted to be. We probably don't have standing, but we're standing by to do anything we can to help these homeowners put this issue to rest."
Wheatly said that in his discussions with Atlantic Beach town attorney Derek Taylor, the dispute amounted to a beach access issue for the town.
"I would assume the people that live on the second, third, fourth rows walk through these areas and paths and on all roads going down to the beach. But it can be a real mess, and especially for these renters when they rent their houses, and the guests come there and, all of a sudden, they're walking down to the ocean and see a sign saying 'no trespassing.' It could be a real detriment to everybody," Wheatly said.
Wheatly said he had spoken about the dispute with the Division of Coastal Management, who had recently put him in touch with the State Property Office.
"We really don't know where we're going in this yet, but I assume that eventually, maybe the attorney general will come in and protect the public. If not, then there will probably have to be private litigation," Wheatly said.